Historic Luther Taylor Cabin Defaced by Act of Vandalism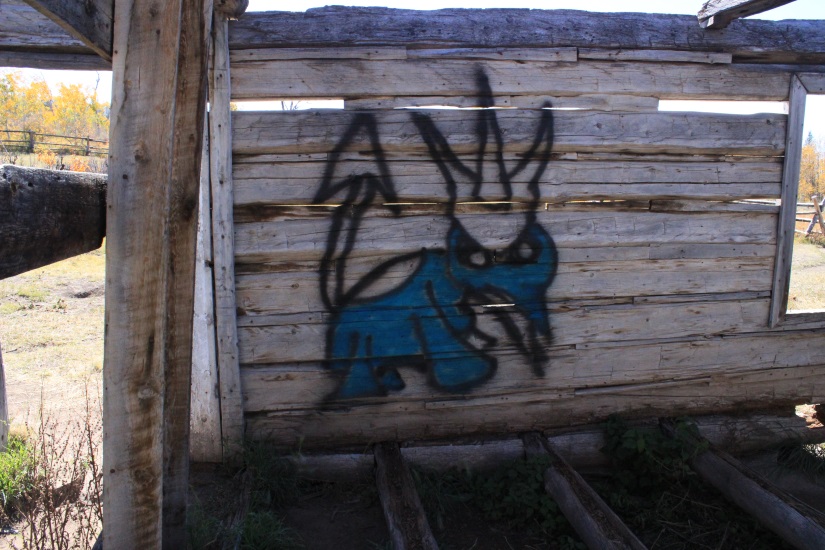 News Release Date:
January 27, 2015
Contact: Public Affairs Office, 307.739.3393
Spray-painted graffiti on an important cultural site in Grand Teton National Park was recently removed through an extensive cleanup effort. Sometime in September of 2014, an unknown individual(s) defaced the Luther Taylor homestead cabin, located along the Gros Ventre Road between Kelly Warm Springs and the eastern boundary of the park. Historic preservationists from both Grand Teton and the Western Center for Historic Preservation painstakingly removed the graffiti in mid-December, though evidence of the damage remains. Anyone with knowledge about this act of vandalism is encouraged to call Teton Interagency Dispatch Center at 307.739.3301. Callers can remain anonymous.
On September 20, 2014, a black and blue spray-painted depiction of a devilish creature wearing a crown was discovered by a park visitor on the inside wall of the homestead cabin and reported to park law enforcement rangers. The subsequent investigation yielded no suspects and provided inconclusive answers as to the possible source or meaning of the graffiti. Though it is thought to be unrelated, a fencepost at the historic Bar BC Ranch was also vandalized with spray paint in October 2014.
Restoration efforts began when six historic preservationists from the park and Western Center for Historic Preservation—an NPS Intermountain Region program based at Grand Teton—spent considerable time cleaning the cabin wall. They repeatedly applied a mixture of eco-friendly products previously tested on wood, gently scrubbed the logs with brushes, and rinsed them with warm water to remove the paint. Their efforts were largely successful at removing the graffiti, though some paint remained in the cracks and crevices of the wood. Unfortunately, the cleaning process also removed the 100-year-old gray patina from the logs. To remedy this problem and return the cabin wall to its historic appearance, park cultural resource specialists plan to use a wood product that will help accelerate the ageing process along with exposure to sunlight and moisture.
The Luther Taylor historic site was originally homesteaded in 1916 by John Erwin and purchased by Luther Taylor in 1923, who built a cabin and outbuildings. The culturally significant site is now famous for its appearance in the 1953 western film Shane, starring Alan Ladd. In fact, the site is commonly recognized as the "Shane cabin." Though currently in a state of decay, this site is eligible for—and soon to be listed on—the National Register of Historic Places.
"Cultural resources like the Luther Taylor cabin are part of the historic fabric of Grand Teton National Park. This cabin and other historic structures convey the stories of early settlers and provide evidence of their pioneer life in Jackson Hole, prompting visitors to learn about the past," said Superintendent David Vela. "While vandalism is always a crime, this graffiti attack on such a treasured historic cabin is especially troubling. We take vandalism of this sort very seriously, and appreciate those who keep watch over the park's special places and call whenever something is amiss," added Superintendent Vela.
The Luther Taylor historic site is subject to the ongoing Historic Properties Management Plan/Environmental Assessment (EA) planning effort. Many comments made about the Luther Taylor cabin during the initial public scoping period in February 2011 encouraged managers to maintain the site as-is and improve interpretation of its history. The Draft EA will be up for public review and comment in the spring of this year.
Last updated: February 24, 2015