Menor's Ferry Launched for Seasonal Operation on the Snake River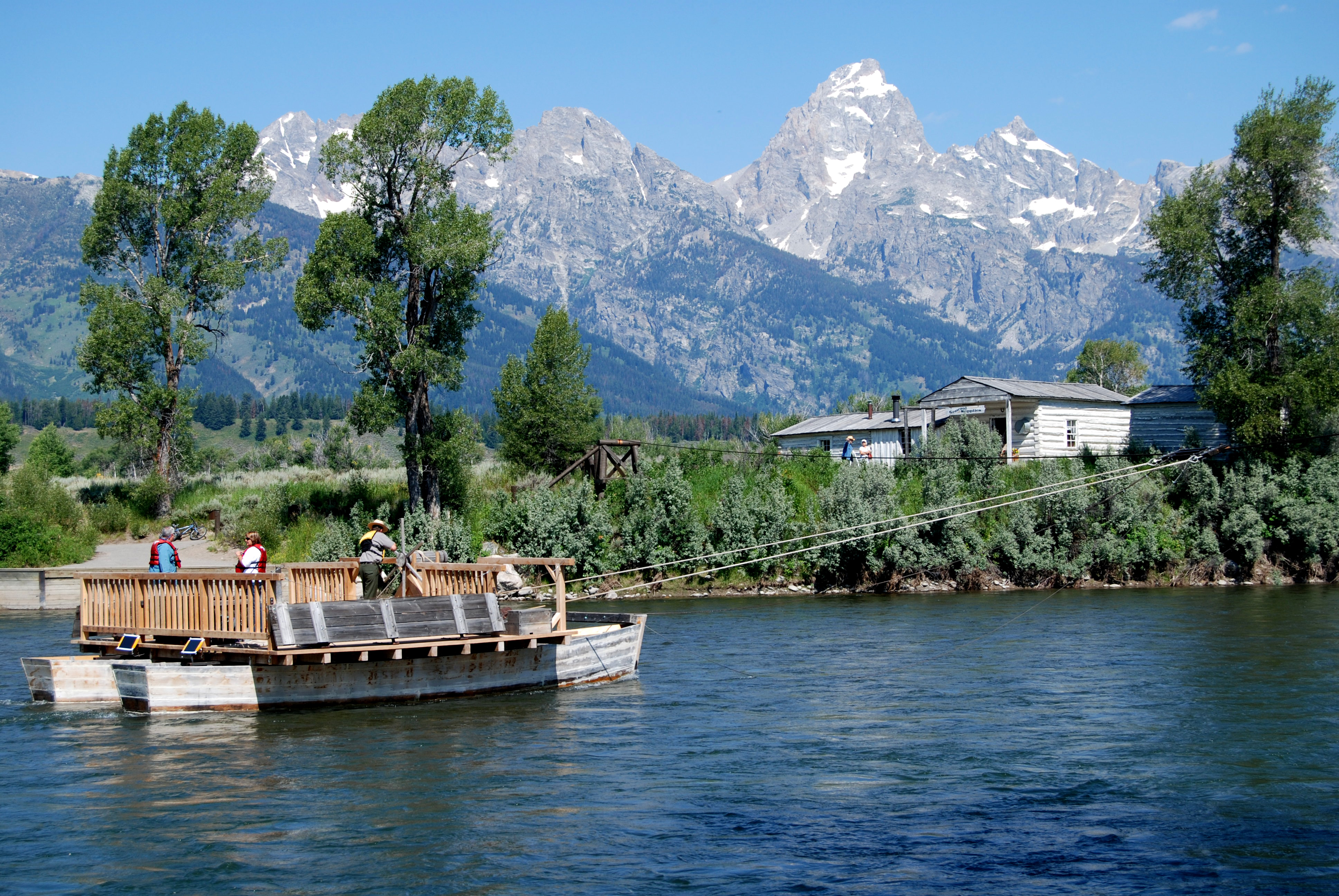 News Release Date:
August 8, 2014
Contact: Public Affairs Office, 307.739.3393
This past week, Grand Teton National Park staff launched Menor's ferry boat and park visitors may once again experience crossing the Snake River in the same fashion provided by Bill Menor through his ferry service of the late 1800s and early 1900s. The replica ferry serves as a central feature of the Menor/Noble historic district, located just north of the Craig Thomas Discovery and Visitor Center. Park ranger naturalists offer free ferry rides daily from 9 - 10 a.m.,and most afternoons, from Menor's general store on the west bank of the Snake River to Dornan's on the east bank—and back. Call 307.739.3399 for times of operation.
Menor's Ferry consists of a platform deck placed upon two pontoons for flotation. The ferry is tethered to a cable system that spans the river and operates by directing the pontoons toward the opposite riverbank, allowing the power of the current to push the craft across the river channel. The system uses river power—rather than motor power—to push the ferry across the water. This type of river travel existed in ancient times and was widely used throughout the United States.
Menor's Ferry played a vital role in providing safe transport for passengers over the swift-flowing Snake River before construction of a bridge. Prior to the ferry's existence, the Snake River was essentially impassable from Wilson to Moran—except during low water periods in the fall and winter months. As a man of vision, Bill Menor saw the need for a more convenient access across the Snake River and consequently built and operated his ferry from 1894 until 1918 when he sold it to Maud Noble. Maud operated the ferry until 1927 when its use became obsolete after a steel truss bridge was constructed across the river, allowing for vehicles and foot traffic to cross without the assistance of a ferry service.
Although transportation has changed over time, Menor's Ferry offers a chance to step back into the past and experience a bygone time and historic mode of river passage.
Last updated: February 24, 2015