Full-Scale Search for Overdue Hiker Leads to Discovery of an Apparent Fatal Fall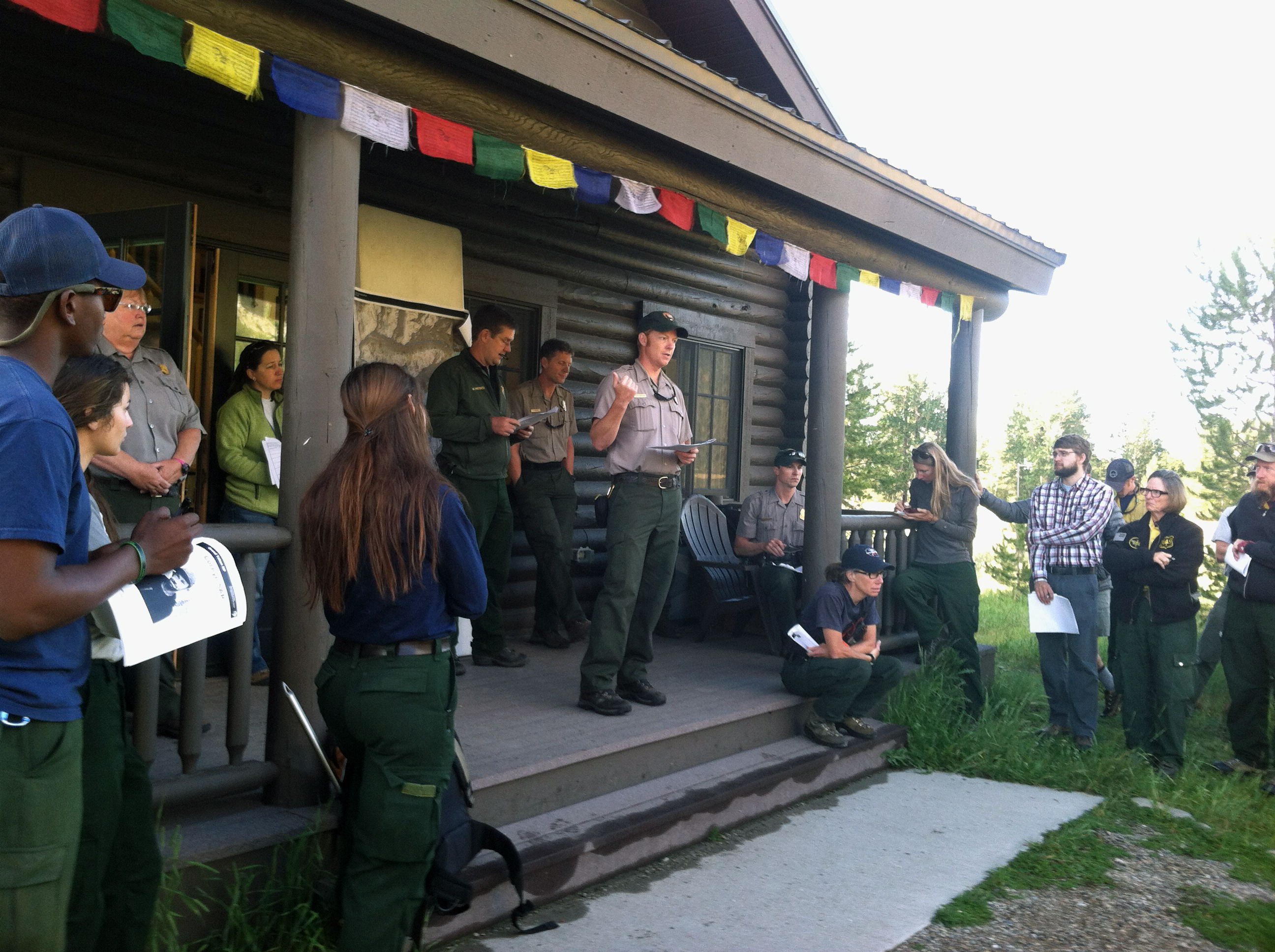 News Release Date:
July 22, 2014
Contact: Public Affairs Office, 307.739.3393
The body of an overdue hiker was discovered at approximately 2:30 p.m. today, July 22, near the mouth of Cascade Canyon in Grand Teton National Park. Will Cornyn, 36, of San Francisco, California did not have a pulse when one of several search teams found him lying below a steep cliff band near Inspiration Point. He was pronounced dead on scene at 2:53 p.m. by park EMTs in consultation with the park's medical director, Dr. A.J. Wheeler. 
Cornyn headed out late Sunday afternoon, July 20, from the southeast shore of Jenny Lake with a goal to hike to Lake Solitude in the North Fork of Cascade Canyon. He did not return to his campsite at Jenny Lake Sunday evening, and was reported overdue by his girlfriend at noon on Monday, July 21. Cornyn had not planned for an overnight stay in the backcountry and did not carry equipment necessary for spending a night in the mountains.    
A "hasty" search was initiated Monday afternoon with park rangers who were on routine patrol and additional rangers were called into service. Two rangers also flew in the Teton Interagency contract helicopter to conduct an aerial search until darkness prevented further efforts. The aerial search was temporarily delayed by intense thunderstorms that passed across the Teton Range and battered the peaks with heavy rain, strong winds and lightning strikes. 
Seventy-four people gathered early Tuesday morning to begin a full-scale search for the missing hiker, not seen since 5 p.m. Sunday. Multiple Grand Teton National Park employees and Teton Interagency fire personnel—plus a Teton Interagency helitak crew, a Teton Interagency contract helicopter, four search dog teams from Wyoming K-9 and JH Search Dogs, and several park volunteers—thoroughly searched  numerous backcountry locations in Cascade Canyon and Paintbrush Canyon and surrounding areas in a coordinated effort to locate the overdue hiker. After nearly six hours, one of 19 assigned search parties discovered Cornyn. His body was extricated from Inspiration Point via a helicopter long-line and turned over to the Teton County coroner about 4:30 p.m.   
As the extensive search for Cornyn was getting launched, a second search and rescue operation began for a guided climbing party that missed a routine check-in call during a climb of the Grand Traverse on Monday evening. A Teton Interagency contract helicopter with two rangers on board flew a reconnaissance mission at 8:45 a.m. to locate the guided party and determine if assistance was needed. Scott Huntsman, 48, of Salt Lake City, Utah and his climbing guide with Exum Mountain Guides were attempting the Grand Traverse of the Teton peaks and had just descended to Gunsight Notch above Valhalla Canyon at approximately 4 p.m. Monday when a rockfall, possibly triggered by the afternoon rainstorm, struck Huntsman and injured his foot. The climbers' rope was trapped by the rockfall and they had to cut it free. Using the remaining 120 feet of rope, the two climbers rappelled to a point in Gunsight Couloir where they settled in for the night on a ledge. Early Tuesday morning, the Exum guide helped Huntsman descend over snow to a location near the bottom of Valhalla Canyon where a rescue helicopter could land. He then hiked out to seek help from park rangers. The Exum guide encountered searchers in Cascade Canyon who were looking for Will Cornyn. The helicopter attached to the Cornyn search was able to land near Huntsman at an elevation of 9,500 feet. He was placed inside the ship for an evacuation flight to the Jenny Lake Rescue Cache. Huntsman was then transported by personal vehicle around 12:30 p.m. to St. John's Medical Center in Jackson, Wyoming. 
An additional emergency call came in at 11:30 a.m. for a 16-year-old hiker with a knee injury who was situated just below the Cascade Canyon forks. Searchers already in the field for the full-scale search diverted to assist the injured teen and provide medical care. The young hiker was ultimately able to hike out with assistance by the attending searchers.
Last updated: February 24, 2015