Injured Hiker Rescued from Garnet Canyon Before Nightfall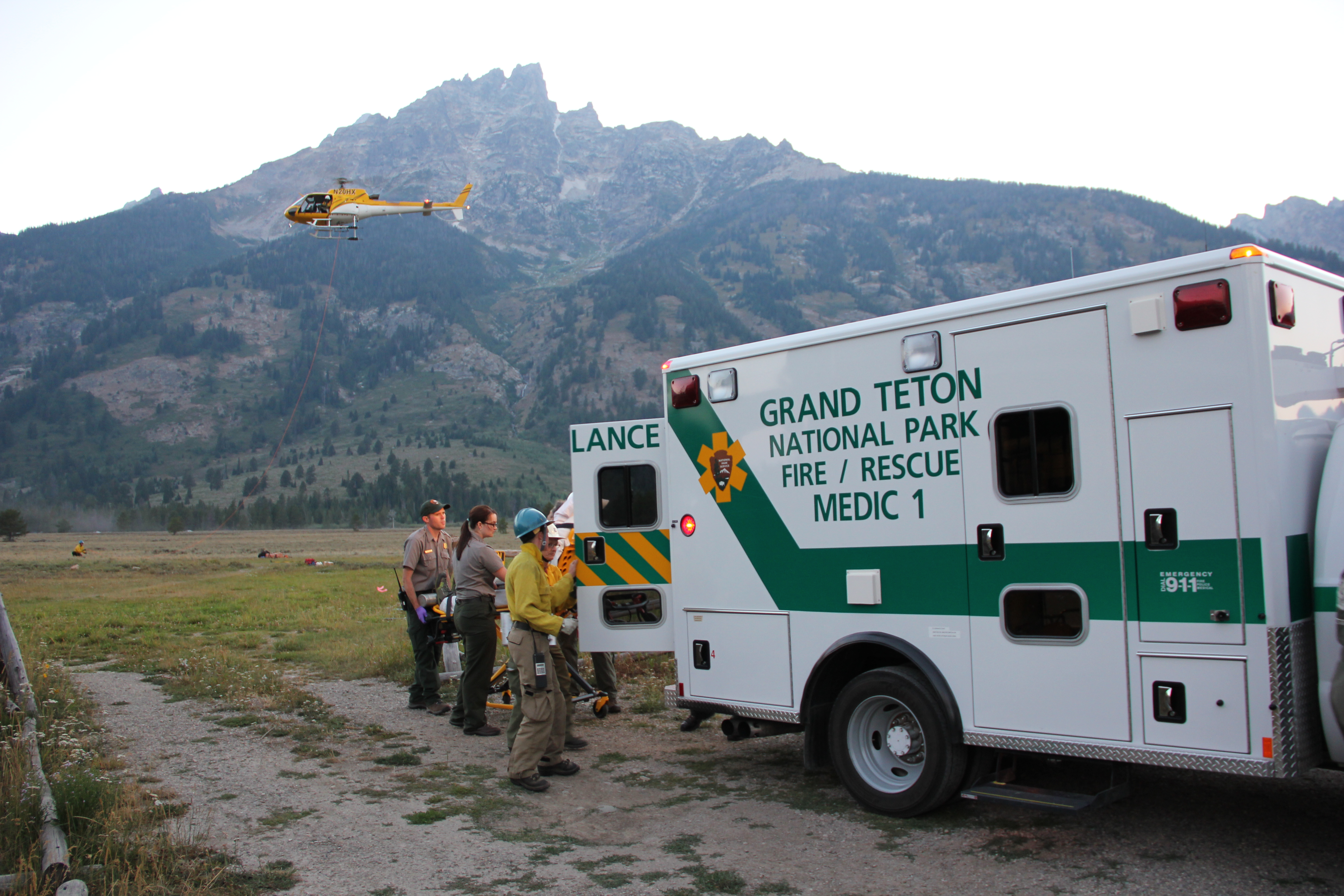 News Release Date:
July 21, 2014
Contact: Public Affairs Office, 307.739.3393
A backcountry hiker received a serious injury to her leg as she jumped from a rock while descending the Cache Couloir above the Platforms  in Garnet Canyon about 4:30 Sunday afternoon, July 20.In response to a call for help, Grand Teton National Park rangers initiated a short-haul rescue operation to extricate Joanna Wang, 23, of Boyds, Maryland from the 9,600-foot remote location with assistance from a Teton Interagency contract helicopter.  
After jumping from the rock, Wang was unable to move her leg and her hiking party of five dialed 911 to report the need for assistance. Teton Interagency Dispatch Center received the emergency call at 5:45 p.m. and immediately notified park rangers. A Teton Interagency contract helicopter had just flown south of Jackson, Wyoming to the Wolf Creek area of the Bridger-Teton National Forest to locate a possible fire start, when rangers diverted the ship to assist with a short-haul evacuation of Wang. 
The Interagency helicopter flew three park rangers into Garnet Canyon to conduct a reconnaissance flight and pinpoint Wang's location. Shortly after spotting Wang and her companions, the ship was able to land in Garnet Meadows. Two rangers hiked the additional distance to reach her at 7:55 p.m. and provide emergency medical care. A decision was made to short-haul Wang via an aerial evacuation suit, with an attending rescuer, to the Jenny Lake Rescue Cache at Lupine Meadows. The ship landed on the valley floor at the rescue cache at 8:30 p.m., and Wang was then transported to St. John's Medical Center for further care. 
Wang and her party told rangers that they did not have specific hiking plans for the day. Because the group was unsure of their exact location when the accident occurred, rescuers had to use 'pings' from three separate cell phone calls to obtain GPS coordinates. Only the third call provided accurate coordinates. Fortunately for Wang and her companions, rescuers were able to locate and access them before dark.   
Rangers remind backcountry users to be prepared for emergencies and take personal responsibility for the welfare of each member of the party. Often in the event of an accident, hikers or climbers must depend first on themselves and their own party. Factors such as weather, darkness, or unexpected hazards may delay or even prevent an organized rescue response.  Rangers also urge inexperienced hikers and climbers to obtain instruction and experience in proper ice axe technique (self-arrest and self-belay) before tackling routes that require potentially hazardous snowfield crossings.
Last updated: February 24, 2015