Third Annual 'Plein Air for the Park' Concludes This Week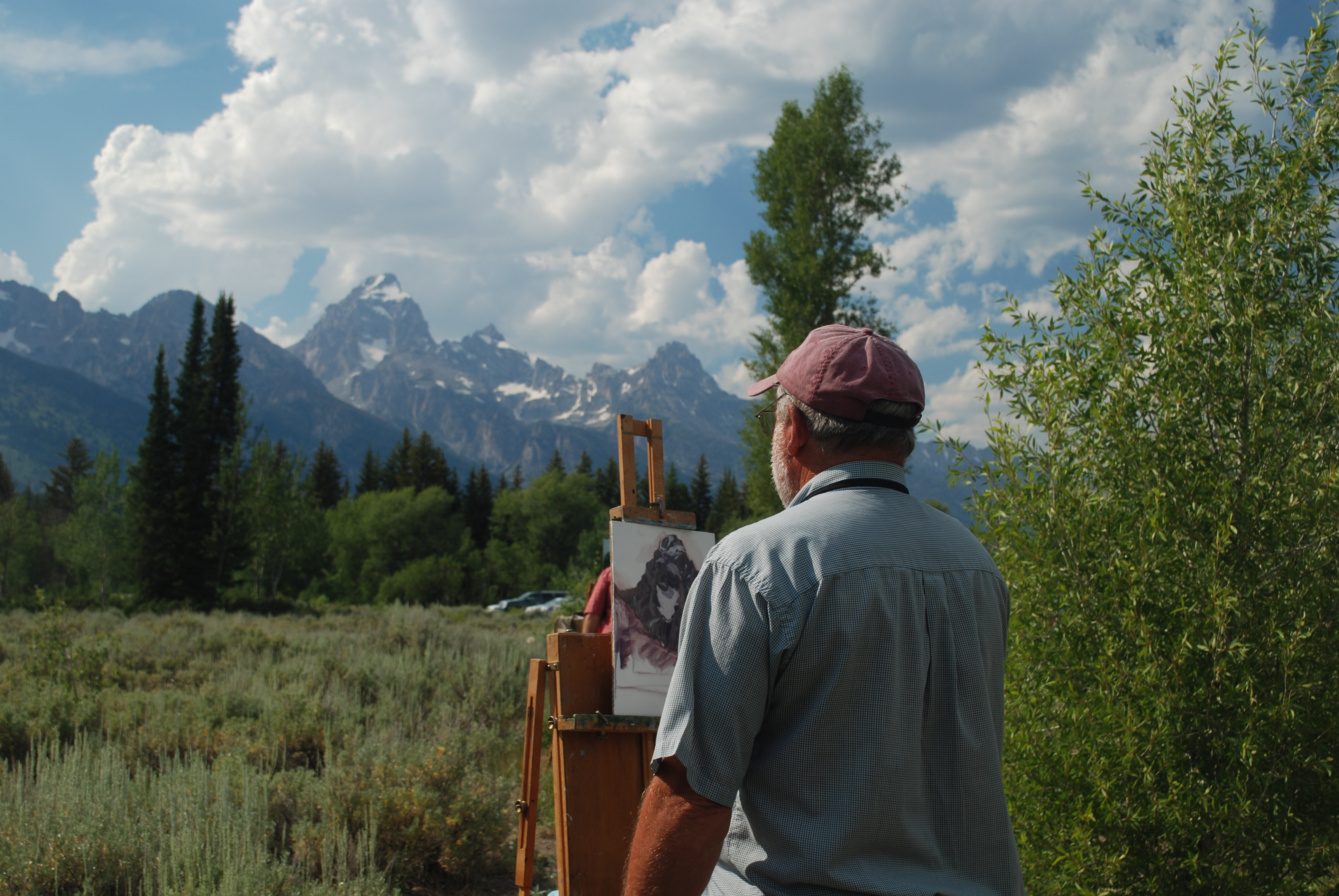 News Release Date:
July 14, 2014
Contact: Public Affairs Office, 307.739.3393
During the past week, professional artists from Jackson Hole and across the United States have been painting afield at locations throughout Grand Teton National Park as they sought to capture on their canvas the spectacular Teton landscape, wildlife, and wildflowers. Several free, public events will take place this final week as the 'Plein Air for the Park' fine art exhibition concludes its third year. 
A 'Plein Air for the Park' reception, art exhibition and sale will take place Wednesday, July 16, at 7 p.m.  in the Craig Thomas Discovery & Visitor Center at Moose, Wyoming. The reception offers a rare opportunity to view all the paintings created during the past week and to purchase quality art work.  
The 2014 'Plein Air for the Park' exhibition will culminate with a quick draw at 9 a.m. on Saturday, July 19, in the Menor's Ferry Historic District. Park visitors and local residents are invited to watch paintings created from start-to-finish. All pieces may be purchased for a fixed-price immediately following the quick draw. 
'Plein Air for the Park' began in 2012 as a collaboration between Grand Teton Association (GTA) and the Rocky Mountain Plein Air Painters. As a non-profit partner of Grand Teton National Park, GTA has provided invaluable support for over 75 years through income received from publications and other educational items sold in visitor center bookstores. Forty percent of the proceeds from sales made during 'Plein Air for the Park' will benefit GTA and help fund ongoing educational, interpretive and scientific programs in support of Grand Teton.   
"Many painters created superb works of art this past week, and park visitors got a chance to glimpse the power, beauty, and inspiration of the Teton landscape through the eyes of an artist," said Grand Teton National Park Superintendent David Vela. "We encourage local residents and park visitors to join us for the culminating events of 2014 'Plein Air for the Park' exhibition and help celebrate the synergy between the breathtaking Teton scenery and fine art." 
2014 EVENT SCHEDULE: For complete information visit www.pleinairforthepark.org 
WEDNESDAY, JULY 16:Full exhibition opens to the public. Reserve works will be available for viewing and purchase.12 Noon:  Craig Thomas Discovery & Visitor Center 7 - 9 PM: Gala Opening Reception7:45 PM: Announcement of Awards 
THURSDAY, JULY 17:Group Painting Demonstration 5 – 8 PM: Jackson Hole & Greater Yellowstone Area Visitor Center, North Cache Street in Jackson  
SATURDAY, JULY 19:Quick Draw & Sale  9 AM – 12 Noon:  Menor's Ferry Historic District/Chapel of the Transfiguration. Sale immediately following.
Last updated: February 24, 2015