Tour Bus Accident Results in Multiple Injuries & 5-hour Closure of Hwy 89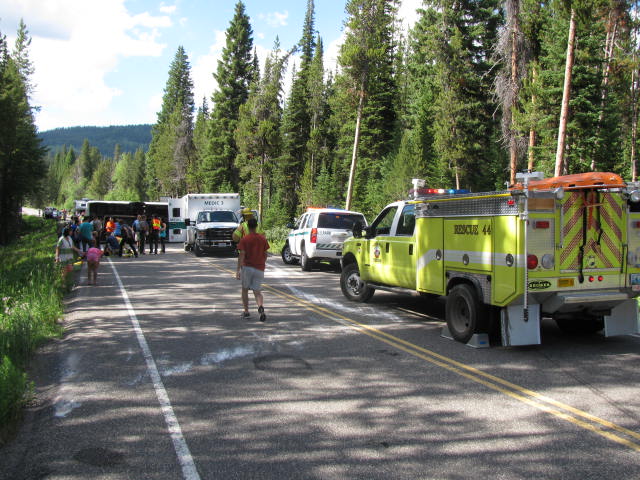 News Release Date:
July 11, 2014
Contact: Public Affairs Office, 307.739.3393
A commercial tour bus carrying 26 passengers and a driver crashed approximately four miles north of Colter Bay Village in Grand Teton National Park on Thursday, July 10, at approximately 4:10 p.m. Twenty-four people were transported by three Grand Teton ambulances, a Jackson Hole Fire/EMS ambulance and a Grand Teton Lodge Company passenger van to receive medical care at St. John's Medical Center in Jackson, Wyoming. Two seriously injured passengers were flown to Eastern Idaho Regional Medical Center (EIRMC) in Idaho Falls via two EIRMC life-flight helicopters that were able to land near the accident site. 
The single-vehicle accident caused the complete closure of Highway 89/287 (both lanes) between Colter Bay and the John D. Rockefeller, Jr. Memorial Parkway for nearly five hours Thursday afternoon/evening.  Motorists traveling between Grand Teton and Yellowstone National Parks were diverted to Jackson Lake Lodge and Colter Bay Village during the highway closure. Southbound motorists were sent to Headwaters Lodge and Cabins at Flagg Ranch and Grant Village in Yellowstone National Park to wait out the travel delay. 
The vehicle wreckage was cleared and Grand Teton rangers reopened the highway at 9:10 p.m. 
Wyoming Highway Patrol troopers and Grand Teton National Park rangers are jointly conducting an accident investigation. Ultimately, the 33-foot-long bus came to rest on its side in the center of the roadway and perpendicular to the traffic lanes. Although the bus did not completely roll over, the impact of the crash caused some level of injury to all 27 bus occupants, making this a mass casualty incident. 
The tour bus was northbound on Highway89/287 en route to West Yellowstone, Montana through the south entrance of Yellowstone National Park when the accident occurred. 
Most patients were treated and released from the Jackson hospital around 9 p.m. Five of the more seriously injured passengers were kept for overnight observation and additional medical care. 
The two patients flown to Eastern Idaho Medical Center were listed in fair condition as of Friday morning, July 11. 
The extensive coordination and partnerships between Grand Teton National Park rangers, EMS providers and other park personnel together with Jackson Hole Fire/EMS providers, Grand Teton Lodge Company employees, Yellowstone National Park rangers, Wyoming Highway Patrol troopers, and the extremely organized and experienced emergency room staff at the St. John's Medical Center helped to make this mass casualty incident progress efficiently and with success.
Last updated: February 24, 2015