Grand Teton Park Rangers Rescue Climber Buried by Rockfall in Garnet Canyon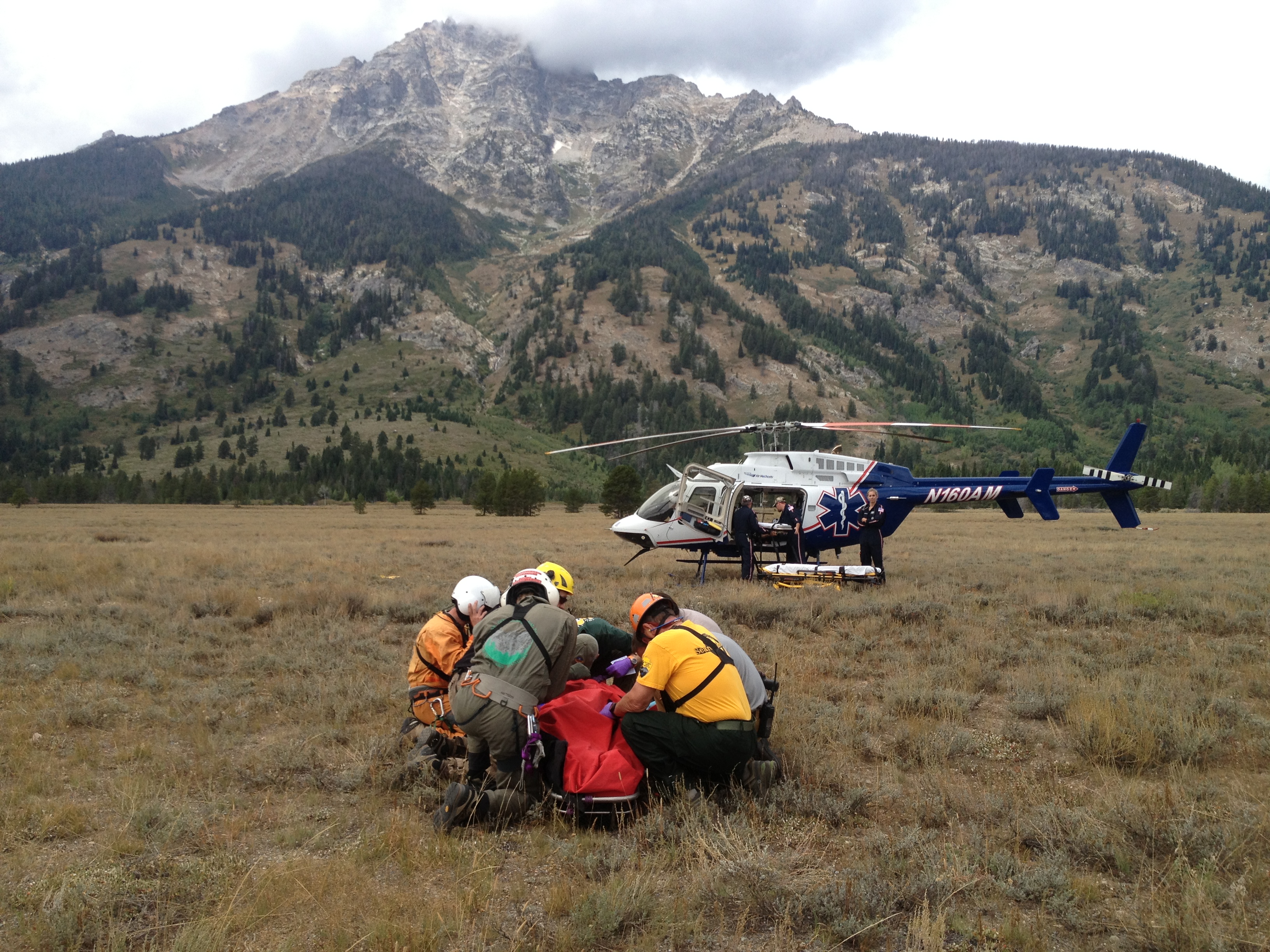 News Release Date:
August 27, 2013
Contact: Jenny Anzelmo-Sarles, 307.739.3431
A 54 year-old Wisconsin man sustained multiple traumatic injuries when he was buried by rockfall in the South Fork of Garnet Canyon in Grand Teton National Park. The rockslide occurred at 9:15 a.m. Tuesday, August 27, and numerous calls for help and multiple SPOT device activations were transmitted beginning at 9:45 a.m. No other people reported injuries and park rangers swept the area to verify no one else was buried by the slide. 
The large slide came from the north aspect of Nez Perce Peak, west of the Hourglass Couloir. Nez Perce lies to the south and east of the Grand Teton. Phil White and his two climbing partners intended to summit the Middle Teton on Tuesday. The rockfall came from above an area not typically on the route climbers use to access the Middle Teton. 
Shortly after the 9:15 a.m. slide, two Exum guides in the area, one of whom is a climbing ranger in Denali National Park, first responded to the accident location. The guides along with bystanders stabilized White and worked to unbury him until park rangers arrived on scene at 11:19 a.m. 
Three park rangers with the assistance of the Exum guides and other bystanders moved White to a better location for extrication via short-haul. With a ranger attending him below the helicopter, he was flown to the park's rescue cache at Lupine Meadows, landing at 12:13 p.m. Once there a team of park medical providers led by the park's co-medical directors Dr.s Will Smith and AJ Wheeler, along with an Air Idaho life flight crew, provided additional medical care. White was transported to Eastern Idaho Regional Medical Center in Idaho Falls by Air Idaho Rescue. A Teton Interagency contract helicopter was used for the mountain rescue operation. 
Short-haul is a rescue technique where an individual is suspended below the helicopter on a 100 to 200 foot rope. This method allows a rescuer more direct access to an injured party, and it is often used in the Teton Range where conditions make it difficult to land a helicopter in the steep and rocky terrain. Patients are typically flown out via short-haul with a ranger attending to them below the helicopter, as was the case for this rescue.  
The Teton Range has received afternoon precipitation over the last few days. Dry conditions followed by precipitation create prime conditions for rockfall to occur. Backcountry users, especially in Garnet Canyon, should expect to see additional rockfall in the coming days. 
Rangers remind backcountry users of the danger of afternoon thunderstorms that often produce lightning. These storms are prevalent in the park and surrounding region in the summer months. In the event of a sudden storm, visitors should be ready to move quickly to a safe place such as a building or vehicle, and avoid hilltops, ridges and flat open areas. 
This incident remains under investigation and no other information is available at this time. It marks the 25th major search in rescue in Grand Teton National Park this year.
Last updated: February 24, 2015