Evison Fellowship Awarded to UW Graduate Student Susma Giri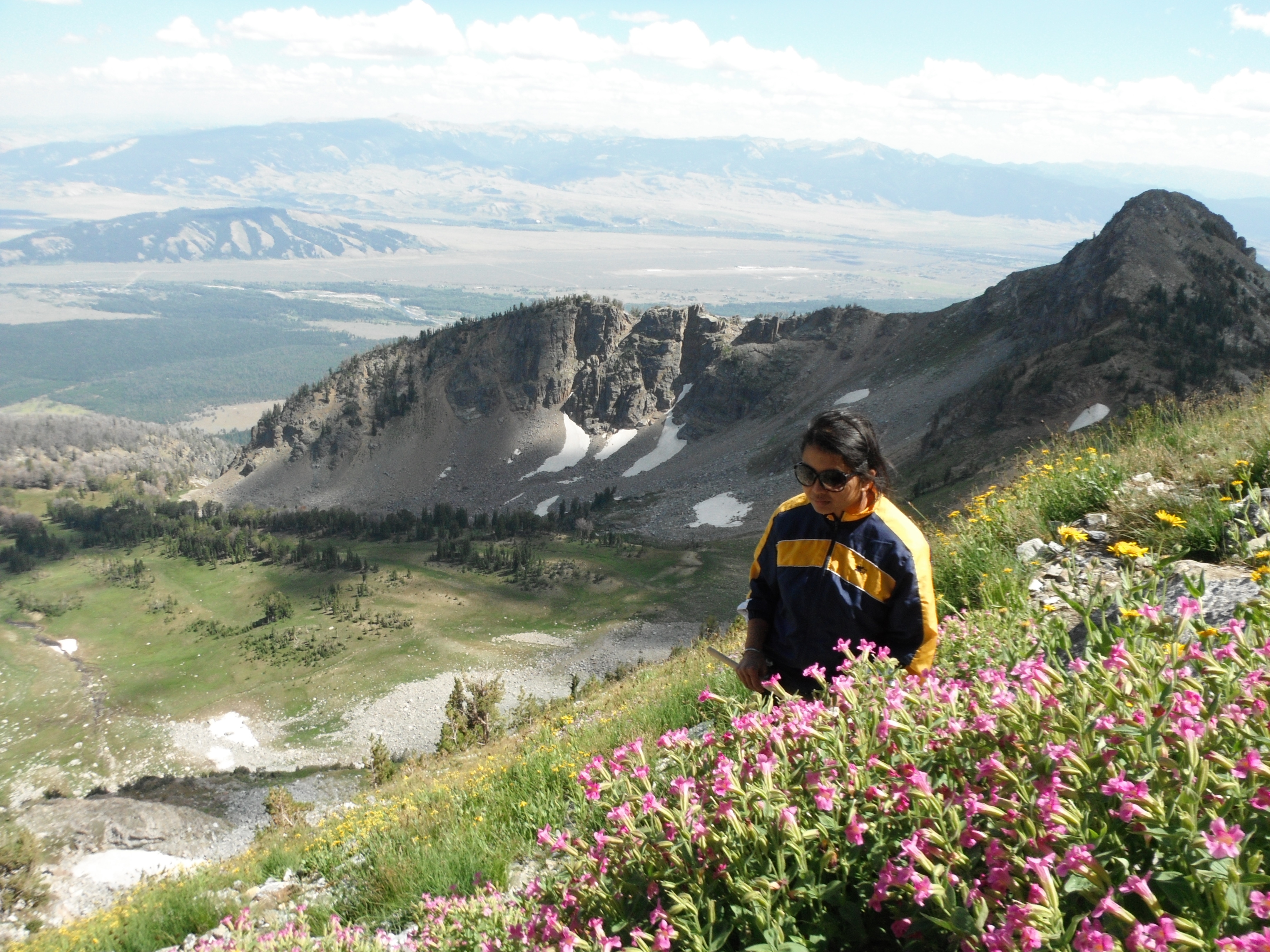 News Release Date:
May 17, 2013
Contact: Public Affairs Office, 307.739.3393
Grand Teton National Park and the Grand Teton Association (GTA) are pleased to announce that Susma Giri was selected for the 2013 Boyd Evison Graduate Fellowship. Giri, the ninth recipient of an Evison Fellowship, is currently pursuing a Ph.D. degree in Ecology at the University of Wyoming (UW) in Laramie. The Evison Graduate Fellowship began in 2005 to support advanced studies throughout the Greater Yellowstone Area. 
Because Grand Teton National Park contains areas of largely undisturbed habitat, Giri plans to use her fellowship award to study bumblebees as critical pollinators in both natural and managed ecosystems and to measure the potential effects of temperature and parasites on their decline. This research will also supplement limited data available on the distribution and abundance of native bee populations within the park. Climate warming may shift bee ranges to higher elevations, with unknown effects on their thermal physiology or their susceptibility to parasites. Understanding the effects of recent and projected range shifts of native bees is therefore crucial for development of appropriate management strategies that may conserve bee species and their colonies in the face of human-caused changes. 
Giri completed high school in her hometown of Pokhara, Nepal and joined the Institute of Forestry at Tribhuvan University where she earned an undergraduate degree in 2011 that focused on the ecology and distribution of the Himalayan serow, a threatened ungulate living in Nepal's protected mountainous areas. Her research findings were published in the 2011 World Journal of Zoology. In January 2012, Giri entered the UW as a PhD student, and began research on native bees from Laramie and from Grand Teton National Park. This study was supported by a UW/National Park Service (NPS) research grant, and part of the results were recently presented at the 2013 meeting of the Society for Integrative and Comparative Biology in San Francisco. Giri is expected to graduate from UW with her PhD in Ecology by 2016. 
The Evison Fellowship was established in memory of Boyd Evison after his death in October, 2002, and created to honor Boyd's extensive and dedicated service to both the NPS and the GTA. Evison retired in 1994 from an exemplary 42-year career with the NPS and soon after began a second career as executive director for GTA-a non-profit park partner dedicated to aiding interpretive, educational, and research programs for Grand Teton National Park. 
The Evison Fellowship program encourages scientific and conservation-related research in national parks. It invites highly motivated, graduate students to conduct research in Grand Teton and throughout the Greater Yellowstone Area; and it supports study leading to a master's or Ph.D. degree in the biosciences, geosciences or social sciences. Upon program completion, Evison recipients provide a copy of their thesis to the GTA and often share their results through oral presentations to park staff and partners. 
An Evison Fellowship provides tuition assistance and a yearly stipend to cover travel and field research costs. Grand Teton National Park offers housing and office space for students during field sessions. To inquire about the Boyd Evison Graduate Fellowship, or donate funds toward this worthy program, please contact Jan Lynch, executive director of the Grand Teton Association by mail at P.O. Box 170, Moose, Wyoming, 83012, or by phone at 307.739.3406.
Last updated: February 24, 2015