Celebrate Spring: Watch the Antics of Strutting Sage Grouse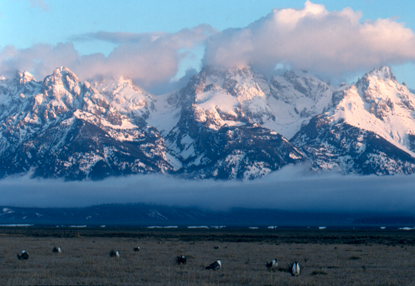 News Release Date:
April 10, 2012
Contact: Public Affairs Office, 307.739.3393
To celebrate the arrival of spring, park ranger naturalists will lead early-morning tours to observe strutting sage grouse as they perform their annual courtship dance on an historic lek (mating arena) located just off the Antelope Flats Road near Mormon Row. Strutting grouse trips will be offered on the following weekends: April 14-15, April 21-22, and April 28-29, 2012.
Ranger-led excursions offer an exceptional opportunity to witness this unique springtime ritual as sage grouse congregate and perform animated courtship displays. While participants view the antics of strutting grouse, rangers will provide information about their natural history and various conservation efforts underway for sage grouse populations that have declined throughout much of the American West.
Sage grouse tours begin from the Craig Thomas Discovery and Visitor Center at 5:30 a.m. and reservations are required. To make a reservation and obtain information about what to wear and bring along on these free ranger-led trips, call 307.739.3399. Strutting grouse tours are just one of many opportunities to enjoy Grand Teton National Park during the month of April.
National Park Week is slated for April 21-29 and Grand Teton-along with the 397 national park units across America-will waive entrance fees in recognition of this special week. A seven-day pass to Yellowstone and Grand Teton National Park is normally $25 for a private vehicle.
Several other programs and activities are scheduled for National Park Week: details about these will be announced in the coming week.
Additional information about National Park Week is available on the National Park Service website at www.nps.gov/npweek.
Last updated: February 24, 2015