Grand Teton Park Rangers Engage Students in Second Year of Snowdesk Webcast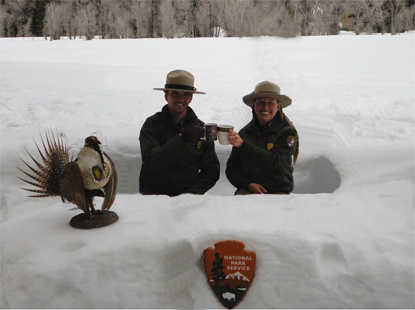 News Release Date:
April 2, 2012
Contact: Public Affairs Office, 307.739.3431
For a second year, interpretative park rangers in Grand Teton National Park hosted an innovative distance learning program called Snowdesk. During each program, park rangers connected with students from across the county during live webcasts outside the Craig Thomas Discovery and Visitor Center in Moose, Wyoming.
Through nine different Snowdesk broadcasts from February 14 to March 15, 644 students from Florida, Michigan, Pennsylvania, Illinois, California and Wyoming were able to visually and verbally interact with rangers using Skype video conferencing technology. During each 30-minute broadcast 3rd through 6th grade students learned about how park wildlife survive the harsh winter climate in Grand Teton National Park and the Jackson Hole valley.
With the Teton mountain range as the backdrop, rangers created a set by leveling out a staging area for demonstrations and by carving a desk out of snow. Two rangers hosted the broadcast from the snowdesk while another ranger demonstrated winter wildlife survival skills. To enhance the learning experience and engage different learning styles, each classroom was loaned animal pelts, animal photographs, park maps and park newspapers prior to the broadcasts.
Classrooms used their own technology to connect with this program. Grand Teton National Park hopes to expand Snowdesk to additional schools and connect with more students next winter. If your school would like to participate in Snowdesk during the 2012/2013 winter please call 307.739.3349.
Last updated: February 24, 2015