Identity of Man Injured by Bear in Grand Teton Released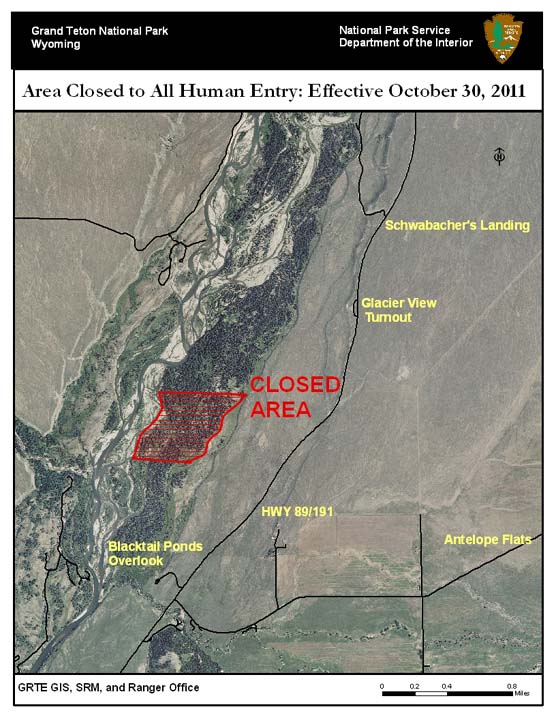 News Release Date:
October 31, 2011
Contact: Public Affairs Office, 307.739.3431
The 32 year-old man who was injured by a bear on Sunday, October 30 in Grand Teton National Park has been identified as Timothy Hix of Jackson, Wyoming. Hix was scouting for an elk in the Snake River bottom south of Glacier View overlook when the incident occurred. While the investigation is on-going, rangers believe this was a surprise encounter with a single grizzly bear. Park managers temporarily closed approximately a quarter mile around the area where the mauling occurred.
Hix reported to rangers that he surprised what he believed to be a grizzly bear at a distance between 5 and 10 yards just after 11:30 a.m. Sunday. Hix saw the bear running towards him at which point he tried to grab his bear spray from its holster but was unsuccessful. Hix dropped to the ground, covered his head, and remained still. He said the bear made contact with him as he dropped to the ground and then bit him at least twice before running away. Hix's response was consistent with recommended human behavior during a surprise bear encounter and rangers commend him for his actions.
Hix was transported by park ambulance to St. John Medical Center in Jackson. As of noon on Monday Hix was reported to be in "good condition" and is expected to be discharged Monday afternoon, according to the hospital.
Hix had a permit to participate in the park's Elk Reduction Program in Wyoming hunt area 75. Rangers remind park users that only those who have been issued a permit to participate in the park's Elk Reduction Program can lawfully take elk in Grand Teton National Park. The Elk Reduction Program is a cooperative management tool used to regulate elk population numbers and was established by Congress in the 1950 enabling legislation that created Grand Teton National Park.
Last updated: February 24, 2015