Kevin Schneider Selected to be Deputy Superintendent at Grand Teton National Park
Date:
November 15, 2011
Contact:
Public Affairs Office, 307.739.3431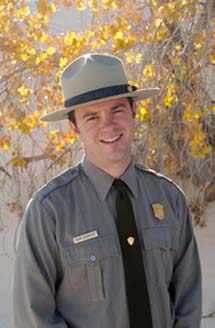 Superintendent Mary Gibson Scott is pleased to announce that Kevin Schneider has been selected to serve as deputy superintendent at Grand Teton National Park. Intermountain Regional Director John Wessels confirmed Schneider's selection this week, and he will begin his new post in mid December. As deputy superintendent, Schneider will oversee the day-to-day operations of Grand Teton and directly supervise numerous park projects and programs. Schneider replaces Bob Vogel who transferred to Washington, D.C. in late July to become superintendent of the National Mall and Memorial Parks. 
Schneider is currently the superintendent of White Sands National Monument in Alamogordo, New Mexico; however, he is no stranger to the Greater Yellowstone Ecosystem. Schneider began his 15-year career with the National Park Service (NPS) in 1996 on a trail crew at Rocky Mountain National Park and subsequently moved to the NPS Office of Communications in Washington, D.C. where he worked in news media relations and public affairs. In January 2000, Schneider transferred to Yellowstone National Park to support communication outreach and provide scientific information to various public groups, including park visitors. In May of 2002, Schneider became a park planner at Yellowstone, working primarily on winter use planning through late 2005. He accepted a position as management assistant at Glen Canyon National Recreation Area in 2005, and was selected as superintendent at White Sands in May 2008. Schneider returned to Yellowstone in late 2010 for several months on a detail assignment as acting chief of natural and cultural resources.
In addition to his federal employment, Schneider has worked as a Student Conservation Association volunteer, and as a forestry technician with the Routt National Forest in Yampa, Colorado. 
Schneider graduated cum laude from Colorado State University at Fort Collins in 1998 with a Bachelor of Science in Natural Resources Recreation and Tourism, and earned a Master of Public Administration degree from Montana State University at Bozeman in 2004. In recognition of his NPS service and accomplishments, Schneider earned an honor award in 2005 for outstanding service from the Department of Justice Assistant Attorney General. He also received the Interior Department's Superior Service Award in 2004. 
"Kevin possesses the range of skills required to effectively manage the complex operations of Grand Teton. In addition, he is familiar with the Greater Yellowstone Ecosystem and has worked closely with many partner and stakeholders groups associated with both Grand Teton and Yellowstone," said Superintendent Scott. "He has acquired progressive experience in park operations and is well versed in highly controversial issues. His diverse knowledge and skills will serve Grand Teton well, and I'm looking forward to adding Kevin to my outstanding management team."  
Schneider will move to Wyoming with his wife, Cate, and their 2-year-old daughter Sydney.
Last updated: February 24, 2015