Hunter Charged for Illegally Killing a Bison in Grand Teton National Park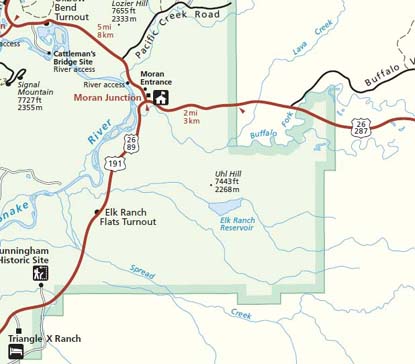 News Release Date:
November 9, 2011
Contact: Public Affairs Office, 307.739.3431
Kluth requested that a hunt outfitter service remove the bison for him. The service notified rangers that the coordinates Kluth provided were inside of Grand Teton National Park. The hunter fully cooperated with rangers and took rangers to the bison's location. Rangers determined the approximate location of the killed bison to be two miles inside the park from the park's boundary line to the east and one mile inside the park from boundary line to the south in the vicinity of Uhl Hill (see map).
Rangers remind individuals hunting near the park boundary with the Bridger-Teton National Forest to be especially diligent in locating the park's boundary prior to hunting, and to be sure that they are outside park lands before taking wildlife. It is the individual hunter's responsibility to know where they are and where the park boundary lies.
Hunting is prohibited in Grand Teton National Park. Only those who have been issued a permit to participate in the park's Elk Reduction Program can lawfully take wildlife in Grand Teton National Park. The Elk Reduction Program is a cooperative management tool used to regulate elk population numbers and was established by Congress in the 1950 enabling legislation that created Grand Teton National Park.
Visitors and park users are reminded that rangers are consistently on patrol, monitoring activities to ensure the safety and well-being of visitors and the park's cultural and natural resources. To report an incident, please call the Teton Interagency Dispatch Center at 307.739.3301.
Last updated: February 24, 2015