New Chief of Interpretation Named for Grand Teton National Park
Date:
November 8, 2011
Contact:
Public Affairs Office, 307.739.3431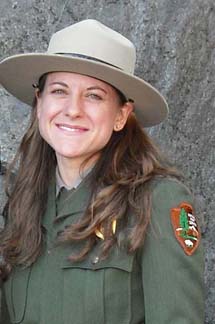 Park Superintendent Mary Gibson Scott is pleased to announce the selection of Victoria (Vickie) Mates to the position of chief of interpretation and partnerships for Grand Teton National Park. Mates comes to Grand Teton from Yosemite National Park where she is currently the deputy chief of interpretation and education. She will begin her new post in early December. 
Mates will be responsible for the daily operations of the Division of Interpretation and Education. In addition to overseeing a full range of interpretive and education programs, she will coordinate Grand Teton's web presence and serve as the liaison between the park and its friends and partner organizations. 
Mates began her 14-year career with the National Park Service (NPS) at Cuyahoga Valley National Park in Ohio as an environmental educator, interpretive park ranger, liaison to the Cuyahoga Valley Scenic Railroad and front -line supervisor. Mates later moved to Theodore Roosevelt National Park as a district interpreter and worked as a front-line supervisor, webmaster and publications specialist before transferring to Yosemite in 2004. 
In her present role at Yosemite, Mates directs a complex of visitor services and education programs and frequently collaborates with park partners and gateway communities. Additionally, she manages a variety of interpretive projects, including the design of the Yosemite Valley Visitor Center Exhibit Hall. Mates was a collaborative member of Yosemite's interdisciplinary planning team and worked on the Tenaya Lake Restoration and Merced Wild and Scenic River Comprehensive Management Plan among other projects.
Mates has served as an advocate for advancing the field of interpretation on a national level. Her professional experience and skills as a trainer and certifier in the servicewide Interpretive Development Program has led to invitations as a subject matter expert on various curricula development teams with the NPS. 
Mates holds a Master's Degree in Resource Interpretation from Stephen F. Austin State University at Nacogdoches, Texas, and a Bachelor of Science in Environmental Science from Allegheny College at Meadville, Pennsylvania. 
Mates and her husband Adam-both originally from Scottdale, Pennsylvania-are looking forward to their upcoming move to Wyoming and becoming a part of both the park and the local community. 
"Grand Teton National Park is where I fell in love with the mountains," said Mates. "I'll always remember how I felt sitting at Jenny Lake, looking at those immense snow-capped mountains for the first time in my life. I am thrilled to have been selected to lead the interpretive and partnership efforts at the park and am looking forward to collaborating with park staff, partners and community members."
Last updated: February 24, 2015