Multi-Use Pathway to Open In Early Summer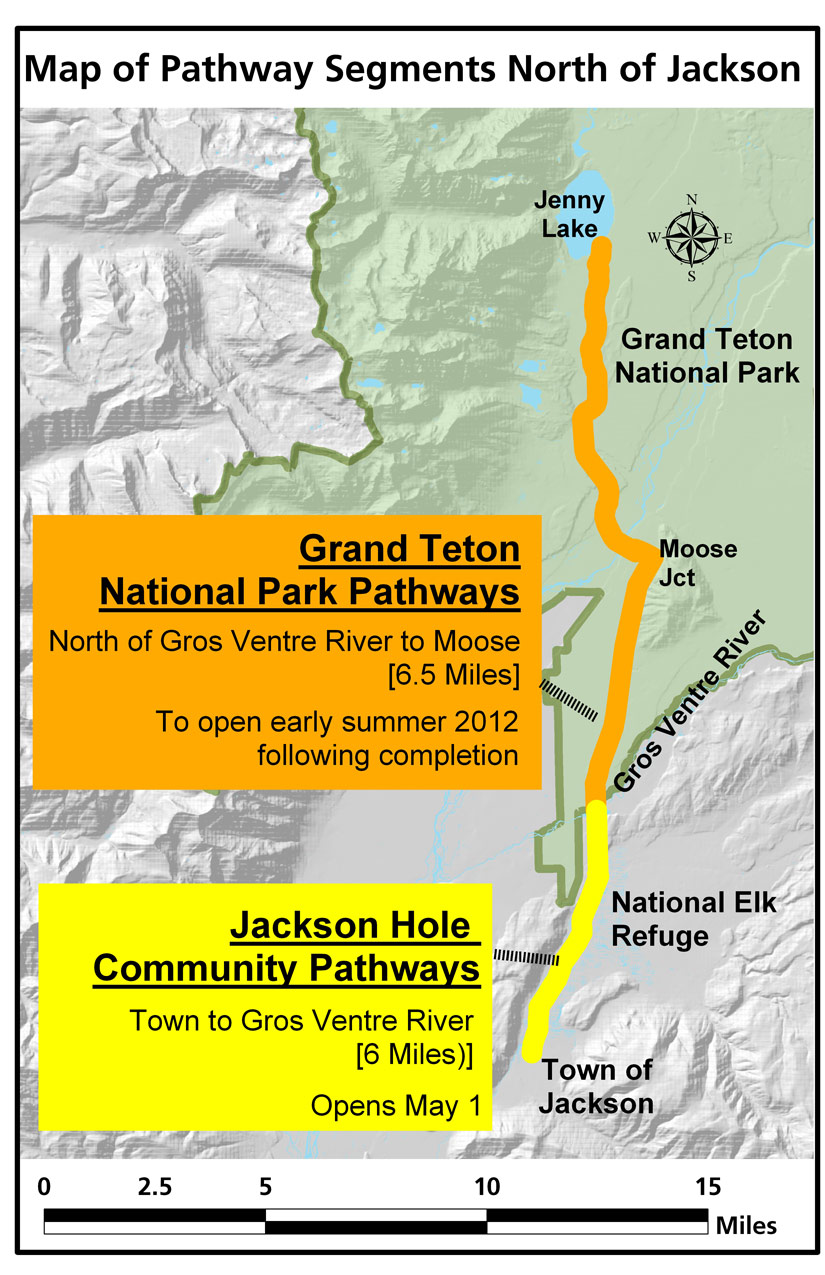 News Release Date:
April 24, 2012
Contact: Jackie Skaggs, 307-739-3393
Superintendent Mary Gibson Scott announced that due to ongoing construction, the multi-use pathway that parallels Highway 26/89/191 from the Gros Ventre River to Moose Junction within Grand Teton National Park will not open to public use until early summer. The entire 12.5-mile pathway from Jackson to Moose actually spans two distinct federal agency lands: the National Elk Refuge (6 miles) and Grand Teton National Park (6.5 miles). The Grand Teton segment requires further work before it can be safely used by the public. Consequently, this pathway will remain closed to public use until its construction is complete. The opening date is dependent upon weather and construction progress.

The six-mile pathway section from Jackson to the north bank of the Gros Ventre River crosses land managed by the National Elk Refuge. Because this pathway segment does not fall under the jurisdiction of Grand Teton National Park, Jackson Community Pathways worked with Refuge officials and took the lead on managing design and construction of this leg and the bridge spanning the Gros Ventre River. The 6.5-mile-long section connecting the north bank of the Gros Ventre River to Moose Junction crosses land managed by Grand Teton National Park. Park staff worked with Western Federal Lands Highways Division engineers to design and construct this segment, the small bridge over a side channel to the north of the Gros Ventre River, and the underpass at Moose Junction.

Work on the Grand Teton pathway segment requires completion of the Moose Junction underpass and final construction of the small bridge over a side channel of the Gros Ventre River. In addition, striping of the pathway surface and placement of safety signs must be done.
A formal announcement will be made after the remaining construction work has been completed and the pathway is finally open for public use. In future years, the Grand Teton pathway segment will simply open when it becomes snow free-much like the hiking trails in the park become useable as snow melts.
Special rules and regulations apply to the different park areas that are open to non-motorized use, and the new Grand Teton pathway segment will be no exception. This pathway leg bisects an important wildlife corridor not previously occupied by people on foot or on a bike; therefore, users will need to follow special regulations designed to diminish adverse impacts to animals that frequent this area. For example, pets are not allowed on any of Grand Teton's multi-use pathways to reduce potential impacts to wildlife from the presence of domestic animals. Users will only be allowed on pathways from dawn to dusk; nighttime use is not permitted.
When the new pathway finally opens, bicyclists, inline skaters, hikers, and other pathway users will be encouraged to follow some basic rules of courtesy and safety: Be alert for bears and maintain a safe distance from all wildlife (especially bison, moose and elk); obey the sunset to sunrise closure for protection of wildlife; respect the rights of others; ride single file and stay on the right side of the pathway; use a bell, whistle or voice whenever passing others; wear appropriate protective equipment such as helmets and pads; observe bicycle speeds that are reasonable to the numbers and safety of other  users; and don't use motorized vehicles (exception of wheelchairs and other mobility impaired devices).
-NPS-
www.nps.gov/grte
Last updated: February 24, 2015