Missing Skiers Not Found Despite Extensive Search on Wednesday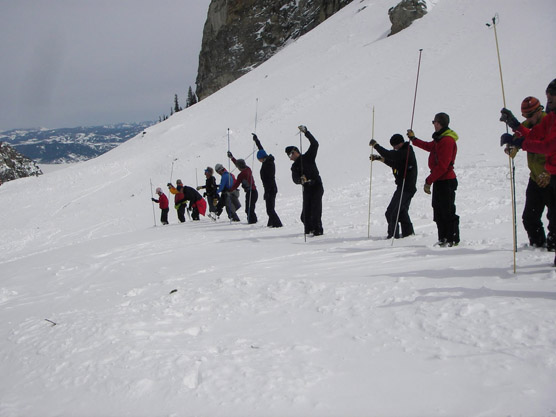 News Release Date:
April 21, 2011
Contact: Jackie Skaggs, 307.739.3393
April 21, 2011
11-19
Rescue teams on the ground and in the air, along with two search dog teams with Wyoming K9 Search and Rescue, conducted a thorough and extensive search of multiple locations in Garnet Canyon on Wednesday, April 20; still no clues were discovered that might lead to the whereabouts of Walker Pannell Kuhl and Gregory Seftick-missing for four days after they entered Garnet Canyon on Saturday, April 16, for on an overnight camping and ski trip.
Because of clear skies and stable weather conditions on Wednesday, multiple rescue teams made significant progress in searching areas that were inaccessible on Tuesday due to low visibility, erratic winds and high avalanche probability. Three rangers aboard the Teton County Search and Rescue helicopter were able to thoroughly conduct an aerial search of high terrain areas and typical climbing routes on the Grand Teton, Middle Teton, South Teton and other secondary peaks adjacent to Garnet Canyon. In an effort to eliminate all possible outlier locations where Kuhl and Seftick might have traveled, the aerial search also covered the Shadow Peak area to the south of Garnet Canyon, Black Dike Couloir and Cascade Canyon to the north of Garnet Canyon.
Three teams of four people each searched high elevations in the south and north forks of Garnet Canyon after being shuttled by helicopter to a helispot in the Meadows area of the canyon. One team combed over Jackson Hole Mountain Guides' high camp area and the toe of Teepe Glacier where an avalanche had occurred days before. A second team explored the Middle Teton glacier area, the North Fork moraine and the North Fork headwall above the Meadows. A third team searched the South Fork of Garnet Canyon to the saddle between the South Teton and Middle Teton. These areas contain substantial snow drifts, large boulders, and other features where someone might take cover from the elements. No evidence of the missing skiers was found during these widespread searches.
Joined by two search dog teams, other rescue teams methodically searched a massive debris field on the lower Meadows area of Garnet Canyon, Rescuers used avalanche transceivers, probe poles and a device called "recco" that works similar to sonar and can pick up a dense object that is not otherwise visible. Some mountaineers wear clothing embedded with "recco" chips that can help in directing a visual signal from a hand-held device much like the audio sounds received from an avalanche beacon.
Today, April 21, rescuers will focus their efforts on the large avalanche debris that sits in the lower Meadows. This debris field is approximately 250 feet wide, 200-300 yards long and over 15 feet deep. It apparently shed off of the north face of Nez Perce Peak on the south flank of Garnet Canyon.
Four fresh K9 search teams will join two six-person rescue teams today to carefully comb over, and through, the jumble of avalanche debris in the Meadows area.
The weather forecast calls for increased winds and 70 percent chance of snow showers with two to four inches accumulation possible. Inclement weather conditions may hamper or delay search operations on Thursday and Friday.
Last updated: February 24, 2015