Grand Teton Offers Free Entry in Celebration of Summer Solstice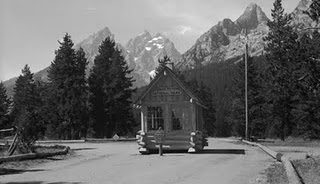 News Release Date:
June 16, 2011
Contact: Jackie Skaggs, 307.739.3393
June 16, 2011
11-44
In celebration of summer solstice and the first day of summer, Grand Teton National Park-along with other national parks across the country-will offer free entry on Tuesday, June 21. Interior Secretary Ken Salazar directed the National Park Service to waive entrance fees on several days during 2011 as part of an initiative to encourage people to visit, explore and enjoy America's national park areas.
"The longest day of the year is the perfect time to take a short trip. Celebrate an extended Father's Day with dad, the start of summer break with the kids, or a job well done with your favorite graduate," said National Park Service Director Jonathan B. Jarvis. "With 394 national parks across the country, you could opt to visit an old favorite or explore a new place. Find a reason to get outside and enjoy the extra sunshine at a national park near you."
To further highlight the first day of summer and free entry into Grand Teton, park rangers invite visitors to join them in family-oriented activities that focus on First Lady Michelle Obama's "Let's Move Outside" initiative: a national campaign to end childhood obesity within a generation. This program is underway in national parks across the United States. Several programs designed to promote  healthy lifestyles and physical activity in the great outdoors will take place in Grand Teton on June 21st and throughout the summer months. These include:
Taggart Lake Hike: Trek to scenic Taggart Lake at the base of the Teton Range and learn about the geology and biologic communities that adorn the Teton Landscape. Bring water, binoculars, cameras, rain gear and insect repellant. Meet 9 a.m. at Taggart Lake trailhead for a three-mile hike (moderate difficulty).
Swan Lake Hike: Walk through forest and wetland communities while learning about the plants and animals living near Jackson Lake and Colter Bay. Bring water, binoculars, cameras, rain gear and insect repellant. Meet 8 a.m. at Colter Bay Visitor Center flagpole for an easy three-mile hike.
Inspiration Point Hike: Trek to Hidden Falls and a viewpoint above Jenny Lake to learn about Teton geology and the work of glaciers. Meet 8:30 a.m. at the Jenny Lake Visitor Center flagpole for an uphill two-mile hike (moderate difficulty).
"The Teton Range is just beginning to emerge from an unprecedented winter snowpack, and the snow-covered peaks create a sharp contrast against the greening Jackson Hole valley. Early season wildflowers and newborn wildlife add a special touch to visiting Grand Teton National Park at this time of year," said Superintendent Mary Gibson Scott. "The first day of summer is an ideal time to visit the park, and free entry provides an added bonus to the annual June attractions."
Additional fee free days in 2011 are scheduled for National Public Lands Day on Saturday, September 24 and Veterans Day weekend from November 11-13.
Last updated: February 24, 2015