National Park Foundation Awards Grant To Grand Teton National Park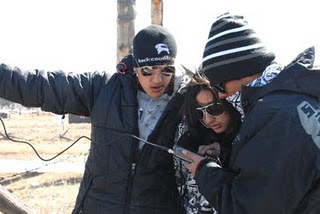 News Release Date:
June 15, 2011
Contact: Jackie Skaggs, 307.739.3393
June 15, 2011
11-43
Superintendent Mary Gibson Scott announced today that Grand Teton National Park was chosen to receive a grant sponsored by the National Park Foundation (NPF) to support an innovative program for multi-cultural youth. This grant is part of the NPF's America's Best Idea  initiative: a nationwide program that connects underserved populations across the United States with national parks through meaningful and innovative ways.
The NPF grant will fund a Pura Vida Youth Leadership Program recently launched at Grand Teton with assistance from the Grand Teton National Park Foundation (GTNPF). This program is designed to encourage multi-cultural students to become leaders in their local community in support of park stewardship. The grant will augment support already provided by GTNPF, Teton Science Schools, Teton County School District, and other generous donors.
"We're pleased to receive such a beneficial grant," said Superintendent Scott. "Through our Pura Vida program, we'll be able to engage students from diverse cultural backgrounds and help them to become leaders in their local community. We hope to inspire these young people and expand their understanding and support for conservation efforts. We also hope they will become ambassadors for national parks and serve as future community leaders."
Pura Vida Youth Leadership Program is a year-long course aimed at empowering multi-cultural youth to become active leaders in their community. Participants will gain an understanding and appreciation for the significance and purpose of the National Park Service, and learn about career opportunities in the Service. More than half of the participants for the year-long program will be selected from a two-week Pura Vida program in July, which is affiliated with Michelle Obama's "Let's Move Outside" initiative. The July Pura Vida session is specifically designed to reach out to the Latino population in the park's gateway communities and introduce youth to the park's unique resources while providing leadership development and mentoring opportunities. The rest of the students for the year-long program will be selected from various local youth groups.
"We must create opportunities for all Americans to have access to and enjoy their national parks," said Neil Mulholland, President and CEO of the National Park Foundation. "With these grants, we're connecting more and more people to the national parks, while building and strengthening long-lasting support, appreciation and commitment to protecting 'America's Best Idea'."
Inspired by the epic Ken Burns documentary The National Parks: America's Best Idea, the NPF, in partnership with Lowe's Charitable and Educational Foundation, the Anschutz Foundation and the Ahmanson Foundation, awarded America's Best Idea grants to 19 national parks across America. The NPF grants support interactive and engaging projects that strengthen Americans' connection with their national parks. A full list of grantees and project descriptions is available on the NPF website at https://www.nationalparks.org/.
Chartered by Congress, the NPF is the official charity of America's national parks. The NPF works hand in hand with the National Park Service to connect all Americans to their national parks, and to make sure that they are preserved for the generations who will follow. The National Park System includes 84 million acres of the world's most treasured landscapes, ecosystems, and historic sites-all protected in nearly 400 national park units.
For further information about this grant and others with the NPF, contact Alanna Sobel, 202.354.6480, asobel@nationalparks.org. Join NPF online at
https://www.nationalparks.org/
or on Facebook at https://www.facebook.com/nationalpark, and Twitter https://twitter.com/goparks.
Last updated: February 24, 2015