February Full Moon and Winter Festival Weekend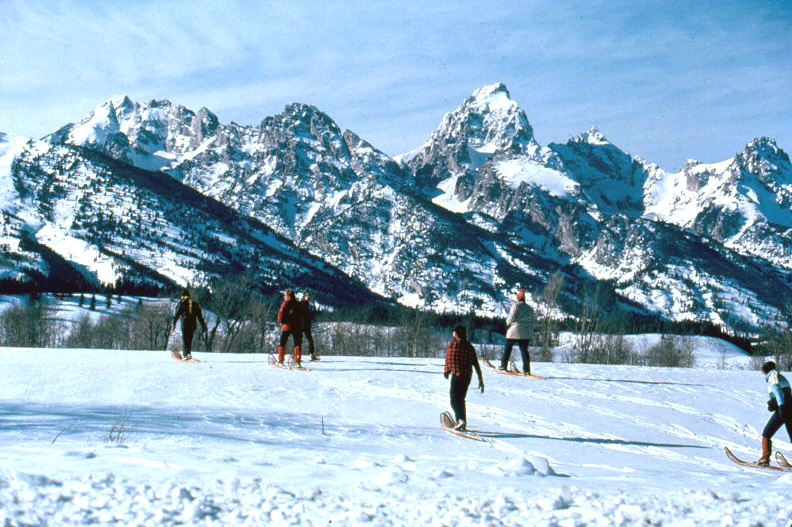 News Release Date:
February 10, 2011
Contact: Jackie Skaggs, (307) 739-3393
February 10, 2011
11-06
To celebrate February's full moon and the peak of the winter season, Grand Teton National Park ranger naturalists invite visitors and local residents to enjoy a winter festival weekend filled with astronomy, snowshoe hikes and family-orientated fun. A host of activities will take place over President's Day weekend from Friday, February 18 through Sunday, February 20.
On Friday evening at 6 p.m., rangers will present a 45-minute interactive program in the Director's Room at the Craig Thomas Discovery and Visitor Center in Moose. Titled Rangers of the Lost Dark, the program examines the incredible nighttime skies of Grand Teton National Park in the warmth and comfort of the visitor center auditorium. Reservations are not required for this indoor presentation.
Following the Rangers of the Lost Dark program, a ranger-led snowshoe walk by the light of a full moon will begin at 7 p.m. from the Discovery Center. The full moon walk offers a chance to experience the winter wonderland of Grand Teton and learn about the unique characteristics that make this season so incredible, and often challenging for park wildlife. The snowshoe walk traverses a mostly level, 1-2 mile roundtrip distance along the forests and meadows near the Snake River. This two-hour-long activity does not require previous snowshoeing experience, and snowshoes are provided for anyone without their own. Headlamps are required for this activity.
Festivities will resume on Saturday, February 19 at 1:30 p.m. with a ranger led snowshoe walk from the Craig Thomas Discovery and Visitor Center to the historic Murie Ranch. Along the way, rangers will talk about the Murie family and their contributions to wilderness preservation anda fledgling conservation movement that culminated in protection of numerous nationally designated wild areas and the passage of the 1964 Wilderness Act. At the Murie Ranch, snowshoers will explore Olaus and Mardy's cabin home and enjoy hot beverages and snacks in the Homestead Cabin. The Murie Center staff will be on hand to share additional facts about the Murie Ranch's history and legacy. This walk takes place on mostly level terrain and is suitable for beginning snowshoers. Total distance roundtrip is 1-2 miles.
The winter festival will conclude on Sunday, February 20 with a family-oriented snowshoe hike. Bring the whole family for an hour-long walk and fun activities for all ages; anyone who is able to spend an hour outside on snowshoes is welcome. The snowshoe hike will begin at 12 noon at the Discovery Center and various sizes of snowshoes will be available for participants.
Those attending any of the weekend activities should wear warm layered clothing, sturdy insulated boots, and a face scarf or ski mask, plus bring along an energy snack and water, or hot beverage in a thermos.
Space is limited on the full moon snowshoe walk, the Murie snowshoe walk and the winter family program; therefore, reservations are required. Please phone 307.739.3399 to reserve a spot, or to learn more about the winter festival weekend.
For a complete list of ranger-led programs, please refer to the park's newspaper, Grand Teton Guide, online at www.nps.gov/grte, or call the Craig Thomas Discovery and Visitor Center at 307.739.3399.
Last updated: February 24, 2015