Rangers Recover Body of Fallen Climber near the Grand Teton
Date:
August 2, 2011
Contact:
Jackie Skaggs, 307.739.3393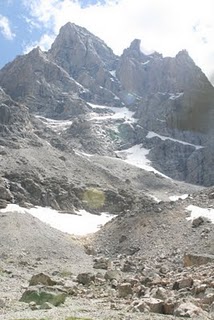 August 2, 2011
11-63
With the assistance of a Teton Interagency contract helicopter, Grand Teton National Park rangers located the body of climber who fell approximately 2,500 feet to his death on the northwest side of the Grand Teton sometime on Sunday, July 31. After searching by foot for nearly seven hours on Monday, August 1, rangers eventually spotted the deceased climber from the air. Don Ivie, age 44, of Springfield, Missouri had undertaken a solo, one-day climb of the Grand Teton, but failed to return at an appointed time late Sunday evening and was reported overdue at 8:45 p.m.
Ivie began his solo climb of the Grand Teton at 1:45 a.m. Sunday morning. When he failed to meet his wife at day's end, she notified Teton Interagency Dispatch Center that he was overdue. Because of the late hour and approaching darkness, rangers made arrangements to begin a search at daylight on Monday morning.
Inclement weather prevented use of the Teton Interagency contract helicopter and delayed the response by rangers stationed at a high elevation hut sited on the Lower Saddle of Grand Teton. Park rangers-along with guides from Exum School of Mountaineering-initiated a search by foot at 8 a.m. Dense clouds and heavy rain made it difficult to locate the missing man during the morning ground search; however, rangers did locate a small backpack near Grand Teton's Upper Saddle that they assumed belonged to the missing climber. When weather conditions improved in the afternoon, rangers launched the contract helicopter to conduct an aerial search. They ultimately located Ivie's body at 1:45 p.m. in Valhalla Canyon, which lies on the northwest flank of the 13,770-foot Grand Teton.
Using a long-line attached to the helicopter, rangers flew Ivie's body early Monday evening from Valhalla Canyon to the Lupine Meadows rescue cache where they were met by the Teton County coroner.
Park rangers are investigating the fatal accident; however, because Ivie was climbing alone, the circumstances surrounding his fall may never be known. Ivie's experience was limited to scrambling peaks with little technical difficulty. He had not climbed in the Teton Range prior to this excursion.
Last updated: February 24, 2015