Bison on Roads Motorists Warned to be Alert and Slow Down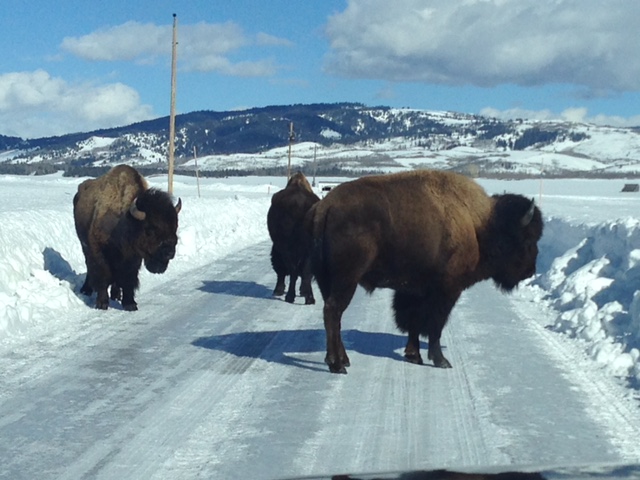 News Release Date:
February 13, 2017
Contact: Denise Germann, 307 739 3393
MOOSE, WY —  Due to snow accumulations and above normal winter conditions, bison within Grand Teton National Park are moving to find food and recently have been using U.S. Highway 89 as their travel pathway. Grand Teton National Park Superintendent David Vela said, "It is imperative that motorists traveling Highway 89 between Moose and Moran Junction remain alert and slow down due to migrating bison in and along the roadway."   
Due to deep and dense snowpack, and to conserve energy, several groups of bison have been traveling roadways in the past week. Vela said park rangers, wildlife biologists and road crew members have been helping the bison navigate safely and to provide plowed areas for them to move about.   
A bull bison was killed early Saturday morning north of Deadmans Bar.  Due to evidence at the scene, park rangers believe the animal was hit by a semi-truck.  
On Saturday, park road crews plowed the Antelope Flats Road to facilitate safe movement of bison.    The road remains closed to vehicle travel, other than a one-mile section that is routinely plowed from U.S. Highway 89. Variable message signs have been placed along U.S. Highway 89 alerting drivers to be alert to bison on the road and drive with caution. If motorists meet bison on a roadway, please reduce speed and when safe, pass animals slowly to avoid further stress on the wildlife.  
Bison move to lower elevations in the winter to find food, especially when snow depths increase and it becomes difficult to access food. They have large shoulder and neck muscles that allow them to swing their heads from side to side and clear snow to find vegetation. They have thick skin and underfur, long guard hairs and layers of fat that help to keep them warn throughout the winter. They tend to be social animals and form herds, or travel with other bison.  On average, a male bison may weigh up to 2,000 pounds, while a female will weigh approximately 1,000 pounds.   The Jackson bison herd is estimated at approximately 670 animals that reside throughout the year in the park, Bridger-Teton National Forest, and National Elk Refuge.   
Always be on the lookout for wildlife on and near roadways and observe posted speed limits, including a 45 mile-per-hour night time speed limit on U.S. Highway 89. When winter road conditions exist, please drive accordingly.   Any collision with wildlife must be reported as soon as possible to Teton Interagency Dispatch Center at 307.739.3301.
Visitors are required to maintain a safe distance when viewing bison, 25 yards at a minimum.  The safe viewing distance for bears and wolves is 100 yards, while all other wildlife should be given at least 25 yards of space. Please use a pullout or parking lot to view wildlife, and use binoculars and telephoto lens. It is important to not disturb or create excess depletion of an animal's energy during the winter.     
Last updated: February 13, 2017