Fire History Audio Tour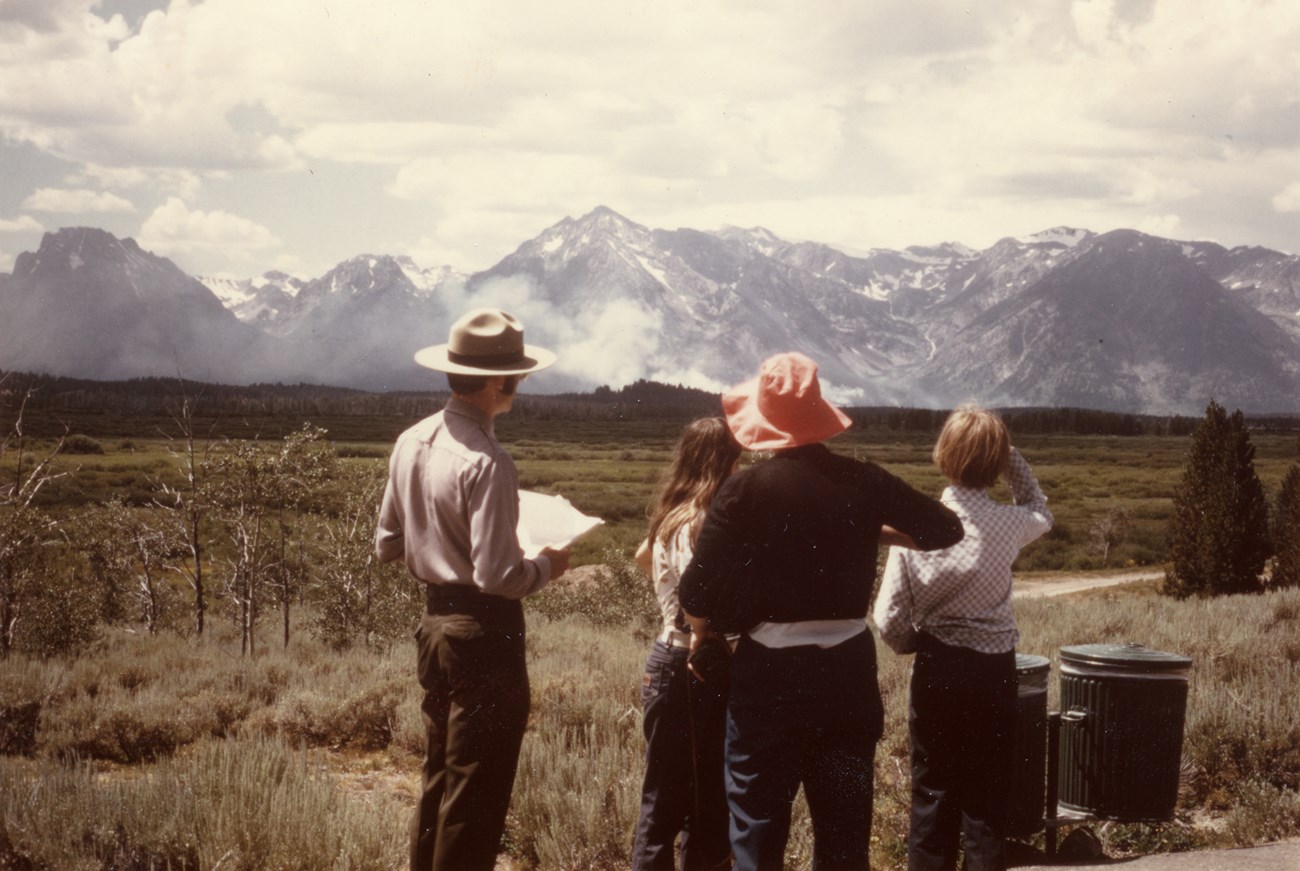 This audio tour, "Fifty Years of Fire History," discusses the rich fire history of northern Grand Teton National Park. Interviews with park fire staff illustrate past fire events, as well as how management goals and values have changed over the years.
Listen in the
park app
as you travel north from Colter Bay toward Yellowstone, or explore on the website and follow along on the map below. Each stop is roughly five minutes.
1. Fires and Forest Ecology

Stop 1 (Colter Bay Visitor Center): Learn about the role fire plays in our forests and its importance to this ecosystem.
2. Fire Exclusion

Stop 2 (north of Colter Bay Visitor Center): Learn about how Europeans managed fire when they arrived in this area, and how the government shaped fire management in the early 1900s.
3. Waterfalls Canyon Fire

Stop 3 (Colter Bay Swim Beach): The 1974 Waterfalls Canyon Fire was one of the first fires in the National Park Service that was allowed to burn naturally. Listen to find out how it came to pass and what its legacy has been.
4. A Patchwork of Habitats

Stop 4 (Jackson Lake Overlook): What effects do repeated fires have on a landscape, and why is that important for forests and wildlife? Explore our Fire History page to see a map of fires in the park over the last several decades, including the ones Diane and Ron discuss.
5. The 1988 Fires

Stop 5 (Huck Fire Turnout): You've probably heard of the 1988 fires in Yellowstone. Listen to hear about their legacy for fire management in the West and what scientists have learned from them.
6. The Berry Fire

Stop 6 (Headwaters Lodge parking lot, Flagg Ranch): The Berry Fire, in 2016, was the largest fire in park history. Learn about how it spread across the landscape, and how years of preparation helped protect the buildings at Flagg Ranch.
7. Looking Forward

Stop 7 (Grassy Lake Road): How is climate change affecting fire behavior, and how will that change forests in Greater Yellowstone? Hear what scientists have to say.
8. Fire Just Is

Stop 8 (Flagg Canyon Picnic Area): "Fire isn't good or bad—it just is." Fire managers from Grand Teton National Park and Bridger-Teton National Forest reflect on the progress of the last 50 years, and what we need to think about for the future.
Last updated: October 23, 2019