White Grass Dude Ranch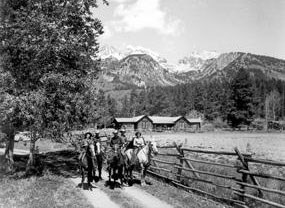 In 1990, the White Grass Dude Ranch was listed on the National Register of Historic Places.
East Meets West
The White Grass Ranch opened to dudes in 1919 becoming the valley's third dude ranch. As a young man, Harold Hammond came to Jackson Hole in 1901 to work as a wrangler for the Reclamation Service. In 1913 he homesteaded the White Grass Ranch. George Tucker Bisham, an Easterner who had spent summers at the Bar BC Ranch, joined Hammond two years later filing for an adjacent homestead. They quickly discovered tourism was more profitable than cattle ranching, opening their doors to visitors as early as 1919.
Good Times and Bad
During the Great Depression, ranch ownership changed many times. Hammond gained sole ownership in 1936 and married Marion Galey, a long-time "dudene." Her son Frank took over operations shortly thereafter. During World War II, the ranch nearly shut down, but after the war, Frank Galey revitalized the ranch. With Galey's death in 1985, the ranch shut down, marking the close of one of the valley's longest running dude ranches.
A Makeshift World
The White Grass Ranch's remote location sparked ingenuity in its dude wranglers. They came up with innovative ways to provide modern comforts. Wranglers diverted water from Stewart's Draw for irrigation and entertainment. Cooling ditches ran past the guest cabins so dudes could chill beverages in the mountain water. Runoff fed a swimming pool and a pond called Lake Ingeborg, named for Frank Galey's wife, Inge. Wranglers even buried an old car filled with cobbles as a drain field for wastewater.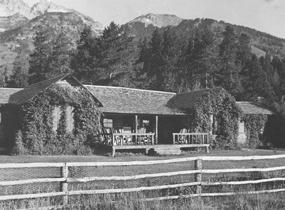 The Cabins
The Main Cabin, thought to have been Harold Hammond's original homestead, evolved into the ranch's social center, kitchen and dining facilities. Other cabins served specific purposes: the Girls' Cabin housed female employees and the Bachelors' Quarters, male workers. The Hammond Cabin served as the owner's residence for the Hammond and Galey families. Many guest families returned to the same cabins year after year building a sense of community.
Training the Future
Partnering with the National Trust for Historic Preservation, in 2005 the National Park Service began stabilizing and restoring the White Grass Ranch. The Western Center for Historic Preservation, based at this idyllic ranch, now serves as a facility for training craftsmen in the art of preserving historic western structures. The White Grass Ranch, the Western Center for Historic Preservation's first project, is slated for completion in 2016, the 100th anniversary of the National Park Service.
How to get there: Drive north from Jackson 12 miles and turn left at Moose Junction. Turn left again in less than a mile onto the Moose-Wilson Road and continue for three miles. Turn right onto the Death Canyon Road and continue more than a mile to a pullout on your left, a portion of this road is dirt. Look for a large interpretive sign. An unmaintained footpath connects to the ranch. This site is still under construction and the buildings are not currently open the public. Please use caution when walking around the buildings
Last updated: June 27, 2023