Western Center for Historic Preservation Projects
PRESERVATION SERVICES
The Western Center for Historic Preservation completes preservation projects throughout the western United States. Providing start to finish project oversight, the WCHP's mission is to reduce the maintenance backlog on historic structures. WCHP crews work year-round, making good use of their 1,500 square foot workshop in the winter months for preservation carpentry projects and completing onsite outdoors projects in the warmer months. Training and local involvement is encouraged for each project. Services provided by WCHP include:
Condition assessments
Project scoping and cost estimating
Project management
Log building preservation
Masonry preservation
Structure stabilization
Historic window and door preservation, repair and replication
Below is a selection of recent project. For information on past projects, see our Annual Reports.
---
Project: Brinkerhoff Lodge, Grand Teton National Park
Preservation maintenance on the Brinkerhoff Lodge in Grand Teton National Park is ongoing. In 2011, WCHP replaced deteriorated log-ends on the Lodge, and cleaned and restained the Lodge and Caretaker's Cabin.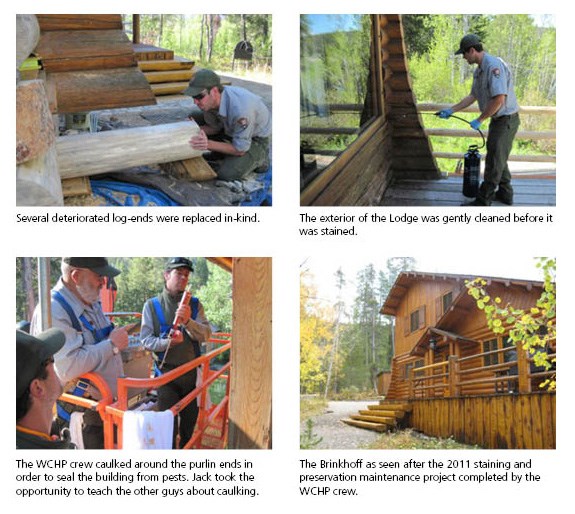 Project: Dewey Gifford House, Capital Reef National Park
In 2010 and 2011 the WCHP crew traveled to Capital Reef National Park to work on the historic Dewey Gifford House. In Phase I, the WCHP repaired the roof and removed the windows for repair in the WCHP shop in Moose, WY. In phase II, the crew scraped and sanded the window jambs, reinstalled the repaired windows, and repaired the exterior stucco.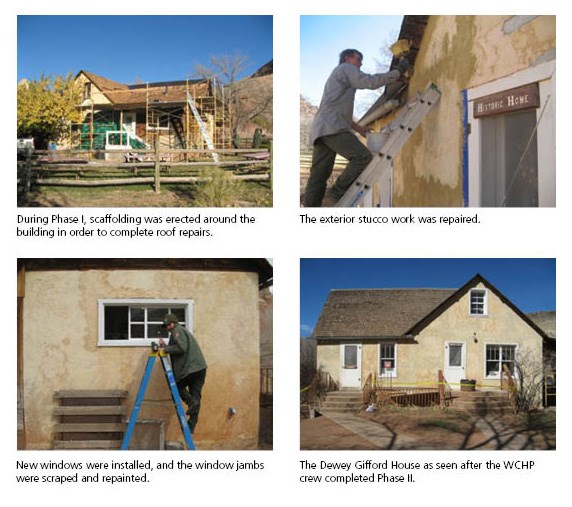 Project: McHaney Cabin, Joshua Tree National Park
During the McHaney Cabin project the WCHP crew, assisted by Joshua Tree employees, reconstructed an historically significant cabin in Joshua Tree National Park. Despite the fact that the cabin had collapsed, the WCHP preservation crew was able to salvage material from the original cabin for the reconstruction.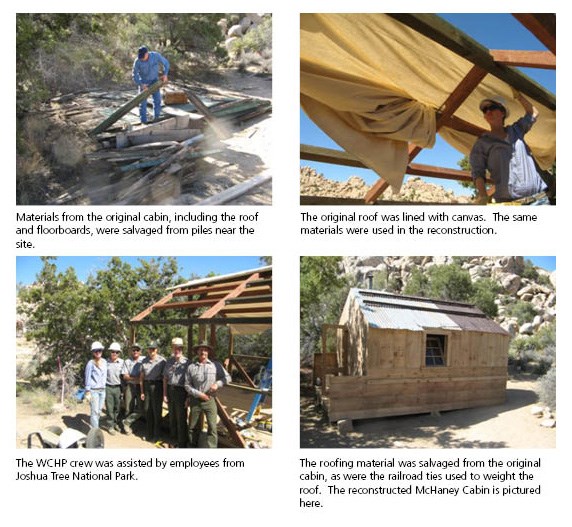 Project: Bryan Flats Guard Station, Bridger-Teton National Forest
During the summer of 2011, a crew from WCHP traveled south to the Bryan Flats Guard Station, one of the oldest remaining guard stations on the forest. The WCHP corrected structural deficiencies in the foundation, and replaced deteriorated logs. In 2012, the WCHP will return to the site to complete chinking on the exterior of the building.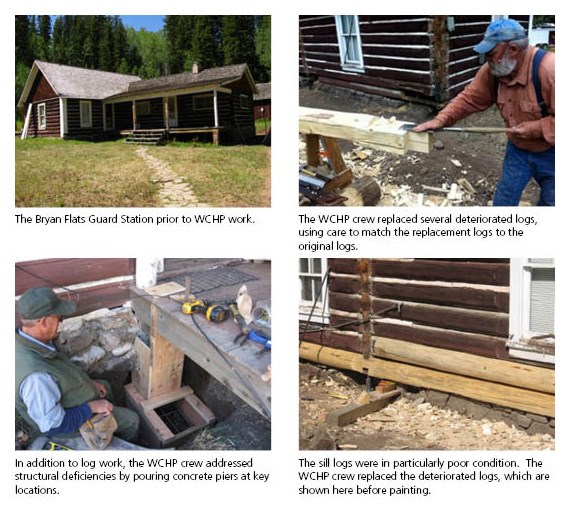 Last updated: February 24, 2015