Get Involved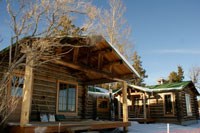 Thank you for your interest in the Western Center for Historic Preservation (WCHP)! There are many ways to get involved with us!
Volunteer Opportunities
Volunteer opportunities with WCHP include a broad range of tasks and activities depending on the skills and expertise of the volunteers. Tasks can include: log cabin stabilization, log preservation/repair/replacement, basic carpentry, roof repair, window repair, chinking, masonry repair, landscape restoration, archiving historic materials, historic research and photography.
We welcome all skill levels and can accommodate most group sizes. Volunteer opportunities can be as short as one day or as long as a few weeks. While we do our best to accommodate everyone, our capacity to host volunteers depends on our project schedule. If you have an idea for a project you are interested in doing with us, please contact us at
e-mail us
and register as a volunteer with Grand Teton National Park
here
.
Be sure to specify you are registering to volunteer at White Grass and what dates you are requesting.
Rustic lodging at the historic White Grass Dude Ranch is available to volunteers based on availability, training, and construction schedules. Please contact WCHP well in advance if you or your group are requesting housing at White Grass. Please note: To be considered for volunteer housing at White Grass a volunteer MUST commit to 32 hours of work.
To learn more the volunteer experience with WCHP please click
here
.
Employment Opportunities
WCHP employs term and seasonal employees as funds allow. Please visit
USA Jobs
and use the search terms "preservation carpenter" or "historic preservation" to see explore current openings.
Student Opportunities
If you are a student interested in a historic preservation internship with WCHP, please visit the National Council for Preservation Education's website and view
internship listings
.
Last updated: February 24, 2015