Fishing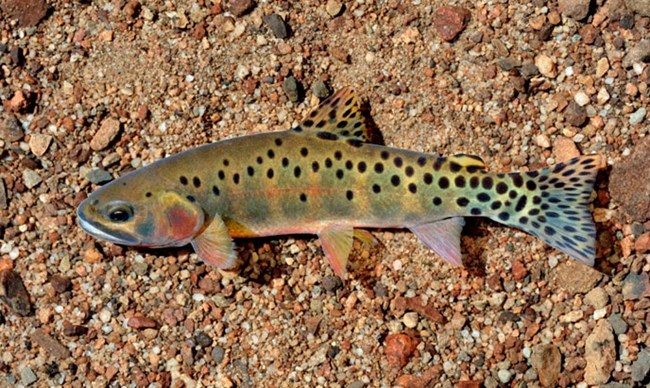 Rio Grande Cutthroat Trout
Rio Grande cutthroat trout (Oncorhynchus clarki virginalis) historically occupied the upper portion of the Rio Grande Basin and associated drainages in Southern Colorado and Northern New Mexico. At present, Rio Grande Cutthroat only occupy about 15% of that range, mostly in the headwater streams in the upper Rio Grande watershed.

Medano Creek, Medano Lake, Upper Sand Creek, and Sand Creek Lakes within Great Sand Dunes National Park and Preserve serve as important biological refugia for this trout, because it is a closed system where exotic species cannot enter. The creeks are bounded by alpine basins at their source, and the desert valley floor at their terminus. Rio Grande cutthroat trout are catch and release only; they are on the candidate list for threatened/endangered species status at the federal level. The US Fish and Wildlife Service determined in 2009 that while there is sufficient evidence to support federal listing under The Endangered Species Act, the listing is currently precluded due to higher priorities. These trout are currently on the Colorado state threatened and endangered list as a Species of Special Concern. Park resource managers coordinate closely with Colorado Parks and Wildlife on management of Rio Grande Cutthroat Trout at Great Sand Dunes to conserve current populations and look for reintroduction opportunities.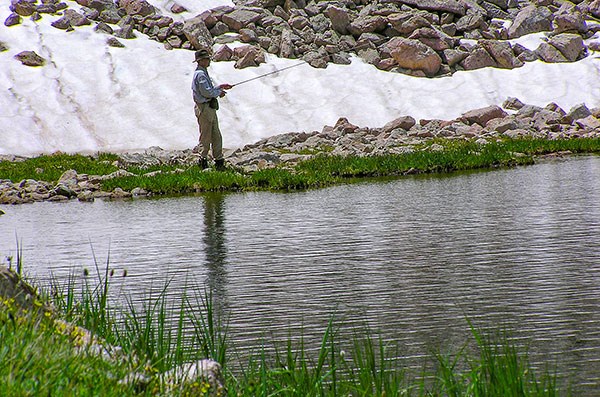 Fishing in Great Sand Dunes National Park and Preserve
Great Sand Dunes National Park and Preserve offers fishing in accordance with State of Colorado regulations In the Medano and Sand Creek Drainages. For more information on how fishing regulations work in national parks, go to the NPS Fish and Fishing website.
Licenses
Visitors fishing within Great Sand Dunes National Park and Preserve must follow the fishing license requirements in accordance with the laws and regulations of the State of Colorado.
Fishing Regulations
Except as provided below, fishing shall be in accordance with the laws and regulations of the State of Colorado (36CFR2.3). For state fishing regulations go to the Colorado Parks and Wildlife website. The fishing regulations apply to all "finfish" found in the park. Other taxa, including amphibians, mollusks and crustaceans (e.g. waterdogs, crayfish) are not considered "fish" for the purpose of NPS fishing regulations and addressed by NPS regulations governing wildlife (36CFR2.2). These fishing regulations apply, regardless of land ownership, on all lands and waters within the park that are under the legislative jurisdiction of the United States. The following are prohibited:
Fishing in fresh waters in any manner other than by hook and line, with the rod or line being closely attended.
Possessing or using as bait for fishing in freshwaters, live or dead minnows or other bait fish, amphibians, non-preserved fish eggs or fish roe, except in designated waters.
Chumming or placing preserved or fresh fish eggs, fish roe, food, fish parts, chemicals, or other foreign substances in fresh waters for the purpose of feeding or attracting fish in order that they may be taken.
Commercial fishing, except where specifically authorized by Federal statutory law.
Fishing by the use of drugs, poisons, explosives, or electricity.
Digging for bait, except in privately owned lands.
Failing to return carefully and immediately to the water from which it was taken a fish that does not meet size or species restrictions or that the person chooses not to keep. Fish so released shall not be included in the catch or possession limit: Provided, that at the time of catching the person did not possess the legal limit of fish.
Fishing from motor road bridges, from or within 200 feet of a public raft or float designated for water sports, or within the limits of locations designated as swimming beaches, surfing areas, or public boat docks, except in designated areas.
Introducing wildlife, fish or plants, including their reproductive bodies, into a park area ecosystem. This includes the discarding and/or dumping of bait and bait buckets.
The use or possession of fish, wildlife or plants for ceremonial or religious purposes, except where specifically authorized by Federal statutory law, or treaty rights.
Great Sand Dunes Fish Consumption Advisories
There are no fish consumption advisories for Great Sand Dunes National Park and Preserve.

To learn more about this topic, the National Park Service maintains information about Fish Consumption Advisories and Mercury and Toxins in Nature.
Aquatic Invasive Species
Imagine your favorite fishing spot and the wonderful memories. Things may look fine but underneath the surface there is a serious threat. Everything you remembered is now cemented together in a sharp, smelly mess. Invaders have wiped out the fish species you used to catch. Aquatic invasive species are not native to an ecosystem. Their introduction causes, or is likely to cause, harm to the economy, the environment, or to human health. Aquatic invasive species are a growing risk to parks and their values. In the United States alone, there are more than 250 non-native aquatic species. For many centuries, humans have contributed to spreading non-native species around the globe. You can make a difference. To learn more about Aquatic Invasive Species in the National Park Service, visit the Fish & Fishing website.
How You Can Help – Stop Aquatic Hitchhikers
Great Sand Dunes National Park and Preserve resource managers suggest that waders and other equipment used in other waters be cleaned and decontaminated prior to use at Great Sand Dunes to protect our waters from aquatic invasive species.
Fishing Throughout the National Park Service

We invite you to visit the Fish and Fishing website for more information about fish and fishing in the National Park Service. You will learn about conservation, different fish species, and parks that offer fishing.
Last updated: April 19, 2023