Discover an amazing
outdoor classroom
at Colorado's
''beach in the mountains!"
National parks preserve our most treasured natural places and provide us with some of the most amazing outdoor classrooms in the world. The environmental education program at Great Sand Dunes National Park and Preserve has been educating and inspiring students for years.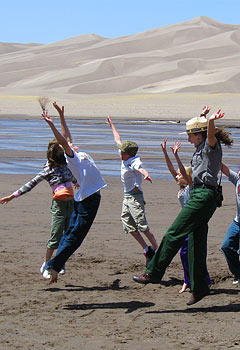 The 2021 Education Season
Important Information to know before requesting an Education Program for the 2021 Education Season include:
The 2021 Education Season will be held from Monday April 26, 2021 to Wednesday May 26, 2021.
COVID-19 Guidance will be applied to all programs. Contact Kathy Faz at 719-378-6341 for more details.
Limited number of In-Person Education Programs will be Offered.

Limited Number of Students and other Participants Per Program

No Props or Tools will be Used during Programs

Virtual programs may be available on a case by case basis.

Please contact Kathy Faz at 719-378-6341 for more Spring 2021 season programming information.
Educational Entrance Fee Waiver
School groups, and educational organizations whose primary purpose for visiting is education, may qualify for an educational entrance fee waiver. Please click on the link below to obtain the waiver request form. This waiver is for park entrance fees; Great Sand Dunes does not charge for programs.
Educational Entrance Fee Waiver Request Form (updated for 2020)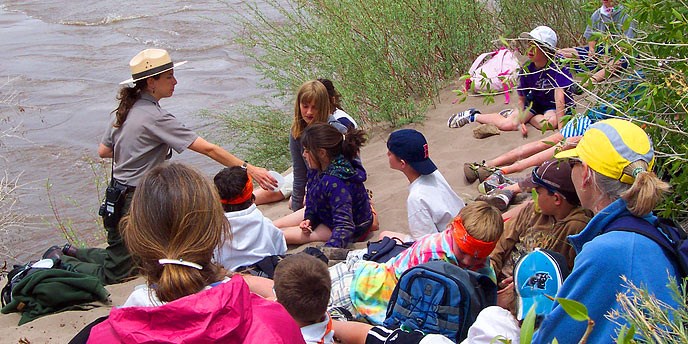 Education Programs: K-8th Grades
Set against the steep Sangre de Cristo mountain range, and covering 30 square miles, are the tallest sand dunes in North America. Located in the preserve is some of the most pristine wilderness and alpine lakes. Students can experience varied ecosystems, artifacts, some of the oldest cultural history ever recorded, and extreme geologic history in this outdoor classroom.
The educational programs at Great Sand Dunes National Park and Preserve provide hands-on field experiences that can support and enhance your learning objectives. The rangers are dedicated to wanting students to learn and utilize the resources throughout the park to conduct standards-based education programs. Our lessons and activities encourage students to engage, explore, and experience new opportunities. Come discover the learning opportunities and potential lessons that exist in this unique outdoor classroom.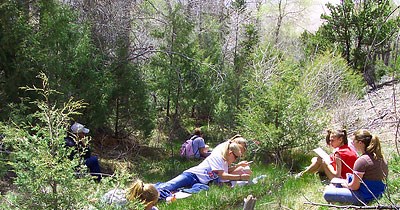 On-Site Field Trip Programs
Depending on staffing levels, the park may not be able to accommodate large groups of students in one program. It is best for educators to e-mail park staff to discuss group size, group needs, and other logistics to ensure program needs are addressed.
K-2nd Grade
Sand Matters - Students go on a rock hunt to discover why the colors of the stones are the same colors in the sand. One sand color in particular has a unique quality about it that will fascinate everyone!

Amazing Mammals - Students go on a hike near the dunes and observe which things blend in to the environment, and which odd items that do not belong. Learn about animal adaptations in this fun and engaging program.

3rd Grade
Sandy Bugs Everywhere - Great Sand Dunes National Park hosts species of insects found nowhere else on Earth! These strange creatures are uniquely adapted for surviving the extreme environment of the dunes. Students will learn about these endemic species and act out their funny adaptations on the sand!

Jumpin' Ungulates- Great Sand Dunes National Park & Preserve is home to several species of ungulates that have inherited unique traits for surviving in the various habitats around the Dunes. Students will learn how objective observations differ from identifications, opinions, and conclusions. Students will also make predictions about how variables in the environment affect traits that ungulates develop.


4th Grade
Walking Back in Time - Humans have inhabited Great Sand Dunes National Park and Preserve for at least 9,000 years. Survival for American Indians and early settlers was a tough struggle in an extreme environment. Students learn about world and local history along this forested trail. 1 mile hike.

A Taste of Time - Great Sand Dunes National Park and Preserve contains diverse plants and trees of cultural importance to people here for thousands of years. Students will taste or smell some edible plants along this trail. 1 mile hike.

5th Grade
Extreme Mysteries - Great Sand Dunes National Park and Preserve features the tallest dunes in North America, formed from four dramatic Earth processes. Students will form their own hypothesis of how the dunes were formed, build the San Luis Valley using sand and water, and study the sizes of sand grains using sifters.

6th - 8th Grade
Flowing Waters - (weather permitting) Water is crucial to Great Sand Dunes National Park and Preserve. Students will learn the complex importance of water within this environment, measure stream flow in CFS for park data using two forms of measurement, and complete a stream flow worksheet.

Paleo Life -Humans have inhabited Great Sand Dunes National Park and Preserve for at least 9,000 years. Archeologists' discovery of an ancient atlatl (spear throwing lever) with an attached weight is a mystery to be solved. With safe, hands-on throwing of atlatl darts, students will determine if adding a weight to the lever would have improved velocity and distance of the dart to reach large animals needed for food.

Self-Guided Visits
Many teachers choose to bring their students to Great Sand Dunes National Park and Preserve to enhance their classroom lessons with field experience. Classes are encouraged to stop in the Visitor Center to view the park film, utilize interactive exhibits, and complete Junior Ranger booklets if time allows. Teachers can also select from our Curriculum Materials lead their own programs.
Off-Site Programs
We would like to work with you to apply a program to your needs. Please contact the park's Chief of Interpretaton and Visitor Services via e-mail or (719) 378-6341 for more information.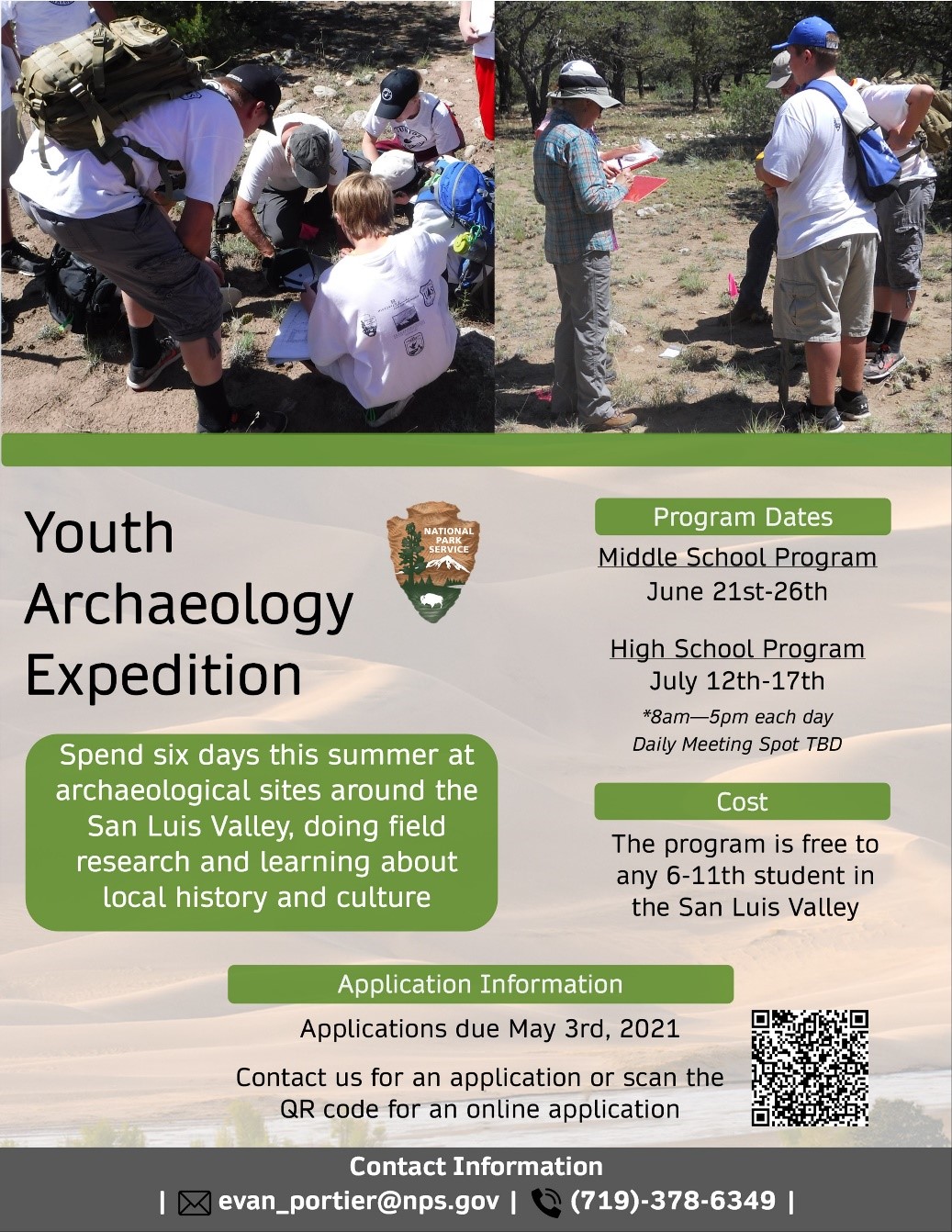 News Release Date:
April 20, 2021
Contact: Kathy Faz, 719-378-6341
Great Sand Dunes National Park and Preserve will host two summer Youth Archeology Expeditions (YAE) for San Luis Valley middle school and high school students. YAE is a 6-day program that introduces participants to the discipline of prehistoric and historic archeology through place-based learning. Participants will gain an understanding of the various applications of archaeology and the need to protect and preserve archaeological sites through hands-on activities and fieldwork alongside archeologists, park resource management specialists, and other public land managers throughout the San Luis Valley. The goal of the program is to create the next generation of stewards by exposing them to the discipline of archeology (including excavating, and collections management) and the value in telling the story of local, state, and nationally significant sites.
The program is free and includes transportation, and supplies. Students who are completing, 6
th
,7
th
, and 8
th
grade are eligible to apply for the middle school expedition which will take place Monday, June 21-Saturday, June 26. Students completing 9
th
, 10
th
, and 11
th
grade are eligible to apply for the high school expedition which will take place Monday, July 12- Saturday, July 17. Eligible students from all 14 districts in the San Luis Valley are encouraged to apply!
The park will select 8-12 participants for each expedition and implement COVID safety guidelines throughout the program. For more information about this exciting opportunity and to obtain an application, contact Evan Portier via email at Evan_Portier@nps.gov or by calling 719-378-6349. Applications are due by Monday, May 3
rd
.
Last updated: April 20, 2021