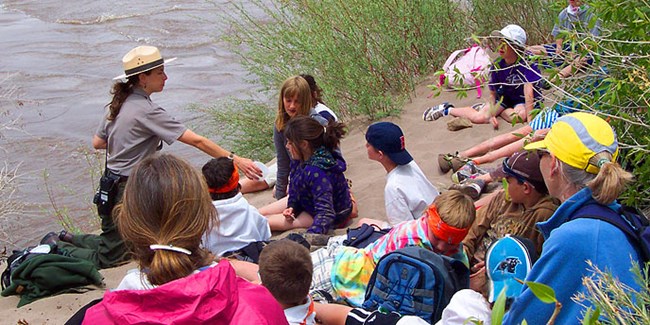 Education Programs: K-8th Grades
Set against the steep Sangre de Cristo mountain range, and covering 30 square miles, are the tallest sand dunes in North America. Located in the preserve is some of the most pristine wilderness and alpine lakes. Students can experience varied ecosystems, artifacts, some of the oldest cultural history ever recorded, and extreme geologic history in this outdoor classroom.
The educational programs at Great Sand Dunes National Park and Preserve provide hands-on field experiences that can support and enhance your learning objectives. The rangers are dedicated to wanting students to learn and utilize the resources throughout the park to conduct standards-based education programs. Our lessons and activities encourage students to engage, explore, and experience new opportunities. Come discover the learning opportunities and potential lessons that exist in this unique outdoor classroom.