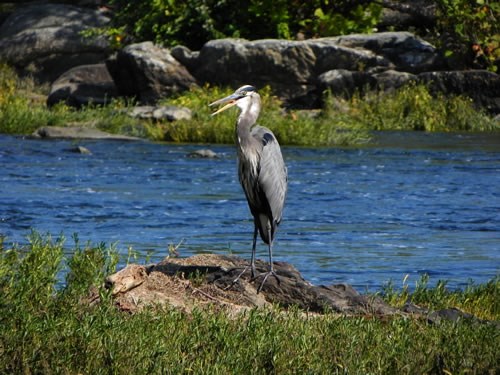 Great Falls Park is a haven for birds, and a popular birdwatching place. Over 150 species can be observed in the park throughout the year. These species include songbirds, ducks, and the occasional osprey and bald eagle.
In the spring and summer, great blue herons fish around the falls. Fish are their favorite prey, although these tall birds will eat water snakes when they can catch them. Another fishing bird, often seen diving for fish below the falls, is the double crested cormorant. Occasionally, a bald eagle is observed flying over the park. Osprey and gulls will sometimes wander up the Gorge.
Red tailed hawks are a common sight. Sharp-shinned, Cooper's, and red shouldered hawks are found here as well. Small mammals and birds make up the bulk of their diets.
While hiking through the woods, listen for woodpeckers. Pileated, hairy, downy, and red-bellied are four species that can be spotted in the park. Birdwatchers can look for smaller birds, such as blue jays, Baltimore orioles, mourning doves, goldfinches, cardinals, robins, and thirty five different species of warblers.
A checklist of birds is available at the visitor center.
---