The Trail of Time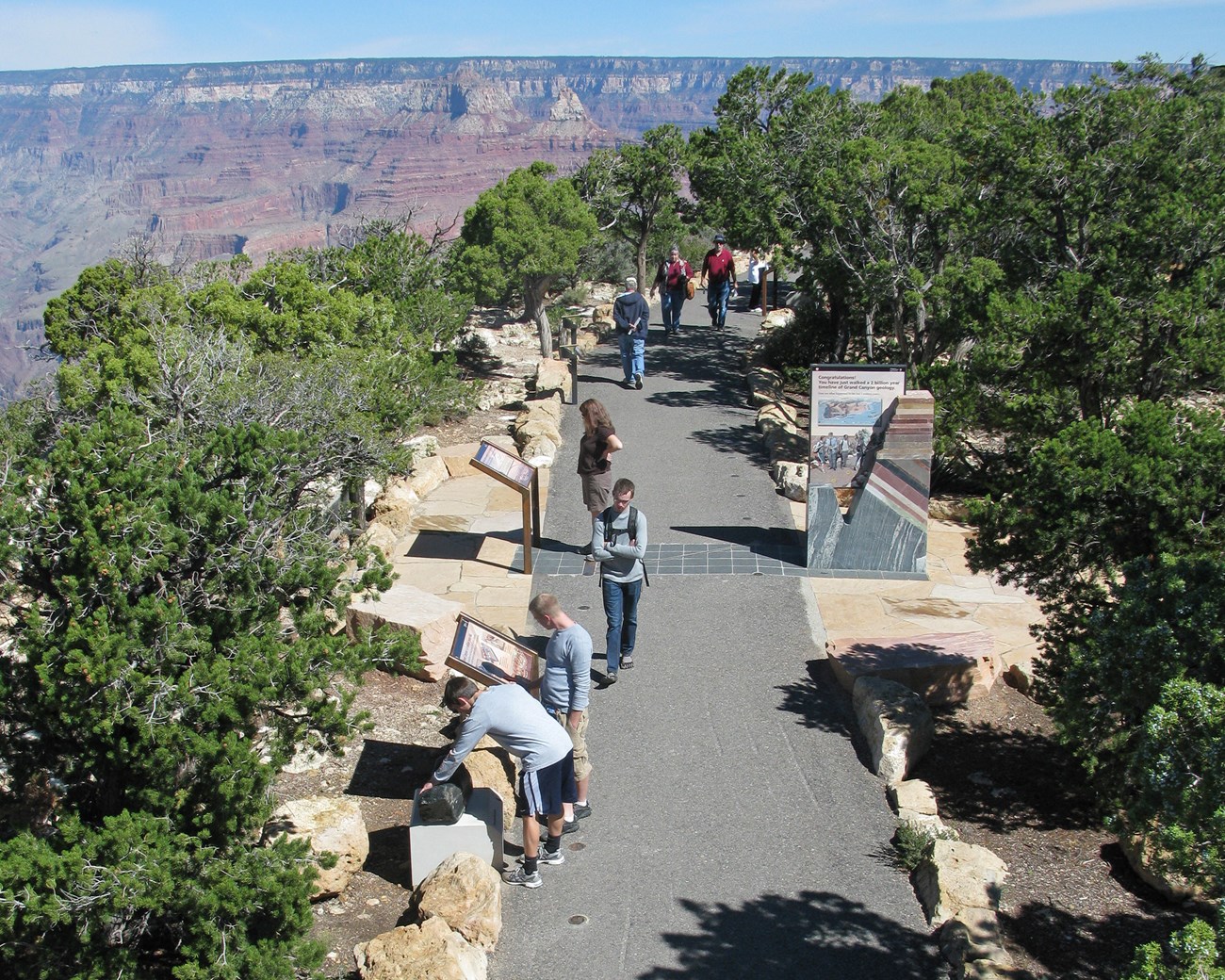 What Is It
The Trail of Time is a relatively flat 4.56 km (2.83 mile) long paved walk. It is designed to be a geologic timeline. Each meter walked on the timeline trail signifies one million years of Grand Canyon's geologic history. Walking the trail gives you a visceral appreciation for the magnitude of geologic time. Bronze markers mark your location in time; every tenth marker is labeled in millions of year! Along the timeline trail are a series of rocks and exhibits that explain how Grand Canyon and its rock formed.
Transcript
The Grand Canyon has some very old rock. The oldest rock, way down at the bottom of the canyon, is about 1.8 billion years old. The youngest rock, the layer I'm standing on right now is about 270 million years old. That's much older than the dinosaurs. It's hard to conceptualize these 'illions, and relate them to human timescales but a timeline can help. The trail of time is a geology timeline exhibit along the rim trail between the Yavapai Geology Museum and Grand Canyon Village. There's a time accelerator trail here at the beginning that helps you make the transition between human timescales of years, decades, centuries, to geologic timescales of millions and billions of years. For most of the trail, one step equals one million years. You can start from today, at the Yavapai Geology Museum, and work your way back in time through Grand Canyon's history. Along the way you can see and touch some of the rocks from the many varied layers of the Grand Canyon. These rocks were collected by the river, brought up for display and then placed at their birthdays - or their ages. The canyon itself is a geologically young canyon. It was carved into these very old rocks over only the last five or six million years. That's five steps in a Trail of Time that's over a mile long
Visit our keyboard shortcuts docs for details
Duration:

1 minute, 57 seconds
The Trail of Time is an interpretive walking trail that focuses on Grand Canyon's vistas and rocks, encouraging visitors to ponder, explore, and understand the magnitude of geologic time and the stories told by canyon rock layers and landscapes.
Where Is It
The start of the Trail of Time is at Yavapai Geology Museum, a half hour walk from Mather Point and the Canyon View Visitor Center. The trail continues to Grand Canyon Village and beyond. One can stop in the Village or keep walking out towards Hermits Rest.
How Does It Work
Walk into the past, walking backwards in time: Between Yavapai Geology Museum and Grand Canyon Village (2.1 km or 1.3 miles), walk (west), backwards in time and experience Grand Canyon's entire geologic history. You will start by walking the "Million Year Trail", which transitions from human time scales to geologic ones. The "Million Year Trail" is immediately followed by the main Trail of Time where each meter equals one million years of Grand Canyon's geologic history. This fully accessible one hour walking trip provides breath taking vistas of Grand Canyon and allows you to ponder and understand the depths of geologic space and time.

Walk from the past to the present, forwards in time: Walking east from Grand Canyon Village takes you through the same experience, but forward in time, from Grand Canyon's oldest rocks to canyon carving and Grand Canyon's human history.
Purpose
Grand Canyon National Park has about six million visitors every year. A majority of those visitors are unable to hike down into the Grand Canyon. The Trail of Time exhibit is designed to be an accessible way to view the Grand Canyon and "catch people at a moment when they are inspired with the grandeur of the canyon, and want to understand more about how the landscape was shaped by geologic events," says Karl Karlstrom, a geologist at the University of New Mexico who helped design the exhibit.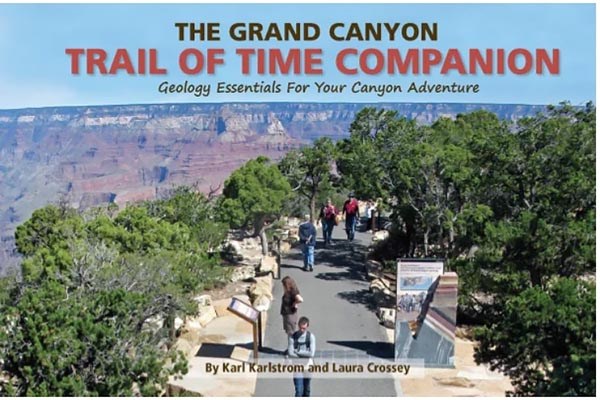 This new guide to The Trail of Time Exhibit was written by the creators of the exhibit; it will enhance your family/group walk along the beautiful and fully accessible Rim Trail from Grand Canyon Village to Yavapai Geology Museum.

The book provides up-to-date geology essentials for all levels, from the "stories of the rocks" for the kids —to the "looking deeper" section for geologists.
Available through Grand Canyon Conservancy's Online Store, the official nonprofit partner of Grand Canyon National Park.
Trail of Time Credits
The Trail of Time project included research to improve public geoscience education. It was designed and installed by the Trail of Time team led by Geology Professors Karl Karlstrom and Laura Crossey of the University of New Mexico, with over 2 million dollars of funding from the Informal Science Education Program of the National Science Foundation.
University Project Team
Dr. Karl Karlstrom, project manager, University of New Mexico, Earth and Planetary Sciences Department, structural geology researcher and expert in Grand Canyon geology
Dr. Laura Crossey, University of New Mexico, Earth and Planetary Sciences Department, geochemistry researcher and geoscience education specialist
Dr. Steven Semken, Arizona State University, School of Earth and Space Exploration, ethnogeologist and geoscience education researcher
Ryan Crow, Doctoral student, University of New Mexico
Dr. Michael Williams, University of Massachusetts, Department of Geosciences, structural geology researcher
Grand Canyon National Park Team
Judy Hellmich-Bryan, Chief of the Division of Interpretation and Resource Education
Carl Bowman, Branch Chief for Exhibits and Media
Research and Evaluation
Selinda Research Associates - Deborah Perry, expert on exhibit evaluation employing naturalistic inquiry, focus groups, and literature research
Dr. Keven Dunbar, Dartmouth College, expert in the use of analogy in informal science learning
Dr. Jeff Dodick, Hebrew University of Jerusalem, expert on cognition of geologic time and change
Design and Fabrication
Jim Sell Design
Rock & Company
On October 13, 2010, the Trail of Time was officially dedicated with a ribbon-cutting ceremony. This was the highlight of the annual Earth Week celebration at Grand Canyon National Park.
Last updated: December 9, 2022