Translocation of Endangered Humpback Chub to Tributaries of Colorado River in Grand Canyon
Date:
May 8, 2013
Contact:
Maureen Oltrogge
, 928-648-7779
Contact:
Brian Healy
, 928-638-7453
Contact:
Jan Balsom
, 928-638-7758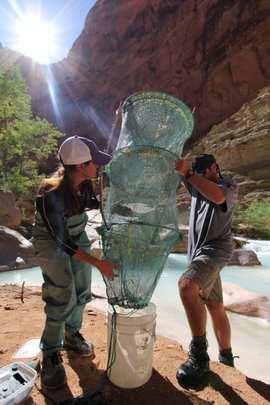 Grand Canyon
,
Ariz.
- The National Park Service, in cooperation with the Bureau of Reclamation, the U.S. Fish and Wildlife Service, the USGS-Grand Canyon Monitoring and Research Center, and the Arizona Game and Fish Department will translocate endangered humpback chub (
Gila cypha
)to two tributaries of the Colorado River within Grand Canyon National Park. The first translocation will occur on May 14
th
, when 300 juvenile humpback chub will be released in Havasu Creek. The second translocation is scheduled to occur on June 15
th
, when an additional 200 juvenile humpback chub will be translocated to Shinumo Creek.  
The humpback chub, is an endangered fish species found only in the Colorado River basin. Although the humpback chub once flourished in the natural conditions of the Colorado River amid its warm turbid waters and seasonally fluctuating flows, it now faces serious declines in its populations associated with changes in habitat like the construction and operation of dams and the introduction of non-native fish species.  
The translocation of juvenile humpback chub to Colorado River tributaries is part of a multifaceted approach to native fish conservation within Grand Canyon National Park. Translocations may lead to the establishment of additional spawning populations of humpback chub, thereby increasing the species' odds of survival. Tributaries also provide rearing habitat for young chub. Fish that are larger when they leave a tributary for the colder Colorado River have a greater chance of survival due to their increased size, thus improving their likelihood of adding to the existing Grand Canyon humpback chub population. 
Tributary translocations in Grand Canyon National Park began in 2009 with the initial translocation of 302 young humpback chub to Shinumo Creek. The translocation program was expanded in 2011 to include Havasu Creek when 243 fish were released. To date, 902 humpback chub have been translocated to Shinumo Creek during three different events (2009, 2010, and 2011), and 543 have been translocated to Havasu Creek during two events (2011 and 2012).  
All humpback chub scheduled for release in these tributaries were captured as young-of-year fish in 2012 from the Little Colorado River. The fish were transported to the U.S. Fish and Wildlife Service Southwest Native Aquatic Resources and Recovery Center in New Mexico, where they are treated to remove any parasites that may be present, kept overwinter, and then implanted with a passive-integrated-transponder (PIT) tag to uniquely identify individual fish.  
Once fish have been translocated, fisheries biologists will monitor their movement, growth, reproduction, and survival several times throughout the year. Grand Canyon National Park Fisheries Program Manager Brian Healy said "Previous translocations have gone really well. A large percentage of the translocated chub in both tributaries have been recaptured during monitoring efforts, and preliminary data indicate that the fish have extremely high growth rates." 
Grand Canyon National Park Superintendent David Uberuaga said, "I'm excited about the humpback chub translocations. It is an important part of the park's efforts to protect its native fish species and the monitoring results will inform our park-wide fish management planning efforts." 
There are no closures at Havasu Creek or Shinumo Creek related to translocation activities. Anglers should be familiar with the identifying characteristics of humpback chub to avoid any accidental capture of these endangered fish. Young humpback chub are silver, have small eyes and large fins, but have not yet developed the pronounced hump behind their head. If any humpback chub are incidentally caught, they must be immediately released unharmed. 
For more information, please contact Brian Healy, Fisheries Program Manager at 928-638-7453 or Maureen Oltrogge, Public Affairs Officer, at 928-638-7779. Additional information on tributary translocation of humpback chub translocation is available online at https://www.nps.gov/grca/naturescience/shinumotransloc.htm. 
-NPS-
Last updated: February 24, 2015