Public Invited to Grand Canyon's Celebrate Wildlife Day Events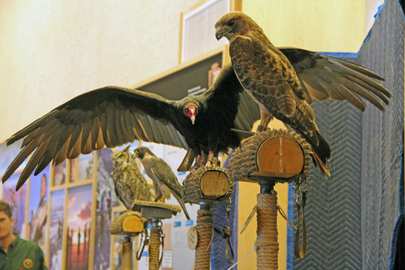 News Release Date:
April 25, 2013
Contact: Maureen Oltrogge, 928-638-7779
Contact: Patricia Brown, 928-638-7789
Grand Canyon, Ariz. - On Saturday, May 18, 2013, Grand Canyon National Park will host its 6th annual Celebrate Wildlife Day. This event provides opportunities for visitors to learn about the work of wildlife biologists and about the unique wildlife that inhabits Arizona and the Grand Canyon area.
 This year's event will kick off on Friday, May 17with a special evening program on "Grand Canyon Birds: a World of Beauty and Discovery" presented by Park Ranger Brian Gatlin. The event continues on Saturday (May 19) with free indoor and outdoor programs, family friendly activities, exhibits, and live animal demonstrations available throughout the day at the Grand Canyon Visitor Center from 10 am to 4 pm.
Saturday's activities will conclude with another special evening program on "Grand Canyon Wildlife: Rim to River." Explore the Canyon's diverse habitats from rim to river and meet its furred, feathered, and finned inhabitants along the way. Susan Lamb will be presenting this richly illustrated talk based on her book Grand Canyon Wildlife, currently in production by the Grand Canyon Association. Susan Lamb is the author of over twenty books on the natural environment and human cultures of the Southwest including Grand Canyon: The Vault of Heaven.
Evening programs take place at 7:30 pm, at the Shrine of the Ages auditorium, and are also free of charge. Visitors attending these programs may either park in lot A or ride the Village / Blue Route shuttle.
Celebrate Wildlife Day is made possible through the collaborative efforts of the National Park Service; Grand Canyon Association; Arizona Game and Fish Department, including Adobe Mountain Wildlife Center; Grand Canyon Unified School District; Horace M. Albright Training Center; and Delaware North Companies Parks and Resorts.
For more information about Celebrate Wildlife Days, please contact Patricia Brown, Park Naturalist at 928-638-7789.
-NPS-
Editors Note: Photo's from last year's Wildlife Day at Grand Canyon can be found at: https://www.flickr.com/photos/grand_canyon_nps/sets/72157629945517998/
Last updated: February 24, 2015