National Park Service Continues Exotic Plant Management by Eliminating Lawns in Historic District of Grand Canyon National Park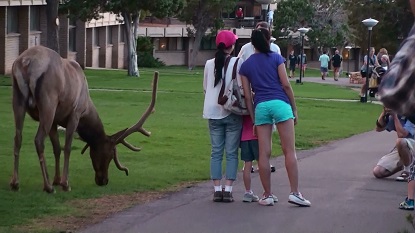 News Release Date:
September 12, 2013
Contact: Maureen Oltrogge, 928-638-7779
Contact: Kirby-Lynn Shedlowski, 928-638-7958
National Park Service Continues Exotic Plant Management by Eliminating Lawns in Historic District of Grand Canyon National Park
 Area will be Re-landscaped with Native Vegetation in Keeping with Historic Landscape
Grand Canyon, Ariz. – The National Park Service will begin eliminating turfgrass (lawns) around the historic El Tovar Hotel and adjacent rim lodges as part of a long-term plan to re-landscape the area with native vegetation consistent with the historic Grand Canyon Village rim landscape. Weather permitting; the two-day project will begin on Tuesday, September 17.
The lawns, made up of Kentucky Bluegrass, were planted in the late 1960's and early 1970's when the Kachina and Thunderbird Lodges were constructed. Kentucky Bluegrass is not native to the Grand Canyon and requires an unnatural amount of water to maintain. The park's General Management Plan, Exotic Plant Management Plan, and Historic Village Cultural Landscape Report all call for the removal of non-native species, such as Kentucky Bluegrass. Once the lawns have been eliminated, native plant landscaping will be implemented in phases beginning in 2014.
In recent years, the exotic Kentucky Bluegrass lawns have become an attractant for non-native Rocky Mountain elk that are utilizing the irrigated lawns as a food and water source creating a more urgent need to remove the lawns. Rocky Mountain elk were introduced into the Flagstaff and Williams, Arizona areas between 1913 and 1929 and have migrated to the South Rim of Grand Canyon in search of easy access to food and water.
Parkwide, there has been a dramatic increase in the number and concentration of aggressive elk encounters requiring staff intervention, especially around the El Tovar and adjacent rim lodges where large numbers of elk are causing human health and safety concerns.
"Visitors are naturally attracted to elk, and often approach too closely or place themselves directly in the path of elk that are foraging on the lawns," stated Park Superintendent Dave Uberuaga. "Elk have become habituated to these lawns, making them dangerous and unpredictable. Although elk can give the impression of being tame, they can quickly become aggressive when protecting their food and water sources, their young, and during the fall rutting season."
Aggravated and aggressive elk are in close proximity to thousands of people visiting the lodges, restaurants, gift shops, and viewing areas along the edge of the canyon rim. By eliminating the lawns and removing unnatural food and water sources, the elk will disperse away from the rim's edge to other areas of the park where there is a less concentrated visitor presence.
The lawns will be eliminated using a glyphosate based herbicide, a product found in local stores. The herbicide will be applied by certified applicators early in the morning. Park staff will be in the area, and the area signed and flagged to keep people and animals off the lawn as it dries, normally for a period of two to four hours.
The herbicide cannot be applied during rainy conditions or once overnight temperatures fall below 40 degrees Fahrenheit. In the event that the herbicide cannot be applied in the next few weeks, the project will resume in spring 2014.
For more information about this project, please contact Vicky Stinson, Grand Canyon Project Manager at 928-638-7364. For more information about elk or wildlife safety visit the park's website at https://www.nps.gov/grca/naturescience/elk.htm.
-NPS-
Last updated: February 24, 2015