National Park Service Announces Availability of Comprehensive Fish Management Plan Environmental Assessment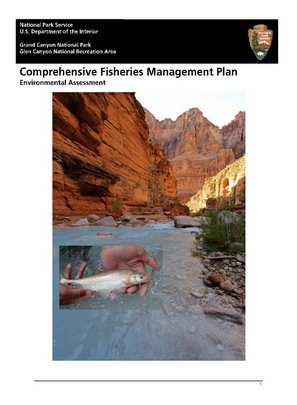 News Release Date:
May 9, 2013
Contact: Maureen Oltrogge, 928-638-7779
Contact: Brian Healy, 928-638-7453
Contact: Jan Balsom, 928-638-7758
Grand Canyon, Ariz. - The National Park Service Comprehensive Fisheries Management Plan Environmental Assessment (EA) for waters between Glen Canyon Dam and Lake Mead within Grand Canyon National Park (Grand Canyon) and Glen Canyon National Recreation Area (Glen Canyon) is available for public review and comment. Comments will be accepted from May 9 through June 10, 2013. 
A copy of the plan can be obtained at
 posted online at https://parkplanning.nps.gov/ grca (preferred method).
·        hand-delivered to the park's headquarters building in Grand Canyon, Arizona
·        mailed to: Superintendent, Grand Canyon National Park, Attn: Comprehensive Fisheries Management Plan EA, P.O. Box 129, Grand Canyon, AZ 86023-0129.  
Comments must be received no later than June 10, 2013 to be considered.
The goals of the plan include maintaining a highly valued recreational rainbow trout fishery within Glen Canyon downstream of Glen Canyon Dam, and restoring and maintaining a native fish community, including endangered humpback chub and razorback sucker, downstream in Grand Canyon over the next 20 years. 
The EA evaluates a No Action and two Action Alternatives. The No Action Alternative would continue current management actions, which would not meet goals and objectives for fisheries in Glen and Grand canyons.  
Among the actions included in the preferred alternative is implementation of U.S. Fish and Wildlife Service conservation measures for endangered fish species in Grand Canyon and conservation measures developed for the Bureau of Reclamation's (Reclamation) operation of Glen Canyon Dam. These measures include humpback chub translocations, non-native fish control, and razorback sucker research and management. Another action described is the potential for stocking of sterile (non-reproducing) rainbow trout in Glen Canyon. The preferred alternative addresses comments raised during public scoping and involves moderate intensity management actions.
The third Alternative emphasizes a more aggressive and proactive approach to non-native fish control and fisheries management to meet goals and objectives.
Public comments, which were solicited in the development of this plan in May 2012, were considered during the development of the alternatives. Potential impacts to other resources including geology, soils, and vegetation; wildlife and species of special concern; water resources, floodplains, and wetlands; cultural and ethnographic resources; air quality, soundscapes; visitor use and experience, and wilderness; park operations; human health and safety; and socioeconomics were also considered. None of the three Alternatives analyzed would have more than moderate impacts to the environmental setting.  
For questions or additional information, please contact Brian Healy, Fisheries Program Manager, Grand Canyon National Park at 928-638-7453, Jan Balsom, Deputy Chief of Science and Resource Management, Grand Canyon National Park or Chris Hughes, Chief of Resources, Glen Canyon National Recreation Area at 928-608-6265. 
-NPS-
Last updated: February 24, 2015