Grand Canyon Now Recognized As StormReady National Park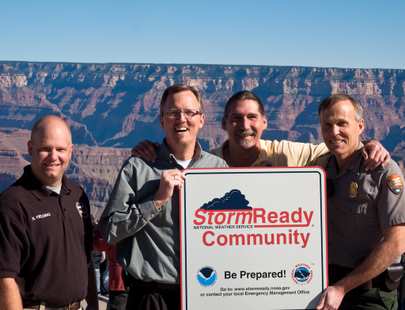 News Release Date:
November 30, 2011
Contact: Shannan Marcak, 928-638-7958
Contact: Maureen Oltrogge, 928-638-7779
Grand Canyon, Ariz. -
On Tuesday, November 22, Grand Canyon National Park passed the final inspection necessary to become the nation's second StormReady national park.
According to the National Weather Service, Americans cope with an average of 10,000 thunderstorms, 5,000 floods, 1,000 tornadoes, and about two land-falling deadly hurricanes each year. StormReady is a nationwide community preparedness program that helps counties, communities, and even national parks develop plans to handle all types of severe weather, in part, by providing emergency managers with clear-cut guidelines on how to improve their hazardous weather operations.
In order to earn the StormReady designation, a community must implement a rigorous set of severe weather warning criteria and action plans. The intent is to ensure public safety; and delivery of timely warning information to park staff, visitors and community members to improve everyone's safety. For that reason, many of the steps required to achieve the designation center around timely receipt and dissemination of information.
To be deemed StormReady, a community must:
establish a 24-hour warning point and emergency operations center;

have more than one way to receive severe weather warnings and to alert the public;

create a system that monitors weather conditions locally;

promote the importance of public readiness through community seminars; and

develop a formal hazardous weather plan that includes training severe weather spotters and holding emergency exercises.
"By taking the extra steps necessary to become StormReady, we have also improved our ability to respond to other types of emergencies, further ensuring the safety of the parks nearly 4.5 million visitors per year," said Grand Canyon Superintendent David Uberuaga.
According to Emergency Services Branch Chief Ken Phillips, there have also been more immediate benefits, including improved "situational awareness" for rangers. "With the online weather information system that the park is now using, our dispatchers can see weather systems approaching in real time and immediately pass that information on to rangers in the field."
To learn more about achieving StormReadiness, please visit http://www.stormready.noaa.gov/.   For additional information about StormReadiness in Grand Canyon National Park, please contact Emergency Services Branch Chief Ken Phillips at 928-638-7792.
 -NPS-
Last updated: February 24, 2015