Grand Canyon National Park Presents Living History Performance of President Theodore Roosevelt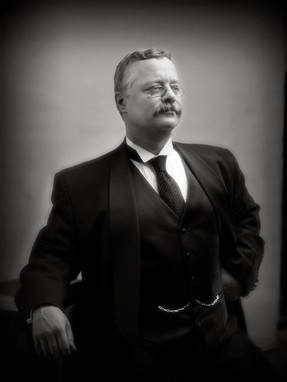 News Release Date:
June 6, 2013
Contact: Vanya Pryputniewicz, 928-638-7958
Contact: Pete Peterson, 928-638-7765
Grand Canyon, AZ. – On June 23rd, 2013, Grand Canyon National Park will host "President Theodore Roosevelt Salutes the National Park Service."This special program is a living history portrayal of the 26th President of the United States as performed by Joe Wiegand at 8:30pm, Sunday, June 23rd, 2013 at McKee Amphitheater located on the South Rim behind Park Headquarters near Parking Lot A. 
Joe Wiegand entertains audiences nationwide with his portrayal of President Theodore Roosevelt. As Theodore Roosevelt, Joe offers his audiences a unique, one-man show bursting with adventure, laughter and inspiration. Enjoy Theodore Roosevelt's adventures as rancher, Rough Rider and father of six in the White House. Relive the establishment of America's great national parks, forests, monuments and wildlife reserves. Hear the amazing stories of the frail young boy who built his body and dedicated himself to the Vigorous Life and the Square Deal. From bear hunts to the Panama Canal, from Africa to the Amazon, Theodore Roosevelt's delightful stories come to life.
Theodore Roosevelt, considered by many to have been our country's "Conservationist President," protected approximately 230 million acres of public land during his presidency. In 1903, President Theodore Roosevelt visited Grand Canyon and said, "The Grand Canyon fills me with awe. It is beyond comparison—beyond description; absolutely unparalleled throughout the wide world... Let this great wonder of nature remain as it now is. Do nothing to mar its grandeur, sublimity and loveliness."  Theodore Roosevelt established the Grand Canyon Game Preserve by proclamation in 1906, and declared Grand Canyon National Monument in 1908.
Catch an additional special Evening Program focusing on living history on June 24th, by attending Grand Canyon's 2nd annual "Echoes from the Canyon" where a cast of characters (John Wesley Powell, John Hance, the Kolb brothers, Ms. Mary Colter, Ranger Eddie McKee and possibly Theodore Roosevelt himself) will tell the human story of Grand Canyon. For more information and maps to the location please visit the park's web site at https://www.nps.gov/grca/planyourvisit.
-NPS-
Last updated: February 24, 2015