Grand Canyon National Park hosts Alternative Spring Break at Lees Ferry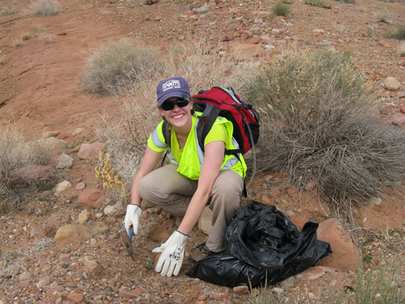 News Release Date:
March 30, 2012
Contact: Maureen Oltrogge, 928-638-7779
Contact: Marybeth Garmoe, 928-638-7651
Grand Canyon, Ariz. - Grand Canyon National Park hosted a group of students from the University of Texas at Austin (UT-Austin) as part of an Alternative Spring Break (ASB) program. The event took place at Lees Ferry, which is jointly managed by Grand Canyon National Park and Glen Canyon National Recreation Area, from March 12-15, 2012. ASB programs give college students the opportunity to spend spring break volunteering or completing service projects. The UT-Austin ASB provided students the opportunity to spend time in two of America's iconic national park units while working on projects that preserve and protect the parks' natural and cultural resources.  
The ASB participants assisted staff from Grand Canyon's Division of Science and Resource Management with the removal of Sahara mustard, a highly invasive plant, in the Lees Ferry area. The group removed over 36,000 plants in their four days of work and also picked up litter. Sahara mustard is native to north Africa, southern Europe and the Middle East that arrived in the Lees Ferry area within the last ten years. "Sahara mustard is not yet common on beaches and camps downstream of Lees Ferry, and park staff and volunteers try to eradicate new populations each spring," Invasive Plant Biologist Marybeth Garmoe said. "Controlling the large population at Lees Ferry prevents tens of thousands of seeds from floating downriver, which is one of the most effective ways to prevent this aggressive species from threatening the native biodiversity of Grand Canyon National Park."
Although Grand Canyon National Park has hosted ASB groups before, this was the first year that students from UT-Austin volunteered at Grand Canyon. The university Outdoor Center has worked on service projects throughout Texas for many years; however this is the first time they hosted a trip for students to get out of the state and experience a national park. UT-Austin Outdoor Center staff found an article about an ASB program that took place at Grand Canyon in 2008 and contacted the park's Vegetation Program to find out if they could put together a similar program. The trip was advertised to students as a great way to experience the outdoors while also providing a great service opportunity. Fifteen students and three trip leaders participated in the event, with a waiting list of ten students.
The students who participated in the trip were highly enthusiastic about their experience. Holland Finley said, "This trip made for the best spring break I've had since being in college. I wish it had never ended!" And Taylor Morgan added, "Excellent Alternative Spring Break! I will keep doing spring break programs like this as long as they are offered!"
In addition to completing volunteer projects, students had the opportunity to attend a special presentation about the history of Lees Ferry and the Lonely Dell Ranch. They also had a day to experience the park on their own, exploring the South Rim and hiking down to Plateau Point.
Superintendent David Uberauga said, "I'm very pleased that these college students decided to spend their spring break in volunteer service with the National Park Service. Invasive plant species pose a great threat to national parks, and volunteers play essential roles in controlling the spread of these harmful invaders. I feel very hopeful about the future of national parks when I think about the service of these young people."
For more information, contact Marybeth Garmoe, Invasive Plant Biologist, at 928-638-7651 or Lori Makarick, Vegetation Program Manager, at 928-638-7455.
Last updated: February 24, 2015