Grand Canyon Hosts Camping 101 and the Camp Moreno Project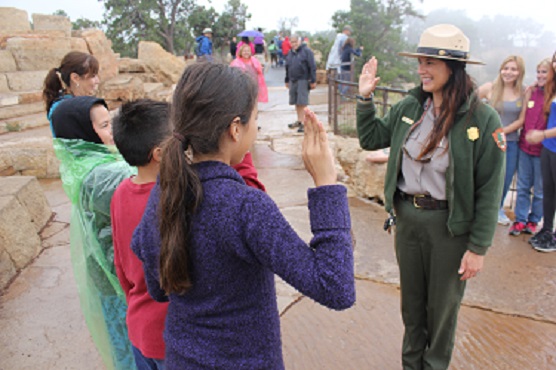 News Release Date:
August 29, 2013
Contact: Kirby Shedlowski, 928-638-7958
Grand Canyon, AZ – Grand Canyon National Park was recently the site of "Camping 101" a family camping opportunity provided by the Camp Moreno Project which promotes family camping experiences for underserved audiences.  Parents and students, 65 people in all, from the Rosgruge School in Tuscon, AZ spent two nights and three days exploring the natural and cultural wonders of Grand Canyon.
Campers spent the weekend of August 23-25, 2013 at the park and despite the rain, the experiences and memories made during their visit were life-changing. One young camper said that this was the "best weekend" and that he "can't wait to go camping with his family again." For many of the families this trip was their first time camping and their first trip to the Grand Canyon. One mom was "so impressed and awe-struck at the beauty of the park and how big the canyon really is." Another young camper said her favorite part was seeing all the wildlife, in particular the elk.
Park staff spent the weekend with Camp Moreno- offering educational programs, leading nature walks, and spending time bonding with campers.  Environmental Education Ranger Amala Posey, who swore in the students as Junior Rangers said "this program is a fantastic way to bring families to Grand Canyon who may not traditionally visit National Parks and introduce them to the beauty in their "backyard" through camping, exploration and education."
The "Camping 101" weekends provide participants with basic camping skills and an understanding of the educational, health and wellness, and aspirational value that public lands visitation can provide. "This weekend at the Grand Canyon was an opportunity to provide a transformational experience to the families and I couldn't be more impressed with the leadership of the park, who have been so receptive to programs reaching out to emerging populations" said Roberto Moreno about the weekends experience.
The Camp Moreno Project is a partnership between the National Park Service and Alpino Mountain Sports Foundation a 501©(3) mountain recreation and public lands advocacy group. The partnership was created for the purpose of diversifying the out of doors, attracting and engaging urban youth, promoting the history and mission of the National Park Service, and encouraging park use by underserved audiences. Funding for the weekend was made possible through the 2013 America's Best Idea grant program from the National Park Foundation, the official charity of America's national parks.
-NPS-
Last updated: February 24, 2015