Grand Canyon Celebrates Earth Day with a Weekend Full of Activities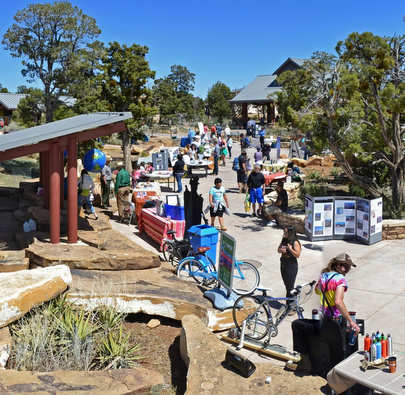 News Release Date:
April 30, 2013
Contact: Maureen Oltrogge, 928-638-7779
Contact: Pamela Edwards, 928-638-7713
Contact: Marty Martell, 928-638-7834
Grand Canyon, Ariz. –
What better place to celebrate the Earth than at an inspiring and diverse landscape like the Grand Canyon. The park commemorated the 43rd anniversary of Earth Day with a weekend of activities April 19 – 21, 2013. The weekend included a film about conservationist Aldo Leopold, a keynote presentation by author Mary Ellen Hannibal, and a day of fun and educational activities all centered on celebrating and protecting the Earth. 

 
"Through the weekend's festivities, the National Park Service, its partners and visitors had the opportunity to show not only our commitment to protecting the Grand Canyon landscape, but the planet, for future generations," said Superintendent Dave Uberuaga.  
A free screening of the film Green Fire: Aldo Leopold and a Land Ethic for Our Time kicked off the weekend. On April 20, more than 150 people listened to environmental author Mary Ellen Hannibal discuss the importance of landscape connectivity and wildlife corridors throughout western North America, all of which is captured in her new book The Spine of the Continent. She reviewed the history of the continent's native wildlife habitats and shared what scientists are doing to combat the gradual loss of these important lands along the spine of North America. Hannibal also explored how national parks, such as the Grand Canyon, have a critical role to play in this effort. John Davis, who is currently walking the spine of the continent from northern Mexico into Canada in an effort to bring attention to this environmental endeavor, joined Hannibal toward the end of her presentation to discuss his trek.   
On April 21, the weekend culminated in an open-house style event at the Grand Canyon Visitor Center (GCVC) plaza. Agencies and organizations from throughout northern Arizona joined park staff, partners and concessioners in offering educational activities; demonstrations and games; samples; and information on local and national environmental initiatives. Hundreds of visitors participated in the day's festivities. People had the opportunity to grind coffee and power a radio by pedaling a bike; sign a pledge and show their commitment to living more sustainably; see the park superintendent dressed up as a walking recycle bin; gain a better understanding of their own carbon footprint; and learn about the beautiful, water-conserving native plants that can thrive not only at the Grand Canyon, but in one's own yard. The day wrapped up with a walk and litter clean up, hosted by the park's Active Trails Program, along the Rim Trail from GCVC to the Yavapai Geology Museum.
Grand Canyon's Green Team organizes and hosts the park's annual Earth Day activities. Recognizing the unique responsibility park residents have to help protect the Grand Canyon for future generations, the Green Team seeks to increase environmental awareness and stewardship within local and regional communities.
To learn more about Grand Canyon's Green Team, contact team members Marty Martell at 928-638-7834 or Pamela Edwards at 928-638-7713. To learn more about Grand Canyon National Park, visit the park's web site at www.nps.gov/grca.
-NPS-
Last updated: February 24, 2015