Grand Canyon Active Trails to Kick Off 2013 Season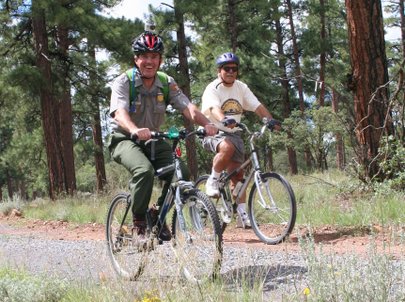 News Release Date:
May 14, 2013
Contact: Vanya Pryputniewicz, 928-638-7958
Contact: Jennifer Onufer, 928-638-7088
Grand Canyon, Ariz. - Join the Active Trails Team, Bright Angel Bicycles, and Grand Canyon Law Enforcement for the 2013 Bike Rodeo 5-7 pm May 20, 2013, at the Grand Canyon Visitor Center flag pole. Rodeo contestants will participate in a bike maintenance check, helmet fitting, skills practice, games, and more. Participants of all ages and ability levels are encouraged to bring their bicycle, a bike helmet, water, and appropriate clothing and footgear to this event. Children must bring an adult. Receive a free bicycle helmet when you register to attend the Rodeo by May 19, 2013.
Beginning May 27, 2013, Grand Canyon Active Trails will return as a regularly scheduled park ranger program. Active Trails programs will meet at 6 pm every Monday at Park Headquarters until September. Bring water, snacks, appropriate clothing, and foot gear. This season's walks will range from two to eight miles in length and may include stretches of unimproved trail and darkness. Bring a flashlight or headlamp. Children under 16 must be accompanied by an adult.
In addition to the regularly scheduled programs, the team once again will launch the Active Trails 300 Challenge. Walk 300 miles in three months and earn a prize. Log sheets are available upon request.
Activities this season will include Rim Trail walks, star talks, and full moon hikes. These are excellent opportunities to reintroduce you to your Grand Canyon habitat. For more information on Active Trails' activities, to reserve your Bike Rodeo helmets, or to obtain an Active Trails 300 log sheet, please friend Grand Canyon Active Trails on Facebook, visit the Active Trails website at https://www.nps.gov/grca/supportyourpark/active-trails.htm, or call 928-638-7088.
-NPS -
Last updated: February 24, 2015