Bright Angel Trailhead Dedication and Ribbon Cutting Ceremony Saturday May 18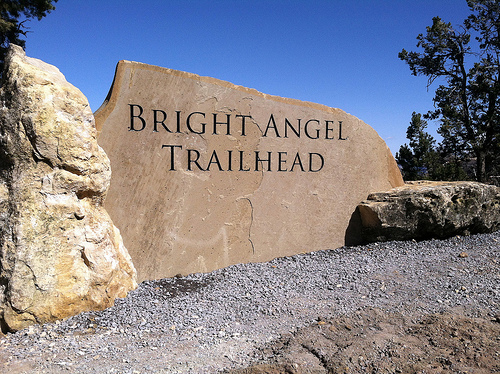 News Release Date:
May 1, 2013
Contact: Maureen Oltrogge, 928-638-7779
Contact: Miriam Robbins, 928-863-3878
Contact: Vicky Stinson, 928-638-7364
Grand Canyon, Ariz. - Grand Canyon National Park and the Grand Canyon Association will dedicate the renovated trailhead for Bright Angel Trail, one of the oldest and best known trails in the National Park system.  This renovation encompasses a 3.5 acre area at and surrounding the Bright Angel Trailhead and is focused on creating an accessible and comfortable area for visitors that complements existing historic buildings including the Bright Angel Lodge and Rim Cabins designed by Grand Canyon architect Mary E. J. Colter. Having not had much significant development in the past 100 years, many people have had a hard time finding the trailhead and there was no convenient or comfortable place for people to sit to either enjoy the view or prepare for hikes. The renovation will greatly improve conditions at and around the trailhead, providing a much better experience for park visitors.  
Located in the heart of Grand Canyon Village, Bright Angel trail was one of the first entryways into Grand Canyon originally built by the Havasupai people and then popularized to the burgeoning tourist community by John Cameron in the early 1900s. Historic Kolb studios, home to the Kolb brothers' photography business is located overhanging the Bright Angel Trail and is also currently undergoing reconstruction. Today, Grand Canyon National Park is visited by nearly 4.5 million people a year; several thousand people pass through the Bright Angel Trailhead area on a typical summer day.  It is used by day and overnight hikers, mule riders, shuttle bus riders and rim walkers. In addition, visitors park in this area to access lodging, visitor services and the trailhead.  
The new design for the area includes a paved parking lot around the Bright Angle Rim Cabins for approximately 87 vehicles; new restrooms and a plaza area with shade structures for visitors to rest or prepare for their hike; a new accessible path from the shuttle bus stop to Kolb Studio; reconstruction of two stone walls; burial of the overhead electrical and phone lines; removal of an underground storage tank; and an etched rock sign for the Bright Angel Trailhead, so visitors can find it and celebrate it! 
"Constructing these much needed accommodations at the Bright Angel Trailhead to bring it up to modern standards has been a dream in the works for over a decade," says Dave Uberuaga, Grand Canyon Superintendent, "With funding available through the Federal Lands Recreation Enhancement Act and generous donors this, we are proud to finally complete this project."
The project was funded with support from private donations and federal funding that comes from park entrance fees.  "We are greatly appreciative of the donor support we received for the Bright Angel Trailhead Renovation project," says Susan Schroeder, Executive Director of Grand Canyon Association. "This area of the park is so meaningful to many people in many ways from the exhilaration of climbing out of the Canyon after a long hike to the simple pleasure of enjoying the expansive canyon view with your family."
Grand Canyon National Park and the Grand Canyon Association are thankful to Stewart and Ellen Horesji, Arizona Public Service, William and Elizabeth Sweeney and Rick and Frances Rockwell for their generous contributions. The Bright Angel Trailhead will now be a place of celebration and enjoyment of Grand Canyon for generations to come.   
The project was overseen by Grand Canyon National Park Project Manager, Vicky Stinson with construction completed by Merrill, Inc., out of Cheyenne, WY.  Chevo Studios and Rock & Co., both from Denver, CO, built the stone masonry walls, seating areas and the new identity sign. A dedication and ribbon cutting ceremony open to the public is to be held on May 18th at 4 pm at the Bright Angel Trailhead to commemorate the completion of this project.    
For more images of the project: https://www.flickr.com/photos/grand_canyon_nps/sets/72157631676210897/with/8541160440/
 About Grand Canyon National Park
The world-famous Grand Canyon National Park encompasses 277 miles of the Colorado River, with adjacent uplands, from the southern terminus of Glen Canyon National Recreation Area to the eastern boundary of Lake Mead National Recreation Area. The forces of erosion have exposed an immense variety of formations which illustrate a vast period of geological history. Grand Canyon was established as a national park on February 26, 1919. It is one of the most visited national parks in the system, second in visitation (Great Smokey Mountains National Park being first) with nearly 4.5 million visitors annually.  For more information about Grand Canyon National Park, please visit https://www.nps.gov/grca.  
About Grand Canyon Association
Founded in 1932, the Grand Canyon Association (GCA) is the National Park Service's official nonprofit partner raising private funds to benefit Grand Canyon National Park, operating retail shops and visitor centers within the park, and providing premier educational opportunities about the natural and cultural history of the region. GCA works to help preserve and protect Grand Canyon National Park by cultivating support, education and understanding of the park. To learn more about this and other projects visit www.grandcanyon.org.
-NPS-
Last updated: February 24, 2015