Grand Canyon National Park Celebrates 6 Millionth Visitor in 2016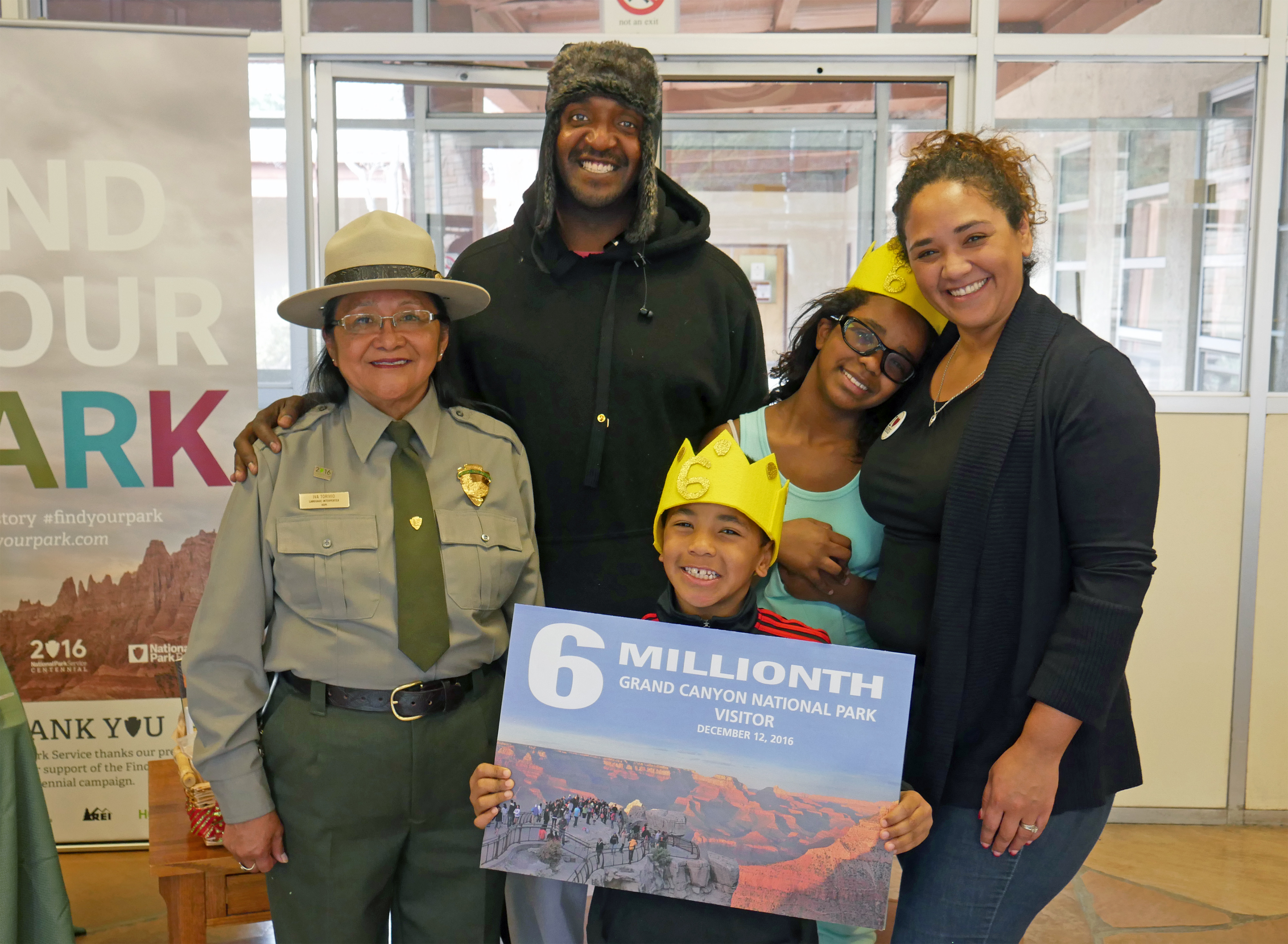 News Release Date:
December 12, 2016
Contact: Vanessa Ceja-Cervantes, 928-638-7779
Grand Canyon, Ariz.
 –Grand Canyon National Park celebrated its 6 millionth visitor as its final National Park Service Centennial event.   
The distinction went to the Johnson family from Las Vegas, Nevada. Delighted to be part of the celebration, James and Abigail Johnson and their kids Sophia and Elijah were first time visitors to Grand Canyon National Park.  "At first I didn't think it was real", exclaimed Sophia, "but I'm really happy we're the 6 millionth!"   
Grand Canyon's 6 millionth visitors were greeted at South Entrance Station and led to Park Headquarters where Superintendent Chris Lehnertz , park staff, and community members welcomed them and presented them with gifts from Grand Canyon Association, Xanterra, Tusayan Chamber of Commerce and Bright Angel Bikes.    
Almost all Grand Canyon visitors are greeted by Visitor-Use-Assistant (VUA) staff at South Rim, Desert View and North Rim entrance stations, who on any given day may greet between one and two thousand visitors. Iva Torivio was the VUA that had the pleasure of greeting Grand Canyon's 6 millionth visitor.  
Torivio, who grew up in the Grand Canyon community, has worked as a VUA at Grand Canyon for the past 22 years and has greeted about 6 million visitors herself. She says her favorite part about working at the entrance station is being able to interact with people from all over the world and listen to the stories that bring people to Grand Canyon National Park. Whether they've never seen the canyon or want to share the experience with their kids, parents and loved ones, visitors are always excited to visit the Grand Canyon and Iva is excited to greet them. Her fondest memory of working at the entrance station was the day she greeted and took a picture with Peter Fonda. Torivio's favorite time of the year is the winter, when she gets to see the Grand Canyon covered in snow and, as it happened this year, welcomed its 6 millionth visitor.     
The 6 millionth visitor signifies an exciting landmark for Grand Canyon National Park which has seen a steady increase in visitation since 2011. This year alone visitation has increased by 7.5% with help from national campaigns like 'Find Your Park', a social media public campaign to raise awareness of the NPS Centennial. Since its establishment in 1919, Grand Canyon National Park has received more than 200 million visitors.   
Celebrating the 6 millionth visitor is a significant milestone that all park staff and community are proud of. As the NPS Centennial year comes to an end, the Grand Canyon team is looking forward to its own centennial celebration in 2019 when it will continue to inspire future generations to be stewards of public lands. 
For more information about visiting Grand Canyon National Park please visit 
www.nps.gov/grca/planyourvisit
.  
For more information please contact Vanessa Ceja-Cervantes: 
e-mail us
-NPS-
Last updated: December 14, 2016