Halfway Fire Active in Tusayan, AZ Area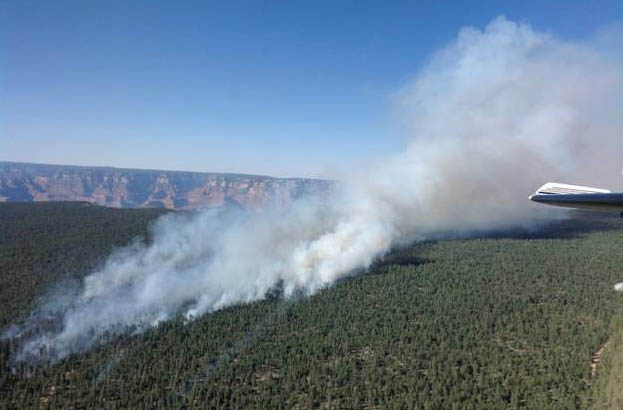 News Release Date:
June 19, 2013
Contact: Holly Krake (USFS), 928-635-5653
Contact: Maureen Oltrogge (NPS), 928-638-7779
Tusayan, AZ – The Halfway fire is currently active burning north of the Ten X Ranch and 5 miles due east of Tusayan, AZ. The fire is approximately 60 acres in size and is burning on National Forest and National Park lands. Flame lengths are currently 2-3 feet in length at the head of the fire as it burns through ponderosa pine and oak brush fuel types. There are no structures threatened at this time, however Grandview Point is being evacuated. The National Park Service is considering closing US 64 inside the park from Buggeln Hill to the turnout east of Yaki Point if safety concerns develop due to smoke. Multiple National Park Service and US Forest Service resources have responded including an air tanker, helicopter, and crews.
Date/Time Reported
: Tuesday June 19 approximately 2:55pm
Location
: 5 Miles East of Tusayan and North of Ten X Ranch
Cause
: Under Investigation
Size
: 60 Acres
Landscape/Fuels
: Grass and Oak Brush
Fire Behavior
: Moderate to low tree torching
Road Closures
: None at this time
Smoke is visible from the Grand Canyon National Park and surrounding areas. Smoke impacts could increase for areas north and east of Grandview Point as the forecast shows breezy conditions with a south wind 17 to 22 mph decreasing to 5 to 10 mph after midnight. Winds could gust as high as 33 mph. All public is asked to use caution when visiting the National Forest and National Park especially when driving visibility is limited including on US Route 64 in the Tusayan and Grandview Point areas.
Visitors are also reminded that Stage 2 fire restrictions remain in place on the Tusayan and Williams Ranger Districts of the Kaibab National Forest. There is also currently a red flag warning which means that critical fire weather conditions are occurring or will occur shortly.
For additional information, please call Holly Krake (USFS), Fire Information Officer, 928-635-5653 or Maureen Oltrogge (NPS), Public Affairs Officer, 928-638-7779.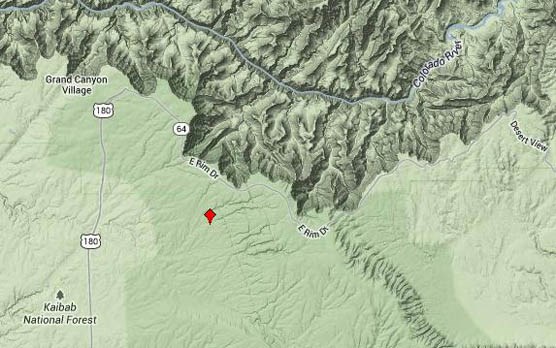 Last updated: February 24, 2015