Grand Canyon National Park Recently Celebrated Black History Month and Healthy Parks Healthy People with Darryl Haley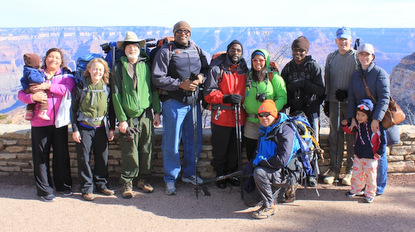 News Release Date:
March 14, 2013
Contact: Mariah Cisse, 928-638-7375
Contact: Shannan Marcak, 928-638-7958
Grand Canyon, Ariz. -- On, Friday, February 22, Grand Canyon National Park and special guest Darryl Haley kicked off a weekend celebration of Black History Month and Healthy Parks Healthy People. This groundbreaking event was a part of the Grand Canyon Diversity Council's effort to increase diversity and inclusivity in Grand Canyon National Park.  
Haley is a former New England Patriot, Ironman Triathlete, and world-renowned fitness trainer. He also hosts WHUR's (Howard University Radio) Fitness Friday on the Steve Harvey Morning Show. Haley participated in the celebration in order to experience the Grand Canyon first-hand and to spread the word that there are a wide range of opportunities for people of varying fitness levels to experience their national parks. 
On Friday, Haley was introduced to the park by participating in a ranger-led walk along the Rim Trail.  
On Saturday, he joined a hike down the Bright Angel Trail, 3.2 miles and 3,800 feet to Indian Gardens for an overnight stay. Throughout their adventure the group shared their views on diversity and inclusion, national parks, fitness and health, as well as exchanging personal stories. 
"The seven other participants and I are bonded for life. These are the individuals that I shared a first experience with like no other," stated Mr. Haley, "and I am humbled and grateful for the knowledge, experience, support, teamwork and great time that we all shared together."  
On Monday, Haley concluded the weekend's events and his personal experience at Grand Canyon with a public presentation at the Shrine of the Ages Auditorium.  
Superintendent, Dave Uberuaga stated, "We were honored that Darryl Haley joined us for our celebration and thrilled that he added his voice to ours in encouraging people of all backgrounds to take advantage of their national parks as places to support their physical and emotional health." 
Black History Month is celebrated each year in February and commemorates the lives and accomplishments of African Americans. The National Park Service Healthy Parks Healthy People program promotes the fact that all parks are cornerstones of health, for people and the environment, and encourages everyone to seek the benefits of physical and mental health, healing, and social well-being in their national parks. 
This event was made possible through the collaborative efforts of the National Park Service Office of Equal Opportunity Programs Affirmative Employment/Diversity and Inclusion; the Grand Canyon National Park Diversity Council; the Horace Albright Training Center; Xanterra South Rim, LLC; Bright Angel Bicycles; and the Grand Canyon Association. 
To learn more about the event and Mr. Haley's experiences, you may contact him via e-mail at darylhaley@aol.com or call 301-704-6929. You can also tune into WHUR radio 96.3 on Friday, March 15 for "Fitness Friday" on the Steve Harvey Morning Show.  
To learn more about NPS Diversity and Inclusion contact the office of Equal Opportunity Programs at 202-354-1857.For more information about the Grand Canyon National Park Diversity Program, please contact the park's Diversity Program Manager Mariah Cissé ate-mail usor 928-638-7375.  
To learn more about the Healthy Parks Healthy People initiative please visit https://www.nps.gov/public_health/hp/hphp.htm. For more information about Grand CanyonNational Park, please go to the park's website atwww.nps.gov/grca, or call 928-638-7888. 
-NPS-
Last updated: February 24, 2015