Exceptional Grand Canyon Ranger Honored with 2012 Harry Yount Award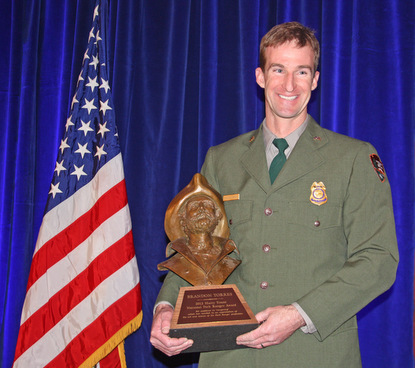 News Release Date:
February 22, 2013
Contact: Shannan Marcak, 928-638-7958
Contact: Kathy Kupper, 202-208-4990
Grand Canyon, Ariz. - Brandon Torres, Grand Canyon National Park's Chief of Emergency Services, is a real life action hero, ready to hang from a helicopter, dangle off a cliff, or climb a mountain to assist someone in need. Since becoming a park ranger in 1998, he has dedicated his life to helping others as a federal law enforcement officer, paramedic, rescuer, firefighter, coach, guide, and teacher.
Last night, the National Park Service and the National Park Foundation presented Torres with the 2012 Harry Yount National Park Ranger Award for excellence in the art of rangering. Named after the first known park ranger, the award is the agency's most prestigious ranger honor. 
"In a profession where extreme dedication and high standards are the norm, Brandon Torres has set himself apart with his impressive leadership ability and wilderness skills," said National Park Service Director Jonathan B. Jarvis. "As the chief of emergency services at Grand Canyon National Park, his job is incredibly demanding. He never knows what will happen next and is prepared for everything, just in case. He is the steady hand that can save your life in a medical emergency, that can pull you out of a trouble when you've gotten in a jam, and that can correct a dangerous situation before it's too late."  
In addition to Grand Canyon, Torres has also worked at Olympic, Grand Teton and Zion national parks and Glen Canyon National Recreation Area. He has instituted lasting programs including a backcountry bear canister loan program at Grand Teton and the search and rescue helicopter shorthaul technique at Zion. He has also served on high profile search and rescue missions, special events such as the 2009 Presidential Inauguration and response efforts for Hurricanes Isabel, Rita, Ike and Sandy.
"It's flattering to be recognized as a ranger who can perform in a wide range of situations and it has been a privilege to serve in a number of unique and different ways," said Torres. "I like the analogy of racing sailboats to describe what we do. Like sailing, rangering is often full of unending learning, quiet observation, the constant checking of surroundings, terrain mastery and an intuition for sometimes subtle and/or minute changes in conditions that we must acknowledge in order to maintain an advantage. The quiet patrol and observation is then fully interrupted by chaos and terror during a turn, then suddenly and immediately followed by heart-pounding quiet and the struggle to regain one's situational awareness. Rangers tend to thrive in this kind of turn-it-on, switch gears, change uniforms, and turn-it-off kind of environment. Rangers combat crime and violence one minute then calmly give directions or answer questions about the local flora/fauna the next."  
Photos and additional information about the Yount Award are available at U.S. National Park ServiceHarry Yount Award. 
-NPS-    
Last updated: February 24, 2015