Grand Canyon Orientation Film is a Winner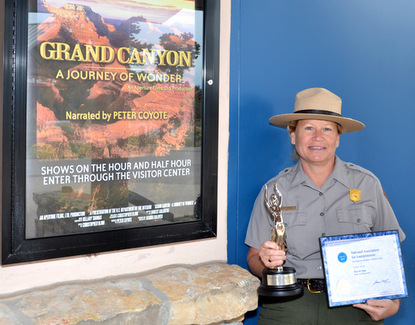 News Release Date:
October 18, 2012
Contact: Shannan Marcak, 928-638-7958
Grand Canyon, Ariz. - Grand Canyon National Park's interpretive orientation film, Grand Canyon: A Journey of Wonder, which debuted on April 18, 2011, recently won two prestigious awards: the National Association of Interpretation (NAI) First Place Award for Interpretive Media in the Long Video category and an Aurora Platinum Best of Show Award in the Nature / Environment category. 
The 22-minute film takes visitors on a rim to river and dawn to dusk journey through the Grand Canyon. Using aerial photography, computer graphics, and on-location filming, visitors are taken places they might not otherwise have the opportunity to go during an average visit to the park. The film not only provides visitors with opportunities to form connections to the canyon's natural and cultural resources, but exposes viewers to some of the management issues facing the park, allowing them to develop a sense of stewardship. 
The NAI Interpretive Media Awards competition promotes excellence in the delivery of natural, cultural, and historical non-personal interpretive services. Entries are judged on a variety of topics by professional interpreters and media developers. Evaluative criteria include whether the video's message is relevant and serves a clear purpose, whether it catches and retains interest and is easy to follow, and whether it tells a compelling story while remaining suitable to its intended audience. 
The Aurora Awards are an independent and international film and video competition for commercials, cable programming, and documentaries, as well as instructional, industrial, and corporate videos. 
According to the park's Chief of Interpretation and Resource Education, work on the project began in February of 2008, spanned three years, and cost just under one-half million dollars. "Seeing it debut was thrilling, but to have it recognized by these organizations for its value as an interpretive and orientation tool is a tremendous honor and really makes all of the hard work worth it." 
The film was produced and directed by Joshua Colover of Aperture Films, Ltd., narrated by well-known actor Peter Coyote, written by Robert Goldberg, and includes an original score by Hillary Thomas. Funding was provided through the Federal Lands Recreation Enhancement Act which authorizes parks to reinvest a portion of the entrance and use fees they collect in projects that will enhance on-site visitor services. 
To learn more about the park's interpretive orientation film, Grand Canyon: A Journey of Wonder, and its development, please contact the park's Chief of Interpretation and Resource Education, Judy Hellmich-Bryan at 928-638-7760. To learn more about NAI's Interpretive Media Awards, please visit http://www.interpnet.com/about_nai/media_awards.shtml; and to learn about the Aurora Awards, go to http://auroraawards.com/. 
-NPS-  
Last updated: February 24, 2015