Youth artists bring images of the inner canyon to South Rim visitors
Date:
July 5, 2012
Contact:
Shannan Marcak
, 928-638-7958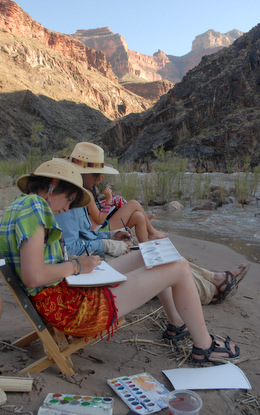 Grand Canyon, Ariz. - Grand Canyon National Park and partner Grand Canyon Youth are pleased to announce the opening of an exhibition of works by 10 young artists. The grand opening of the exhibit will be held from 7 p.m. to 8 p.m. on Saturday, July 7, in the Park Headquarters lobby. All are encouraged to attend and to meet the young artists and photographer Stewart Aitchison, known for his exceptional Grand Canyon photography and for his books, including Grand Canyon's North Rim and Beyond. 
The youth spent seven days on a river trip being mentored by Aitchison, artist Sarah Hooker, and park ranger Dorea Martin as part of the park's Grand Inspiration program. In between riding the rapids and taking remote day hikes, youth developed a collection of their paintings, creative writing and photographs. The exhibition of their work will be on display through the end of July. 
Youth applied for the program by submitting an application along with a piece of their artwork. Although many of the young artists had an individual specialty, each participated in workshops for painting, photography, and writing. 
Artists have a long-standing history of being ambassadors for America's most remarkable places. The idea of preserving the wild, unique lands of the West as National Parks is often credited to painter George Catlin. Other artists and writers like Thomas Moran, John Muir, George Masa and Ansel Adams offered the American public their first glimpses of the natural wonders of the American West. Their work became a catalyst for the protection of the land. Come and enjoy the newest images of the rugged inner canyon! 
The Grand Inspiration program is a partnership between Grand Canyon Youth and the Grand Canyon National Park. Together, the two organizations strive to provide transformational backcountry experiences for diverse youth, connecting them to place through experiential and service learning.
For more on this special exhibit and evening program, please call Program Manager Megan Kohli at 928-638-7683.For more on Grand Inspiration, please visit the Grand Canyon Youth web site at http://gcyouth.org/destinations_grand-canyon_gi.php, or call Grand Canyon Youth Executive Director Emma Wharton at 928-773-7921. -NPS-
Last updated: February 24, 2015