Canyon Sketches Vol 17 - February 2010
Private Boaters Team Up with NPS Staff
to Rehabilitate Lees Ferry's Private Boaters Campsite
by Allyson Mathis
The preservation of Grand Canyon's natural and cultural resources is the responsibility of both National Park Service employees and park visitors.

Park staff protect endangered species, rehabilitate disturbed areas, monitor springs and seeps, manage the park's museum collection, and take other actions to protect the park's natural and cultural resources.

Park users can follow Leave No Trace principles as they ensure that their enjoyment of the canyon doesn't impair park resources.

Sometimes NPS employees and park visitors work side-by-side to preserve park resources in special projects in which volunteers team up with park staff.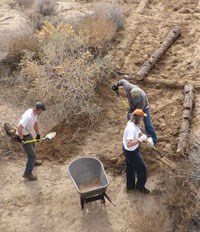 A recent project to rehabilitate the private boaters camp at Lees Ferry is a good example of direct collaboration between park staff and park users to protect park resources.

Five members of the Grand Canyon Private Boaters Association joined staff from Grand Canyon's Division of Science and Resource Management and the Canyon and River Districts of the Division of Visitor and Resource Protection on Saturday and Sunday, February 6th and 7th to improve the private boaters camp at Lees Ferry while protecting the area's fragile riparian vegetation.

Grand Canyon National Park completes projects such as the Lees Ferry private boaters camp rehabilitation as part of the Colorado River Management Plan (CRMP).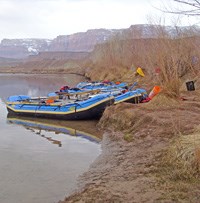 The CRMP guides recreational use management of the Colorado River while conserving park resources and visitor experience. The National Park Service monitors and rehabilitates river campsites and other areas to address impacts from visitation. The NPS works with partners including river guides, outfitters and private boaters to protect the Colorado River while enhancing recreational opportunities.

The private boaters camp at Lees Ferry is used by participants on noncommercial river trips the night before their trip launch. This informal camping area needed rehabilitation as designated trails had become overgrown, social trailing was extensive and space to accommodate two private trips at the same time had become scarce.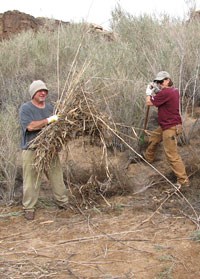 Grand Canyon National Park Outdoor Recreation Planner Vanya Pryputniewicz said, "We had two primary objectives for this project.

"One, we wanted to make some important improvements to the Lees Ferry camp to make it representative of the camps river runners will use downstream. The park has made improvements to a number of river camps, such as at Soap Creek, as part of the CRMP. Ultimately, we would like the Lees Ferry camp to be more like the Soap Creek camp, with well defined tent pads, and a kitchen area in order to reduce social trailing and damage to native vegetation.

"Secondly, the park really wanted an opportunity to work with members of the private boating community. We've worked with commercial outfitters and guides on a regular basis, and wanted to work with the private boaters on a river restoration project. The Lees Ferry camp seemed to be a perfect opportunity to do so."
Gary and Helen Hickman of Prescott, AZ, Richard Bryant of Ivins, UT, Ron Smith of Steamboat Springs, CO, David Schuster of Minturn, Co, and Leah Bloom of Grand Canyon, AZ joined park staff at Lees Ferry. The project was led by Pryputniewicz and Restoration Biologist Kassy Theobald. NPS crew members included Jake Blackwell, Dave Loeffler, Mike Harris, Brian Bloom, Maddie Tighe, and Marc Yeston.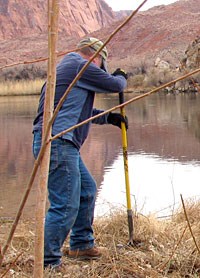 The private boaters' involvement in the project began when Wilderness Coordinator Linda Jalbert attended the Grand Canyon Private Boaters Association (GCPBA) annual meeting in Flagstaff in November 2009. Jalbert introduced the project and invited GCPBA members to participate as volunteers.

Restoration Biologist Kassy Theobald said, "This volunteer opportunity was full almost as soon as the announcement went out, which shows the level of stewardship and commitment that members of the boating communities feel towards the canyon. We had a great group of volunteers who did a fantastic job, and we accomplished our major goals. We'll continue to maintain and make further improvements at the private boaters camp, but this was a great beginning."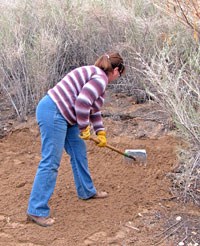 The crew constructed trails and tent pads, a fence adjacent to the roadside parking area, and began to delineate a second area for a river kitchen.

Pryputniewicz said, "The private boaters camp really needed this work. There was a network of social trails, and not enough tent pads for two groups to camp there. We still need to do more work there, but we made good progress on the project. Plus it was great to be able to work with boaters on a project that leads not only to a better camping spot for them, but protects park resources.

"Sometimes people view park management as an 'us' versus 'them' situation between visitors and the NPS, when really we work together because we all love the canyon and want to protect it as we enjoy it."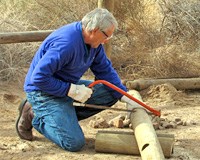 Volunteer Bryan said, "I appreciated the chance to work with the NPS personnel and felt they were open to suggestions and input from the volunteers. It was a good chance to meet the folks from the various NPS divisions and learn about the various projects taking place in the river corridor.

'I have used Lee's Ferry campsite area and wanted to be a part of the effort to improve it. The impacts to the vegetation should be reduced and camping improved by our efforts."
Last updated: February 22, 2018