Canyon Sketches Vol 15 - Nov. 2009
Invasive Plant Control at Tuweep:
Grand Canyon National Park Partners with Coconino Rural Environmental Corps

by Allyson Mathis and Sara Koenig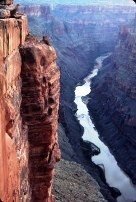 In March 2009, Grand Canyon National Park's Division of Science and Resource Management teamed up with the Coconino Rural Environmental Corps (CREC) to eradicate invasive plants in the Tuweep District of the park.

Tuweep is in the remote western part of Grand Canyon National Park and is reached via 60 miles of dirt road. The Tuweep area offers stunning vistas of the Colorado River 2,500 feet below, primitive camping, and miles of backcountry trails. Tuweep is at 4,600 feet in elevation and sits on top of the Esplanade, a broad sandstone bench approximately 1600 feet below the top of the Kaibab Limestone that marks the rim of Grand Canyon.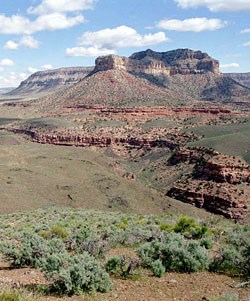 The vegetative community in the Tuweep area is desert scrub, dominated by big sage, four-winged saltbrush, Mormon tea, prickly pear cactus, and wildflowers such as globemallow. Areas with slightly more shade or moisture may have pinyon pine or Utah juniper.

As in most undeveloped upland parts of the park, native plant communities are largely intact. However, invasive plants are present at Tuweep because of past human use such livestock grazing and the spread of seeds in construction materials and on vehicles. Most non-native plants that get brought to an area, either on purpose or by accident, don't cause major problems, but invasive plants aggressively spread and out-compete native plants, disrupting native habitat. Grand Canyon National Park's mandate is to preserve and restore native ecosystems.
Because of the negative impacts of invasive plants on park ecosystems, park managers aim to reduce their numbers and distribution. A priority of the park's invasive plants program is to manage invasive plants in the park's developed areas.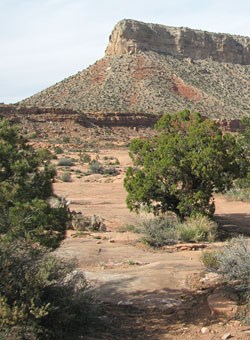 Grand Canyon National Park Vegetation Program Manager Lori Makarick said, "Tuweep, although less visited than the North or South Rim developed areas, receives visitation from vehicles from all over the country, and the sight of a vehicle with a plant stuck in the bumper or the wheel well is rather common.

One of the most effective tools in the fight against invasive plants is prevention and early action. Monitoring the park's entry points and roadways is a relatively easy way to know what plants are arriving in the park, allowing biologists to decide which ones could wreak havoc on the ecosystems.

In the Tuweep area, especially because of its relative lack of highly invasive species, we want to make sure that we take early actions to keep new species from digging their roots into park soils and then spreading down the trails, into the meadows and out through the woodlands."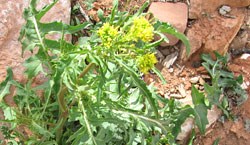 A 2003 survey for invasive plants found small populations of horehound (Marrubium vulgare) and London rocket mustard (Sisymbrium irio).

Additionally Makarick had concern that Sahara mustard (Brassica tournefortii), an aggressive invasive plant that had recently arrived in Arizona and found at Lees Ferry might have spread into the park in the Tuweep area from surrounding lands.
Grand Canyon's Vegetation Program often partners with volunteers and/or conservation organizations such as CREC on invasive plants control projects. Vegetation biologists provide training and project coordination and work side-by-side with crew members in the field as they complete the invasive control work.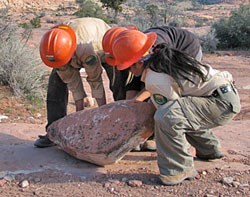 CREC
CREC was established in 1997 and uses the corps model to address environmental needs following the tradition of the Civilian Conservation Corps.

CREC is part of the AmeriCorps program and offers young people a combination of training, work experience and educational opportunities in collaboration with Coconino County and virtually every land management agency and organization in Arizona. The Northern Arizona Conservation Corps is the CREC program that for 18 – 25 year olds.
Crews consist of two leaders and six corps members, and corps members work for three, six, or 12 months. CREC crews work on a variety of conservation-related projects including invasive plant control, trail construction, and forest restoration. Corps members are from all around the country.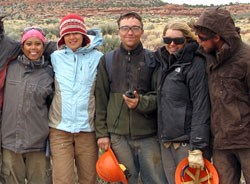 The Northern Arizona Conservation Corps is a career development program. Many corpsmembers join the program during or after college and/or are interested in pursuing a career in conservation.

For example, corpsmember Stafanie Radwanski from New Jersey explained how she joined CREC, "I had just graduated from Rowan College in New Jersey. My dad had been in the Peace Crops and I wanted an adventure, but not that intense my first time. So I started looking for opportunities and I found the CREC position through Americorp."
The Tuweep CREC crew consisted of corpsmembers Rachel Frantz, Greg Hofstetter, Nicholas Hope, Ryan Miller, and Radwanski under the leadership of Crew Supervisor Kip Valesano and Assistant Crew Leader Melvyn Manapsal.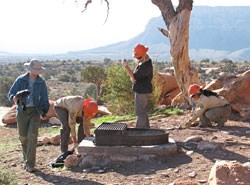 Accomplishments at Tuweep
During their eight day project at Tuweep with Grand Canyon National Park Invasive Plant Biologist Sara Koenig, the CREC crew controlled two major infestations of invasive plants and assisted the Tuweep District Ranger Todd Seliga on area maintenance projects including repairing the boundary fence and rehabilitating the campground.

Koenig and the crew found the invasions of horehound and London rocket thistle to be much larger than indicated in the 2003 survey, but did not find any Sahara mustard in the Tuweep area.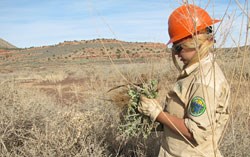 The crew removed 23,000 horehound plants from the Toroweap Lake playa area and a significant number of London rocket thistle from a small area in the campground.
The Vegetation Program plans to continue invasive plant control in the Tuweep area in the future, both following up on this year's work and long-term work to reduce invasive plants throughout the district.
Providing educational opportunities are a part of the CREC program, and the corpsmembers learned about the NPS mission, the park's Vegetation Program and geology, and had a field trip to a rock art site just outside the park to learn more about the area's prehistory.

District Ranger Seliga said, "It was a phenomenal help to have the incredible assistance from this amazing crew."
For more information on the Coconino Rural Environmental Corps see http://www.crecweb.org
For more information about Tuweep see https://www.nps.gov/grca/planyourvisit/tuweep.htm
---
Related Information

Canyon Sketches Vol 16 - January 2010
Grand Canyon National Park takes steps to recover the endangered sentry milk-vetch.
The park took significant actions in 2009 to recovery the endangered sentry milk-vetch, including constructing a passive solar greenhouse to house an ex situ population and conducting seed germination trials.

Canyon Sketches Vol 15 - November 2009
Invasive Plant Control in Tuweep
In March 2009, Grand Canyon National Park teamed up with the Coconino Rural Environmental Corps (CREC) to eradicate invasive plants in the Tuweep District.
Canyon Sketches Vol 06 - October 2008
Park Vegetation Crews Use Multiple Techniques to Restore Native Vegetation Along Hermit Road
Hermit Road re-opened in November 2008 after a nine-month rehabilitation. Restoration of native vegetation along Hermit Road is one of the largest plant restoration and rehabilitation efforts ever undertaken at Grand Canyon National Park. The multi-faceted project includes a variety of restoration techniques and incorporates substantial contributions by park volunteers and interns.

Canyon Sketches Vol 05 - August 2008
Park Biologists Conserve Rare Plant
Plant biologists identified several populations of Tusayan flameflower (Phemeranthus validulus) in areas that will be impacted by the construction of parking lots at Canyon View Information Plaza. In order to conserve this rare Grand Canyon species, they recently salvaged plants from construction zones and transplanted them in suitable habitat nearby.

Canyon Sketches Vol 02 - April 2008
Volunteers Help Control Invasive Plants
Invasive plants such as Sahara mustard pose a serious ecological threat to Grand Canyon. Volunteers have made important contributions towards controlling this aggressive invader over the last few years. Volunteer trips with Science and Resource Management's vegetation program are fun and educational and give people who love Grand Canyon the opportunity to help preserve park resources.

Visit the Canyon Sketches eMagazine Home Page
Canyon Sketches are short, timely and newsworthy updates about Grand Canyon's natural, cultural and recreational resources. They highlight the ongoing work that Grand Canyon's Science and Resource Management staff does to monitor, inventory, restore, and rehabilitate park resources. The Canyon Sketches eMagazine is designed to provide specific information on resource challenges and Science and Resource Management activities.
Last updated: February 24, 2015