Four Grand Canyon National Park Lookout Towers have been listed on the National Historic Lookout Register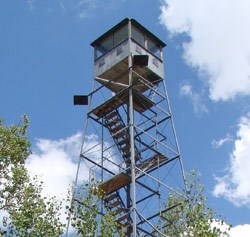 Four historic fire lookout towers in Grand Canyon National Park, two on the North Rim and two on the South Rim, have been listed on the National Historic Lookout Register.

The National Historic Lookout Register is a cooperative effort of the Forest Fire Lookout Association, the National Forestry Association, the National Woodland Owners Association, the U.S. Forest Service, state forestry departments and Department of Interior agencies.

The purpose of the National Historic Lookout Register is to identify historic lookout towers that have played an important role in forest conservation.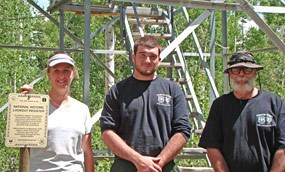 A short ceremony in recognition of Grand Canyon's lookout towers listing on the National Historic Lookout Register was held in conjunction with the Grand Opening of the North Rim Wildland Fire and Emergency Services Facility on July 4, 2009.

These towers were an important part of the early fire-fighting efforts of Grand Canyon National Park. The lookout towers in Grand Canyon National Park are part of a broad network of fire lookout towers and associated support buildings and structures in the American Southwest built in the late nineteenth through twentieth centuries.
Early park managers were extremely concerned about locating and extinguishing fires from the1920s through the 1960s.
All four of these towers are inactive, which reflects the shift in fire control policy, from one of immediate suppression of all fires to using an array of fire management actions including prescribed burns, wildland use fires, suppression, and incorporating fire as a natural ecosystem process to restore natural forest conditions.
The U.S. Forest Service first constructed wooden lookout platforms at Hopi Point and Grandview Point on the South Rim and on Bright Angel Point on the North Rim prior to the establishment of Grand Canyon National Park in 1919.
The National Park Service improved this early lookout system by replacing the wooden platforms with steel frame towers at Bright Angel Point and Hopi Point, and by building the Signal Hill and Kanabownits towers. The Civilian Conservation Corps built tree towers on the North and South Rims in the mid-1930s.
The National Park Service improved emergency communications by installing new phones and establishing a central dispatch at Grand Canyon Village during the 1920s.These lookouts were a part of a very efficient fire suppression program: fires rarely burned more than one hundred acres in the park each year until modern fire management guidelines were initiated.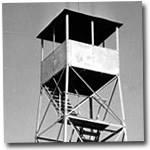 Signal Hill
The Signal Hill tower is near Pasture Wash on the South Rim and was constructed in 1929. The Tower is a 7 x 7 Aermotor LS-40. It is about 35 feet high and is located at an elevation of 6,780 feet.



The interview was conducted for Grand Canyon National Park by Michael Quinn in July 1995.

Roy Lemons: I had 59 square miles out there that I had to take care of myself. I had a model B Ford truck. And the towers weren't grounded, so we had orders that if a storm came within 10 miles that you would evacuate the tower. So, we'd go down and sit in the truck at the base of the tower until the heavy lightning passed. But sometimes, the lighting would be so severe that you couldn't afford to wait that long, so, even during the heavy part of lightning, you take a run up that tower and scout out the area to see if you had a fire going.

Michael Quinn: And, you had a radio to relay back?

Lemons: No, there wasn't any radios in those days. (laughs) We had a telephone line on the tower. We had a hookup with a telephone line, but it was a party line. But we had priority. If anyone was on the line, and we had to get on, we had priority to get them off. We had interconnections between Grandview, Pasture Wash and the North Rim. I'll tell you an interesting thing that happened that particular summer. I picked up a fire on the North Rim and I took a reading on it and it fell right on top of the North Rim fire tower. And I called Grandview and asked for a cross reading, and he comes across and he lay right on top of the fire tower. So we're trying to reach this fire tower on the North Rim and we can't get a response. So, I watched the fire for maybe a half-hour and it was increasing in size, so I called the rangers and they sent a crew out. I had no idea what had happened. But what had happened was this fire tower operator had smoked a cigarette and threw it out the window, and threw the switch on his phone, and took a siesta. (laughs) And so, when the fire crew gets out there, he's up there in that tower asleep, and they can't raise him, except by going up there. And this was a 90 foot tower as I recall, it was a very tall one. And, so they sacked him up, and he went home.

Quinn: Was he a CCC too?

Lemons: No, he was his own private individual working for the Park Service. But they hired him back the next year. So, I guess they punished him for that one goof-off, but they hired him back next year.

Quinn: Did you live at the Pasture Wash Ranger Station?

Lemons: Yes.

Quinn: Did you have a separate building, or did they give you a room inside?

Lemons: Well, I had the whole thing. I had all three rooms, the front room, the bedroom, and kitchen.

Lemons: One time I went in to relieve the guy on Hopi tower. And there was a tremendous lightning storm. And I sat down in that truck, and man, I just got the feeling we had a lot of fires going on. So I ran up that tower in the midst of that electrical storm. And just about the time I got up there and started to look around, there was a bolt of lightning hit, and, of course, there is no way I can judge the distance it was from me. But it look like was about the size of a highway, and it was red, and it was pulsating, and, man, it hit the ground and it must have lasted a second or two. And it just scared the fire out of me, and I tore down that tower. (laughs) I decided that there was no point in looking for a fire. Boy, that thing was awesome! I stayed down in the car until the electrical storm passed and then I went back and checked it out. But I used to sit up there in that Pasture Wash station and I never had any fear of lightning before that summer. But when the storm hits the canyon, in middle of the canyon, I've seen that lightning do all kinds of things. I've seen it come down out of a cloud 10 miles apart—at least 10 miles apart—come halfway the ground and move on a horizontal 'till it met, and then go down. And I have seen it come down out of a cloud and make a 180 degree turn and go back up. I couldn't believe all the things that I witnessed there that summer; I mean the way lightning strikes occurred. And it's really something. I had a fear of lightning after that, which I never had before.

Quinn: Did you hike down the Bass Trail then? Lemons No, I never did that. I couldn't leave the tower that long in the daytime.

Quinn: Two of you living out there?

Lemons: No, just me.

Quinn: Was that pretty lonely?

Lemons: It was. I came to town about every two weeks to resupply groceries.

Quinn: So that was kind of a different way to finish your career there, being by yourself. Did you miss the camp life? (CCC)

Lemons: Oh yeah, yeah. Anytime you're by yourself, you know, it's kind of a lonely existence. But I really didn't seem to mind it all that bad. You are busy during the day, in fact, all day. So about the only thing you do is come in at night to cook your dinner and hit the sack. It had no radio or anything like that.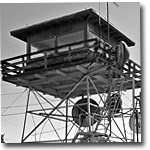 Hopi Point
Three towers have occupied the Hopi Point location.

The first Hopi tower was constructed in 1909 - with an improved version appearing in the 1916 video. (shown above)

The park's 1927 tower was built by Baker Manufacturing with a 10 x 10 cabin. The lookout was remodeled in 1953 with a new cab and catwalk which was reduced in height from 40 feet to 23'6". The tower is located at 7,140 feet.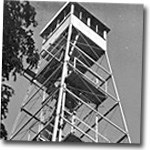 North Rim Lookout
The North Rim Lookout was originally constructed in 1928, and moved to its current location at the north entrance in 1933 by the CCC.

The 7x7 steel Aermotor LX-24 was modified and it is now located at an elevation of 9,165 feet. The tower is 75 feet tall. This lookout tower is also famous for one its operators: author Edward Abbey worked there for four years in the late 1960s and early 1970s.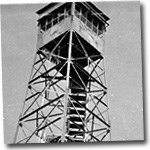 Kanabownitz
The Kanabownitz tower, also on the North Rim, was constructed in 1940 by the CCC in one of the last major projects they completed in the park.

This is an International Derrick (IDEOC) 7x7 steel tower and cab which is 82'6" high and stands at an elevation of 8,241 feet.

Below is a representative sample of a National Historic Lookout Register Certificate: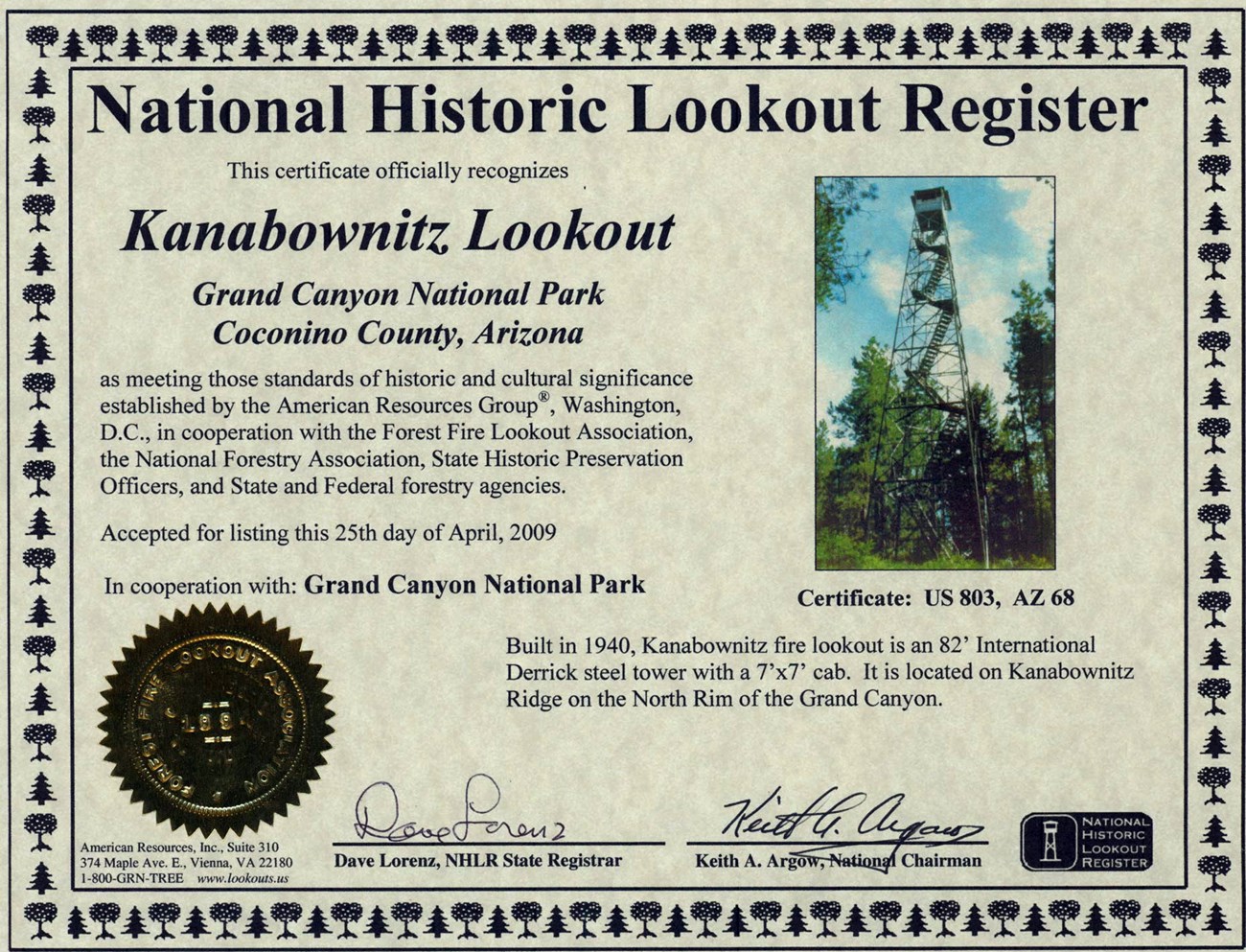 Amy Horn, Grand Canyon National Park's Archeology Program Manager and Dave Lorenz, Director of the Arizona Chapter of Forest Fire Lookout Association, collaborated on the nomination of the four Grand Canyon lookouts to the National Historic Lookout Register.

Horn said, "This listing recognizes the important role Grand Canyon's lookout towers and the firefighters who manned them played in early firefighting across the West."

Photos courtesy of Dave Lorenz - FFLA
---
Related Information

Return to the Canyon Sketches eMagazine Home Page
Last updated: January 6, 2023