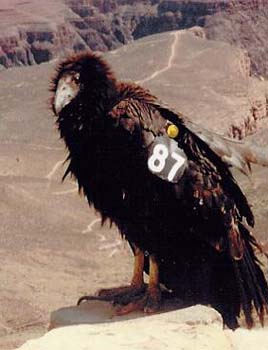 Jump to the latest
Notes from the Field
Condor Update
Download Condor Tag Chart and Tables (04/07/2016)



"Condors of the Canyon"
Listen to audiocast

Fall 2016 California condor
ranger talk times
on South Rim and North Rim


Regarded as one of the rarest birds in the world, the
California condor
(
Gymnogyps californianus
) is the largest land bird in North America with a wingspan up to 9 1/2 feet and weighing up to 23 pounds. Adults are primarily black except for triangle-shaped patches of bright white underneath their wings. These patches are visible when condors are flying overhead and offer a key identification characteristic.
Males and females are identical in size and plumage. The bare heads of condors are grayish-black as juveniles and turn a dull orange-pink as adults. Condors are members of the New World vulture family and are opportunistic scavengers, feeding exclusively on dead animals such as deer, cattle, rabbits, and large rodents.
Using thermal updrafts, condors can soar and glide at up to 50 miles per hour and travel 100 miles or more per day searching for food while expending little energy.